Her Husband is Known in the Gates
Her Husband is Known in the Gates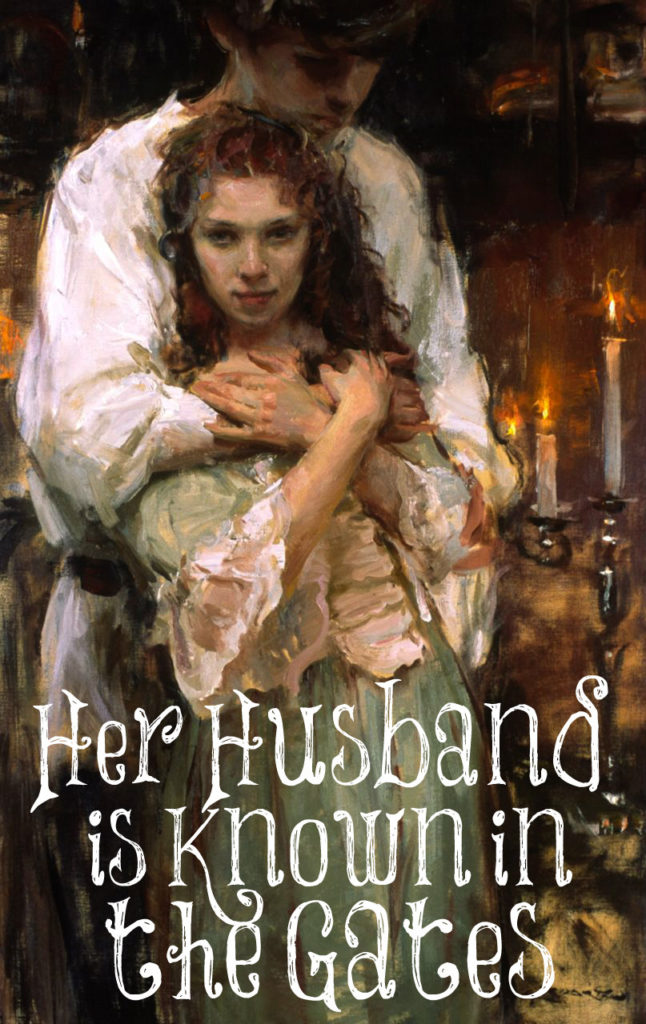 Her husband is known in the gates, when he sitteth among the elders of the land.
Proverbs 31:23
As we know from God's Word, God's instructions in marriage are for the husband to be the provider and protector of the family and the wife is to be his help meet and keeper at home. This is the way God created marriage to be and is His perfect will for us.
"Instead of being a hindrance to her husband's advancement, she furthers it. Her influence for good to him also. Having no domestic anxieties, he is set free to do his part in public life" (Ellicot's Commentary). Unfortunately, many women demand that their husbands help around the home, even after the husbands have worked hard all day at work. A godly wife will do all she can to make sure that all of her home duties are taken care of and the children are well disciplined and trained so that when her husband comes home from work, he can relax and enjoy his time with his family.
"Known; observed and respected, not only for his own worth, but for his wife's sake; not only for those rich ornaments which by her care and diligence she provides for him, which others of his brethren, by reason of their wives' sloth or luxury, are not able to procure, but also for his wisdom in choosing, and his happiness in enjoying, so excellent a wife, by whose prudent care, in the management of his domestic concerns, he hath perfect freedom wholly to attend upon public affairs…Sitteth among the elders of the land, in counsel or judgment" (Matthew Poole's).
Her husband's career is as a leader and/or judge in the land. He is able to do his job well because he has no concerns or anxieties coming from his marriage or home life. He chose a godly, submissive help meet who takes pleasure in working hard in the home and with her children. He trusts her to take care of all her work in the home so he can take care of providing for his family. They each know their role and work at it to the best of their ability.
We know couples where the wives are slothful in the home. They don't care for their home, nor do they discipline and train their children well. Their husbands don't come home to a delicious smelling dinner, nor do they come home to a clean home or well-trained children. In the morning before work, their work clothes sit wet in the washing machine. Their wives bring them dishonor and shame. Let this never be said of any of you.
"Her husband is known in the gates,…. Of the city, where courts of justice were kept, and causes heard and tried by the judges, the elders of the land, later mentioned; among whom the husband of the virtuous woman was, where he was known, taken notice of, and celebrated; not so much for the beautiful garments she made him, as Jarchi; but rather for his wisdom, as Gersom, and for being the husband of such a woman; who, taking such care of his domestic affairs, he was more at leisure to attend public business, and transact it with reputation…when he sitteth among the elders of the land; when he sits in his house, at his table, circled by his saints, his ancient ones; or as King, head" (Gill's Exposition).
Everyone admires this man for the wisdom and confidence that he shows in his work. His wife is definitely his crown. She has built him up and encouraged him, thus she has made him look good to all those around. She is his biggest cheerleader and confidant. He knows he can put all of his energy into his work because he can come home and enjoy the fruit of his wife's labor. He is a blessed man indeed.
"Such a woman advances her husband's interests, increases his influence, and, by attending to his domestic concerns, enables him to take his share in public matters, so that his name is in great repute in the popular assemblies at the city gates" (Pulpit Commentary).
May you all be this kind of wife who builds her husband up by respecting, reverencing, submitting to, and loving him. May you treat him with kindness and gentleness. May you work hard in your home and make it a place of order and beauty. May you raise your children in the nurture and the admonition of the Lord so that your husband can be thankful that he was blessed with such an incredible help meet; the perfect one for him.
Whoso findeth a wife findeth a good thing, and obtaineth favour of the LORD.
Proverbs 18:22
*picture by Daniel Gerhartz