Hillary's Pro-Death Stance
Hillary's Pro-Death Stance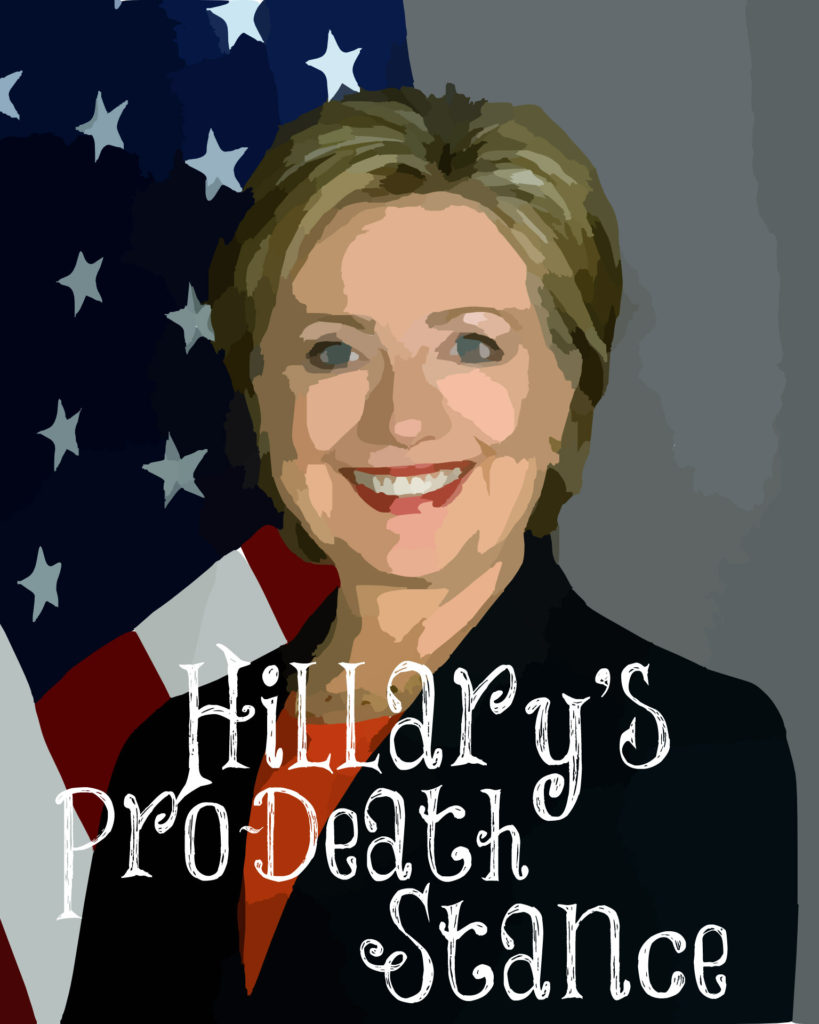 Politics is not something I want to write about much since there are so many differing opinions on all the different topics but I am compelled to use the power of the pen to speak against Hillary's pro-death stance when it comes to abortion. She talks a good game but how she votes and who she supports states a lot more about her than anything else. She says she wants abortion to be "rare" and yet has never done a thing to try and make it rare. Instead, she takes millions of dollars for her campaign from an abortion mill that produced 323,000 abortions last year and 54 million since Roe v Wade. That is not "rare" but disgustingly evil.
Hillary has voted against a prohibition against late-term abortion. A late term abortion is when a baby is fully formed and can live outside of the womb. Lawrence K. Koning, MD, FACOG has said this about late-term abortions "As an OB/GYN physician for 31 years, there is no medical situation that requires aborting / killing the baby in the third trimester to 'save the mother's life.' Just deliver the baby by c/section and the baby has 95+% survival with readily available NICU care even at 28 weeks. C/section is quicker and safer than partial birth abortion for the mother."
Abortion is a gruesome event for an unborn baby. They will use painful measures to pull the unborn baby out and studies have proven that unborn babies feel the pain. I saw a diagram of a baby coming out of the mother's womb and how the abortionists takes scissors and slices through the back of the neck to murder the baby. The word medical science uses for this gruesome act is feticide. Some women will have these types of abortions simply because they don't want a baby and others because their babies are not perfect.
I have a friend that has two Down Syndrome babies and they bring her so much joy. There is no reason to murder a baby who is not perfect. We all started out as an embryo. We were all knit together in our mother's womb by our Creator. All life is valuable, but the life of a baby and child is to be protected, not violently taken. Jesus said, "Whoever receives one such child in my name receives me, but whoever causes one of these little ones who believe in me to sin, it would be better for him to have a great millstone fastened around his neck and to be drowned in the depth of the sea" (Matthew 18.:5-6).
A nation that doesn't protect innocent life but instead snuffs it out before he/she is born, will allow all types of evil as we are seeing today. Please, don't vote for Hillary who is pro-death. Vote for a candidate that values life, especially the life of the helpless and innocent. Are you not thankful that your mom didn't abort you? We are to treat people the way we want them to treat us (Matthew 7:12). I am not voting for a Presidential candidate but for a Supreme Court Justice, and a platform that values the unborn. By voting for Hillary, you are approving the death of babies as they are coming out of the womb since she will elect Supreme Court Justices who approve this evil practice and erode more constitutional law. Don't vote for her just because she would be the first woman who can be president. If there is to be a first woman president let's have one who will be an outstanding role model for America, not one who has a private and public position on abortion yet never defends the life of the unborn. Vote for the person who values the life of the unborn because it's a very slippery slope to more and more despicable evil when we don't protect the innocent and helpless among us.
For You formed my inward parts; You wove me in my mother's womb. I will give thanks to You, for I am fearfully and wonderfully made; Wonderful are Your works, And my soul knows it very well. My frame was not hidden from You, When I was made in secret, And skillfully wrought in the depths of the earth; Your eyes have seen my unformed substance; And in Your book were all written The days that were ordained for me, When as yet there was not one of them.
Psalm 139:13-16