Popular Female Teachers Leaving Out Sin and Condemnation
Popular Female Teachers Leaving Out Sin and Condemnation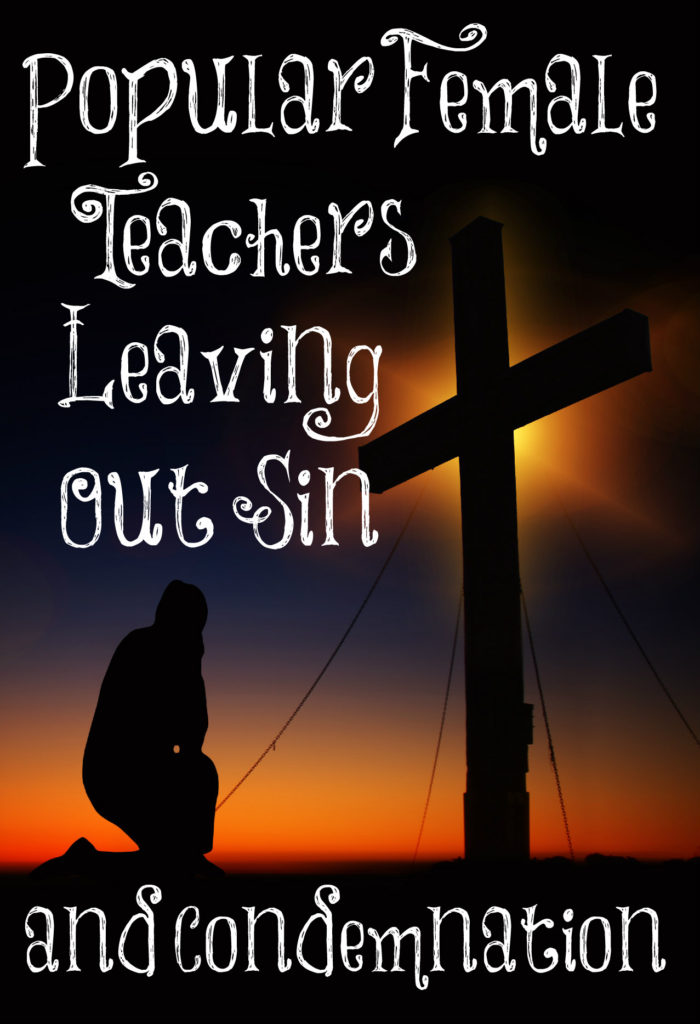 Something I have noticed with female Bible teachers and writers who have no problem teaching men in a church or auditorium is their lack of teaching about the word sin, repentance, and judgment. (Some of them do but many don't and they still shouldn't be teaching men regardless of what they teach.) They focus upon God's love (which is good), feeding and helping the poor (which is important), and many other areas of the Christian walk but never mention the destruction of sin, define what sin is, tell people they need to repent from their sins, and that there will be a great judgment day where we will all be judged by Almighty God and if your name isn't written in the Book of Life, there is eternal damnation.
Why am I teaching this on my little old blog when my purpose is to focus upon Titus 2:3-5 (which most of those female teachers and writers never cover)? Older women are to teach younger women to be good and have discretion. In order to be good and have discretion, you must know truth and be warned against false teaching. Any one claiming to teach anything about the Word has to mention the hard things like sin, repentance, and judgment and not simply teach about God's grace (which is amazing) and His love (which is glorious).  You can't have one without the other.
I want to spend most of my time teaching and encouraging women in Titus 2:3-5. They need to be sober, love their husband and children, be good, chaste, discreet, keepers at home and live in obedience to their husband. This is important for women to know and I love teaching it. But if they don't know about Jesus (how I love this name) and His love, grace, and their need to recognize their sin, repent from it (turn away), believe on the Lord Jesus Christ, and live in obedience to Him, the other stuff is meaningless. They can obey Titus 2:3-5 perfectly (in their mind since no one can be perfect) and still not be saved from God's wrath to come.
It's not popular at all to teach about sin and define sins, repentance from them, and about the wrath to come for those who refuse to repent. It's not popular to teach women to be obedient to their husband and keepers at home but this should never stop women from teaching these. As Charles Spurgeon wrote, "All the pretensions you make of attachment to your Master, and all the devout rituals which you may perform, are no recompense, 'to obey,' even in the slightest and smallest things, 'is better than sacrifice,'…the first thing which God requires of His child is obedience; and though you should give your body to be burned, and all your goods to feed the poor- yet if you do not hearken to the Lord's precepts, all your formalities shall profit you nothing…My soul, do not come into their practice."
Imagine how much stronger the Church today would be if instead of women teaching women theology in women Bible studies, older women taught them to love and obey their husbands, how to discipline and train their children, to be sober, good, modest, discreet, chaste, and keepers at home. Marriages would be stronger, children would have self-control and act respectfully, mothers and daughters would be modest, chaste, good, and discreet, and mothers would be homemakers and enjoy the ministry the Lord blessed them with. Then on Sundays, the women go to church with their husband and children and listen to the male Pastors preaching the Word of God. What a powerful Church that would be; one that actually obeys God's commands.
If ye love me, keep my commandments.
John 14:15