Homemaking Tips For Young Wives
Homemaking Tips For Young Wives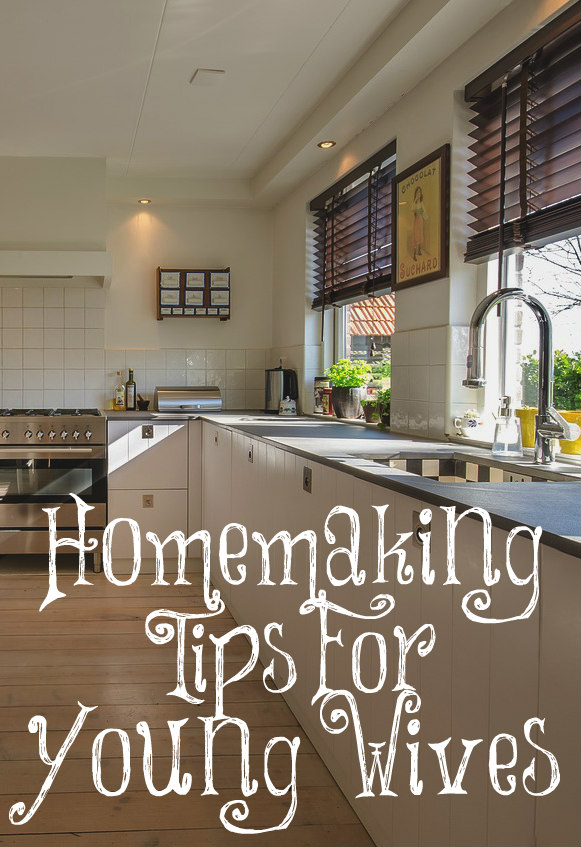 Many young wives have no idea how to keep up with housework or how to run a home. I asked the wise women in the chat room for their best homemaking tips for young wives and here are some of them:
"Don't expect your husband to do half of all the household chores. Plan that you are responsible for housework and be grateful when your husband helps you. Entitlement leads to disappointment and conflict. If you assume it's your job, you will feel gratitude for the help rather than checking to see if he did all of his half." (Lindsay)
"Have a written daily list of chores to do. Make a separate list of deep cleaning items and rotate through them regularly. Do laundry at least once a week and up to daily as your family grows. Find the most frugal ways to do everything you do." (Debbie)
"If you see something that needs to be done, do it right away! Have a place for everything and teach everyone to put everything in its place. Make beds every single morning. Teach your children to make their beds. It makes the room appear cleaner and instills the daily discipline which translates into other areas. Plan meals ahead to save money on groceries, ensure you don't waste food, and cuts down on the grocery bill/eating out. You will eat much healthier this way too!" (Danielle)
"Do all things for the glory of God and respect your husband." (Nancy)
"As the great Elizabeth Elliott has wisely said, 'Do the next thing.' Don't focus on all your tasks, just do the next thing." (Jennifer)
"Make your home as lovely as you can afford while keeping it simple and minimal. This will help make cleaning and keeping it tidy manageable." (Beth)
"Greet your hubby with a cheerful heart and kiss as soon as he walks in the door no matter how hard and busy your day has been." (Yrena)
"Be in a constant state of decluttering. It'll prevent things from becoming overwhelming. Go through the mail daily and throw out the junk and extra envelopes and what not. Take ten minutes to straighten the linen closet before it becomes a black hole that ends up taking hours to reorganize. Find joy and freedom in minimalism." (Brook)
"Believe, study, and apply God's truths on the importance of homemaking (not being idle, attitude/temperament, being a wise woman, etc.) On the days that I don't feel like homemaking, remembering God's word helps me to stay the course!" (Nisha)
"When you get something out and when you're done, put it away. When you do the laundry, as soon as it's dry, fold it and put it away. When you get home from the grocery store, put the groceries away. A non-junky house is much easier to clean." (Rebecca)
"Stay home. Be a keeper AT home. You already have a job in the home. You don't need one outside of the home." (Stephanie)
"I'm not a wife yet, so I will mention something my father said once to me. He said that he was always happy to come home, because he was greeted by children running to him to welcome him home. My mother was usually in the kitchen already, putting on the finishing touches on supper. They always kissed after we kids finished greeting father. My mother would help by calling out, 'Daddy's home!' if we kids got too distracted to hear him walk in. We kids literally dropped whatever we were doing to run and greet him! He said he loved going straight home after work!
"My father also said he had coworkers who literally did things like going to bars to avoid going home to chaos, messy homes, loud children, grouchy or indifferent wives, etc. In other words, it was not pleasant to go home." (Genevieve)
"Start your day in the Word! It sets the tone for the entire day." (Ashlyn)
"You are in God's will. Focus on Him and trust that He sees your diligence and heart. He sees the effort, even when no one else does, and He will reward you." (Paige)
And whatsoever ye do, do it heartily, as to the Lord, and not unto men.
Colossians 3:23