Is Submission Unquestioning Obedience?
Is Submission Unquestioning Obedience?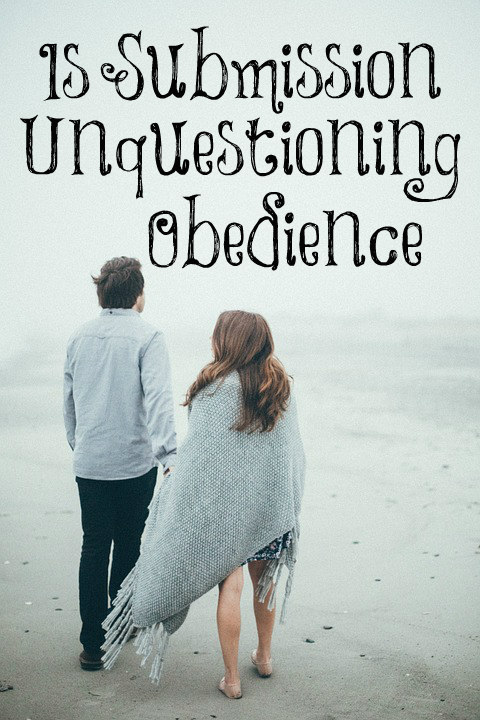 Someone tweeted this comment: "Biblical submission is not the same as the submission some preach. It's not BDSM, it's not unquestioning obedience, it's not degrading or a lowering of the woman's value…" I would truly like to know WHO teaches that submission is BDSM, unquestioning obedience, or that it degrades and lowers a woman's value. The ONLY ones I could see teaching this type of submission are those who hate biblical submission and want to twist it into something ugly and perverted.
NO, biblical submission doesn't include BDSM. It's not submitting to any type of physical abuse. NO, it's not unquestioning obedience. It's not submitting if a husband asks his wife to have an abortion, watch porn with him, or participate in a threesome. NO, it's not degrading and lowering a woman's value. Only those who want to cause fear in women teach that this is what submission looks like. They may hate God or they don't trust that God's ways are good.
How come it's only biblical submission that gets so skewered? No one would think that students have lower value and are degraded because they submit to their teachers. No one would think this of citizens submitting to their government or employees submitting to their bosses. Why do they do this with marriage? The most intimate relationship of all where the woman actually gets to choose who she marries?
Submission doesn't cause anything ugly. Christ submits to God. Is there anything ugly about this at all? In the same way, wives are to submit to their husbands. There is nothing ugly or perverted about any of God's ways. Many want to twist and pervert them in order to keep as many as far away from God and His ways as possible.
Submission is for our good. It's order in the family. Two heads create a monster. God ordained the husband as head over the wife. Submission doesn't cause abuse of any kind. Evil or angry men will abuse whether or not their wives submit. No, a wife should never submit to abuse. But she must remember that it's not God's commands that cause abuse. It's sin.
Can a woman suffer in a marriage? Yes. Read 1 Peter 2. In the same way that Christ suffered, some women will suffer under disobedient husbands ("Likewise…" in 1 Peter 3:1). Is suffering bad? No, God uses it for our good. He uses it to refine us and make us more like Him. Our lives on this earth aren't intended to be perfect. God promises us tribulation but reminds us that He has overcome the world.
Women whose husbands look at porn suffer. Women whose husbands have problems with anger suffer. But guess what? Many husbands suffer being married to contentious, quarreling wives. We live in a fallen, sinful world with imperfect people. If you're expecting your husband to be perfect and godly before you submit to him, you'll never submit and will be living in sin. God commands wives to live in subjection to yes, even those husbands who are "disobedient to the word" in hopes of winning them without the word.
Likewise, ye wives, be in subjection to your own husbands; that, if any obey not the word, they also may without the word be won by the conversation of the wives; While they behold your chaste conversation coupled with fear.
1 Peter 3:1,2
Wives, submit yourselves unto your own husbands, as unto the Lord. For the husband is the head of the wife, even as Christ is the head of the church: and he is the saviour of the body. Therefore as the church is subject unto Christ, so let the wives be to their own husbands in every thing.
Ephesians 5:22-24