Yoga Pants – A New Kind of Modern Vanity
Yoga Pants – A New Kind of Modern Vanity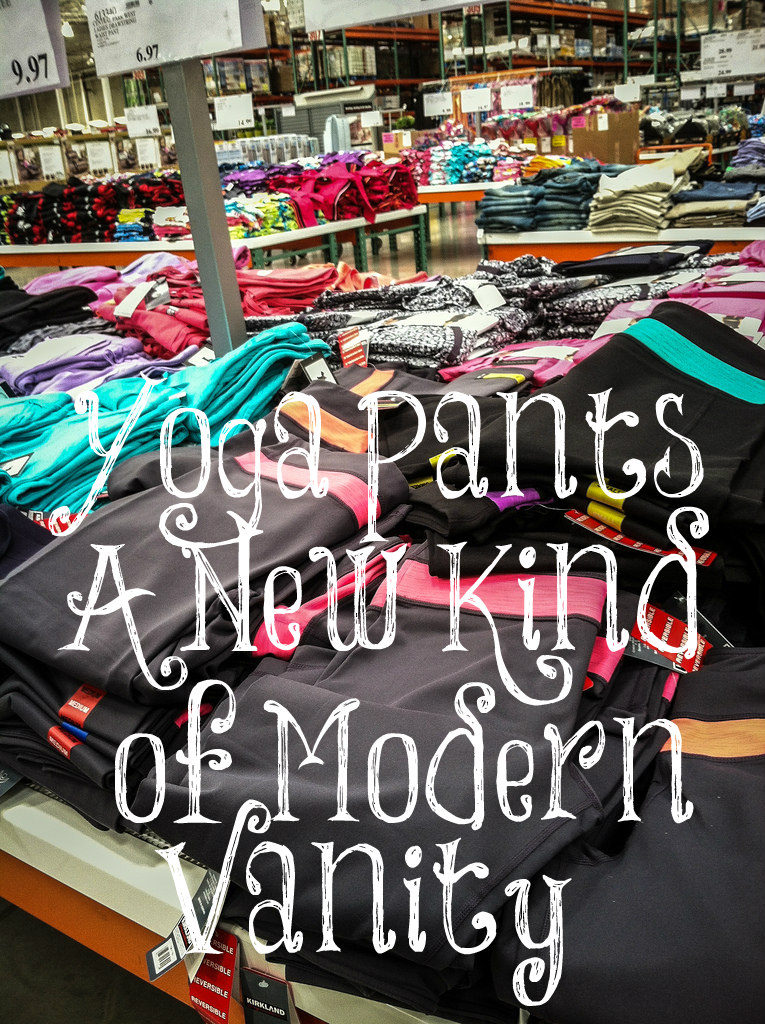 Women wear yoga pants these days and they wear them every day and every where. I'm not sure about you but I wouldn't dare wear them out in public like many women do today. My main reason for not wearing them is how immodest they are because they show every single curve of a woman's front and back side; some are worse than others. Yes, honest men will tell you that they are immodest as well. Kerry Folan has another reason why women shouldn't be wearing yoga pants all the time. She wrote an article in the Washington Times called Yoga pants are comfy. They're also an assault on manners and a nihilistic threat.
Yes, I had to look up what nihilistic means since it's not a word I use. The definition: "rejecting all religious and moral principles in the belief that life is meaningless." Wow! I thought I was hard on yoga pants! She in essence wrote that women wear yoga pants because they're too lazy to get dressed and look put together. They care more about their comfort than anything or anyone else. I agree with her. Yoga pants aren't something that women should be wearing outside of their home or exercise class unless they wear long shirts over them that cover their front and back side.
We, as Christian women, should care more about others than we do ourselves. "Do nothing from selfishness or empty conceit, but with humility of mind regard one another as more important than yourselves" (Philippians 2:3). When women wear yoga pants, they most likely are not thinking about anybody else but themselves. They aren't thinking about all the men who will see them and either have to look away or possibly lust. They don't care about the grandparents who will see them and wonder what happened to having manners and putting proper clothes on for the day. Women who don't wear yoga pants and are modest won't enjoy having their husbands see other women in yoga pants.
"Yoga pants make a statement about comfort and modernity. When we board a flight or run to the grocery store swaddled in cotton-lycra, we are saying to the people around us that our own comfort is our first priority. We are expressing a new kind of modern vanity where dressing down, rather than dressing up, is the power move."
We, as Christian women, are the representatives of Christ on this earth. We should look different than the women of our day and dress in a way that brings glory to the Lord, not dishonor. We should care about our clothing, how it affects others, and how others perceive us.  We don't live for ourselves and our own comfort. We aren't selfish – looking out for number one. No, we're looking out for others and care about them and yes, even their husbands.
Every morning, I get dressed. I put on a bit of makeup, brush my hair, and put on clothes that are appropriate to be seen in public. I stay this way all day long until I go to bed and I'm mostly home all day. The only time I wear sweat pants all day is when I am sick. If I wear yoga pants, I wear a long top or dress over them. If I can do this, you can too!
In like manner also, that women adorn themselves in modest apparel, with shamefacedness and sobriety; not with broided hair, or gold, or pearls, or costly array; But (which becometh women professing godliness) with good works.
1 Timothy 2:9, 10