How Has Women Leaving Their Homes Hurt Culture?
How Has Women Leaving Their Homes Hurt Culture?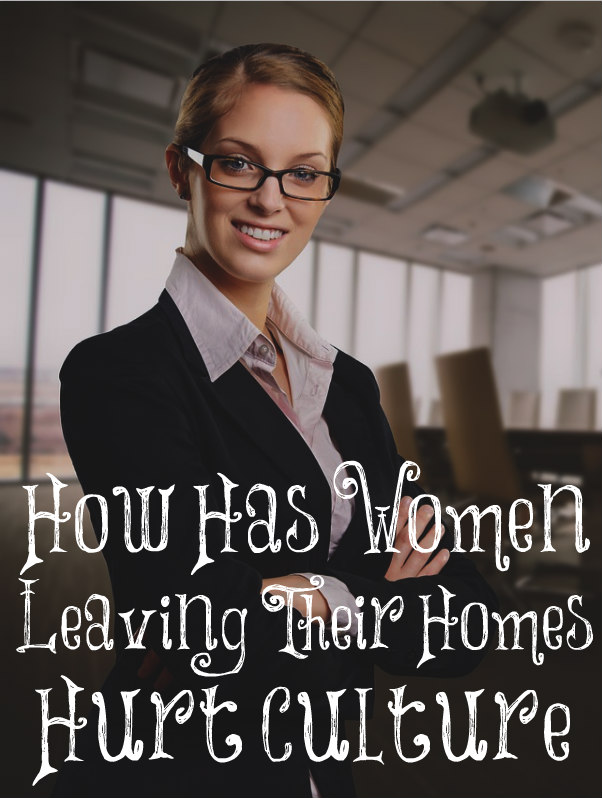 Many women despise my teachings on women being keepers at home. They will often give me names of all the great and powerful women who left their homes and did good things in order to back up their defense that women don't need to be keepers at home. They will tell me that I am shaming women for teaching these things. They confuse shaming with conviction. God's Word convicts them. If they feel shame, they are really feeling conviction. If they are doing what they know is right, no one would be able to shame them.
How has women leaving their homes hurt culture? It has hurt culture in many, many ways. Children are no longer being raised by their own mothers. They are being raised by daycare workers and teachers. "The rod and reproof give wisdom: but a child left to himself bringeth his mother to shame" (Proverbs 29:15). Children need a lot of teaching, training, and discipline. They aren't receiving this if their mothers are away from them most of the day. These mothers are giving their best to others instead of to their children. These children are bringing shame to their mothers as they grow up. We are told this in God's Word. All of the people we see rioting and burning down buildings were most likely not raised by a mother full time.
Women leaving their homes have hurt marriage. Women now initiate divorce 70 percent of the time since they no longer need to depend upon their husbands but can instead take half of what he owns and have them pay child support for many years. They are often too tired to put much time or energy into their marriages due to their careers. Marriage and raising children is FAR more important than having a career. There is nothing more important than raising the next generation, and children need a mother and father under the same roof and involved in their lives.
Women leaving their homes has hurt the old people. Old people no longer have their daughters around to help and give them comfort because their daughters are pursuing their careers. Young mothers hurt because they no longer have their mothers help because they have careers and they don't have any older women involved in their lives due to careers. Neighbors don't have people they can call on when they need help when all of the women are working away from their homes.
Women are more depressed and suicidal than ever before. They can't expect anything different when they leave the clear path that God has chosen for them to pursue their own paths. God is our Creator and He is good. His ways for us are good. Women have been affected negatively since leaving their homes. Children have been abandoned and have been hurt the most. When the least among us is hurt the most, then we must carefully examine the path that we are on and switch course.
God-fearing women, I encourage you to go back to the paths that the Lord has laid out for you. If you think you can't afford it, step out in faith in Almighty God. He tells us that His commands are not burdensome and that we can do all things through Christ who strengthens you. He wants you home full time. This is where He has given you to work and minister. Your work at home is not worthless! God will use you in powerful ways as you obey Him. He will bless you abundantly and the older you get, the more you will realize this.
Thus saith the LORD, Stand ye in the ways, and see, and ask for the old paths, where is the good way, and walk therein, and ye shall find rest for your souls. But they said, We will not walk therein.
Jeremiah 6:16