How Wise Women Build Up Their Homes
How Wise Women Build Up Their Homes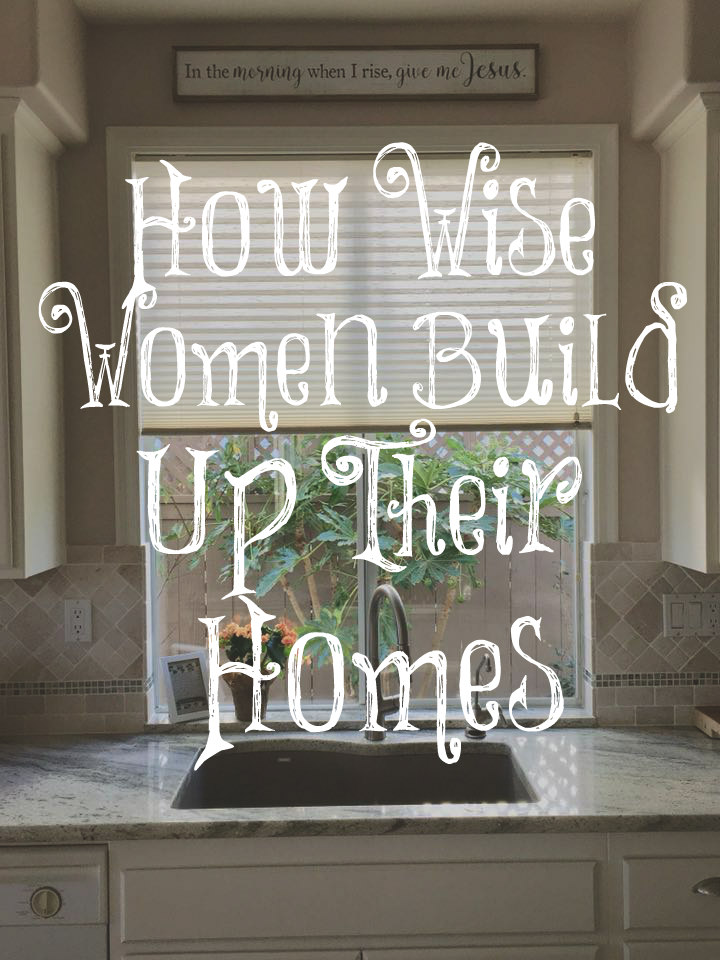 It's interesting to note that God doesn't tell us that men can build up or tear down their homes. No, it's women who have this type of power and unfortunately, many are tearing their homes down with their own hands thinking the grass is greener somewhere else but finding that it was all a lie. It's vitally important that we build our homes up, women, not just for our sake but for our children's and grandchildren's sake. You want to pass blessings down to the next generation, not curses.
I asked the women in the chat room for ideas on how to build our homes up and here are some that they came up with:
"Number one for building a stable home is building up our husbands. The marriage needs to be strong to support the family."
Divorce is the number one cause of tearing homes down. It burns the home down to the ground and leaves everyone scarred for life. The best gift a mother can give her children is loving their daddy deeply and until death does she part. This will have the greatest long-term impact for good upon her children besides being a testimony to a watching world of the beauty of marriage as it exemplifies Christ and His Church.
"Keeping the Lord as number one priority, submitting to our husbands out of reverence for the Lord, adhering to Proverbs 31 as much as possible in the attitudes of homemaking, marriage, and parenting."
The Lord should absolutely be the One whom we serve and obey. He commands that we love and serve our husbands, so by doing this, we are certainly building our homes up.
"Building up our husbands, disciplining our kids, educating our kids in God's ways, and the basics of cleaning, organizing, cooking, loving, and laughing."
This perfectly describes our job description and it is gloriously ordained by God. When women with soft and teachable hearts understand that they belong at home, they are so happy because they know it's exactly where they are supposed to be. Also, laughter always add joy to a home and we should be known for our warmth and hospitality.
 "I've done a lot of praying!…Prayer is foundational. Loving in word and deed. Grace and forgiveness freely given."
We must daily pray for our husband and children and that the Lord would give us wisdom and grace needed for each day. I still and will always pray daily for my family. I ask the Lord to help them grow in the wisdom and the knowledge of the Lord and that they will hate what is evil and cleave to what is good. Then I pray that they are all hiding His Word deeply in their hearts. We have a God who hears our prayers and we are blessed!
"It reminds me of being encouraging and positive! Sets the tone for the household…Edification! Every one needs edification."
Our words build up or destroy, give life or death. Death and life are in the power of the tongue: and they that love it shall eat the fruit thereof (Proverbs 18:21). If you have a problem with your tongue, begin memorizing verses about the tongue and using it for good; for this is what transforms us! Let no corrupt communication proceed out of your mouth, but that which is good to the use of edifying, that it may minister grace unto the hearers (Ephesians 4:29). And never, ever speak evil about your husband to others.
"A joyful spirit and trusting in the Lord always. I have to say though I struggle in this area more than I care to admit."
The only way we can have a joyful spirit and trust the Lord is to sit daily at His feet and learn from Him. He commands that we be choose to be joyful. Yes, it's a choice and so is trusting the Lord. Serve the LORD with gladness: come before his presence with singing (Psalm 110:2). Sing praises often in your home. I sing to my grandchildren. He created and is in control of everything so we can trust Him. King Jesus reigns!
"Allowing my husband to take his place as leader of the home. Prayers. Obedience. Submit myself to the Lord and to my husband."
Our husbands are head over us and we must not try to take the lead away from them through manipulation, whining, complaining, arguing, or correcting. Let them lead! Instead of trying to tell them how to lead, tell the Lord instead. Casting all your care upon him; for he careth for you (1 Peter 5:7).
"Taking care of the home and children. Help my husband wherever I can to make things easier for him."
We must be willing to help our husbands wherever they have a need. We falsely believe that they were created to be our help meet but they weren't. Yes, they were created to protect and provide for us, which are heavy burdens they must bear, but we were the ones specifically created to help them.
"Cultivating our own special relationship with the Lord, would be number one to me. Then making sure we respect, submit, and love our husbands. Then to teach our children God's ways and wisdom and displaying this in our own lives for our children to follow. After that, I would say keeping our homes as a safe, peaceful sanctuary from the world."
Keeper at home means "stayers at home" (Are you a stayer at home?) and "guardians of the house." We are to stand guard and protect the home from evil influences. This is our job and this is why we must be home full time. Everything runs more smoothly when a mother is at home and it gives children great security knowing their mother is available to them whenever they need her. Even neighborhoods are safer when mothers are at home.
"Building up with words of life. Encouraging words, speaking the word, and speaking the truth. I've seen major amazing behavior changes in my children since I started watching my words and shutting my mouth from uttering anything negative…Truth preserver: My ten year old daughter and I were in the local grocery store and came upon a t-shirt that said mom = boss . She said, 'Look, mom.' I said, 'Nope, dads are the boss!'"
Continually speak the truth in love to your children. They will hear lies out in the world constantly so they must be rich in truth and have God's Word hidden deeply in their hearts. (My grandchildren love the Berenstain Bears so I read it to them frequently but whenever Mama Bear bosses Papa Bear around or scolds him, I tell them that this is wrong and they say, "Yes, that's wrong!")
"Being in the Word, prayer, joyfully serving our families, and doing chores even. But something I realized was that we need to be PRESENT."
Yes, be present, not distracted by the computer, TV, or iPhone. Your children grow up so quickly and they need to know that they are more important than some inanimate object. They will grow up and be gone and then you'll be left with your iPhone. Use your time wisely because it is fleeting.
"Not being easily offended."
Along with not being angry, bitter, having false expectations, being prideful, and easily offended. All of these will quickly tear down your home. Our husbands can correct us and we should take it patiently without getting offended. When we get offended easily, we are saying that we are right and they are wrong. It's a pride issue that we must let go of and take criticisms easily since we aren't perfect and we want to be like Jesus. Our husbands see our faults! Accept their corrections so you can better build your home up.
Building up your home is far more important than any job or money will ever be. For what shall it profit a man, if he shall gain the whole world, and lose his own soul? (Mark 8:36)
Every wise woman buildeth her house: but the foolish plucketh it down with her hands.
Proverbs 14:1
*The picture is from my newly painted kitchen!