How Young Should Women Marry?
How Young Should Women Marry?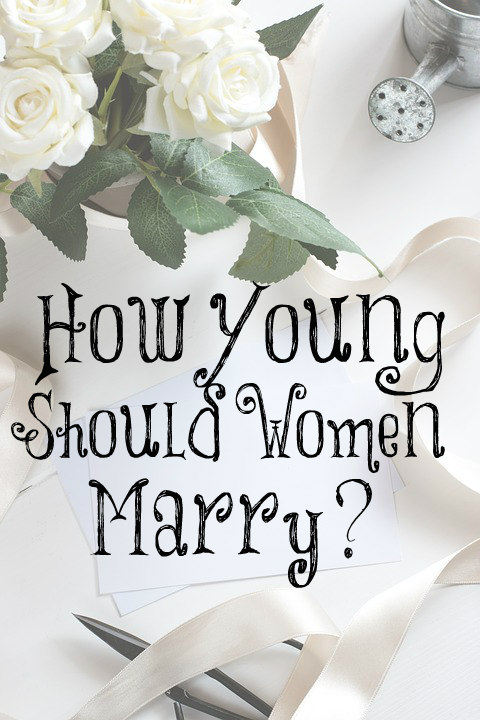 Last week, I shared a post about a young man who wanted to find a godly wife. (He's responded to a few comments so some of you may want to check if he responded to you! His name is Johnathan.) Many people responded to him and some even emailed me about him. Here is a comment he made on that post:
"The 'plain Jane' is exactly what I'm looking for. I don't want the 'professional model' at all. God gave me a servant heart, so I enjoy helping behind the scenes. A young woman who simply serves where she can and where she is needed (community, nursery, food pantry, etc.). She doesn't call attention to herself, yet her simple, godly conduct speaks volumes.
"I've actually met someone kind of like that. I first met her while helping after a church event. She was washing dishes. I've repeatedly seen her try to be helpful and even ask me if she could help when I was serving. I've also noticed times when she was serving and all the other ladies were just sitting talking among themselves. The only issue is that she just turned 17 and I'm 24. I'm pretty sure that's a bit too much of an age difference, now. But, I'd love to get your view of that."
This began a great conversation in the chat room. I asked the women what they thought about this. My initial reaction is that she sounds like a good one! A young woman who loves to serve others is rare indeed. I thought he could begin to get to know her better and then if she's the one, marry her when she's 18 years old. If she has a mother and father, it would be good for him to meet them and receive her father's approval. The quality of loving to serve others is far superior than the quality of wanting to spend a lot of money on higher education and gaining a career; that's for sure.
After this discussion, I went to church and a young woman who has been reading my blog came up to me and introduced herself. She married at 16 years old with her parent's full approval. She's 18 years old now and loves being married!
How old should women wait to get married? Our culture encourages women to go to college/university, gain a lot of debt, and then find a job/career so they can pay the debt off and "find themselves." (Instead of finding themselves, they need to be finding who they are in Christ; for this has rewards on this earth and for eternity!)
In the chat room, Lindsay Harold wrote this: "By the way, a few decades ago or more, nobody would have thought twice about these ages. In fact, a young woman was actively encouraged to marry around 17 or 18 and to marry a man several years older so that he could provide for her. A young man of her own age would not be prepared yet to provide for a family. Plus, a slightly older man would inspire respect for his leadership more naturally. Most women expected to marry right out of high school to a man in his mid-twenties. That was completely normal. I think we have gotten too peer-oriented and expected men and women to marry within their very narrow peer group. Yet if they wait until the man is established enough to provide for a family before they settle down, they have dated for years and not been chaste in the process."
Johnathan, I hope and pray you find a godly wife along with all of the rest of you who would love to find godly spouses. It's a magnificent blessing to marry someone in the Lord, who loves the Lord and His ways. I can't think of any greater blessing in my life, besides the fruit (children and grandchildren) that come from this! Plus, this world needs godly couples bearing and raising godly children. This world is in desperate need for more salt and light.
Let thy fountain be blessed: and rejoice with the wife of thy youth.
Proverbs 5:18