Does Female Rebellion Weaken Men?
Does Female Rebellion Weaken Men?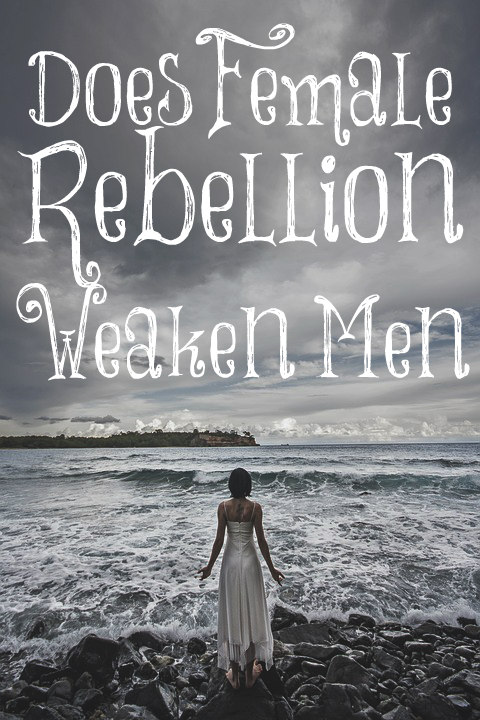 Most of you heard about the fiasco between John MacArthur and Beth Moore. He told her to "Go home" which is biblical and I applauded him for doing so. However, many Christians were outraged over it. This past Sunday, he preached a sermon in response called Does the Bible Permit a Woman to Preach? I encourage you ALL to listen to it. It is fantastic! Here are a few of my favorite remarks of his:
Women are collectively moving to take control over the Church as they are in the political arena. Female rebellion weakens men. You don't want children ruling over you and you don't want women ruling you. When the weaker take power, the strong grow weak. Men are being replaced by crazy women. We're being dominated by women.
The Law states that women are to keep silent in the churches. This isn't anything new. Godliness for a woman means she quietly receives instruction with entire submissiveness. Godliness for a woman is NOT preaching in the church but quietly receiving instruction with entire submissiveness. (I think he wanted to make this point very clear!) "Let the woman learn in silence with all subjection" (1 Timothy 2:11).
 The holy women of old adorned themselves with submission to their husbands (1 Peter 3:5). Women aren't even called to lead their families. Women are vulnerable when they come out from under the protection of a man, as Eve was when she came out from under the protection of Adam. God designed women to be cared for, protected, and led by men. They're vulnerable when they're not.
Women are saved through childbearing. What does this mean? (He goes into this in much more depth but I loved his conclusion.) God's high calling for women is to raise godly children. This is how women impact the world.
 Wherever you have a woman preacher, you have a weak husband. Wherever you had women pastors, you have weak men. Where you have strong families with strong men and submissive women who are raising godly children, you have a healthy society.
The Church should be the highest and purest example of male leadership and female submission and it's not today. It's a mess. We have complete chaos. Individualism is destroying our culture.
As for my people, children are their oppressors, and women rule over them. O my people, they which lead thee cause thee to err, and destroy the way of thy paths.
Isaiah 3:12
In case you didn't hear all that John MacArthur said when asked about Beth Moore, I wrote it up and put this on Facebook which Facebook took down a day later because it was considered "hate speech." This shouldn't surprise us since most in the world hate God and His Truth.