He's Looking For a Godly Wife
He's Looking For a Godly Wife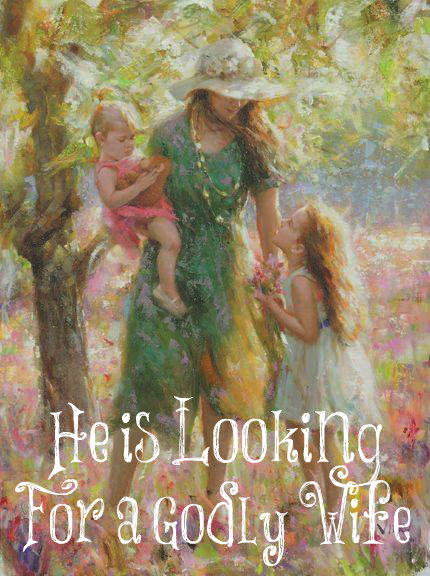 This young man wrote this comment on this post Marry a Christian Man Who Provides and Protects the other day. If you're interested, just leave him a comment! 🙂 Let's help this man find a wife! (I would love to see all of you who are godly and single, who want to marry, find a spouse!)
I want to thank The Transformed Wife and also all the previous commenters to her article here. As a young (24) single man, this probably isn't the best website for me. However, this article near perfectly describes the man I want to be and the woman I want to marry. I tend to be very traditional and though I didn't grow up knowing the Lord, I've found that this viewpoint is often very biblical.
I work as an aircraft mechanic in the military and am pursing a bachelors in engineering. I recently bought my first home and have always been pretty frugal. I go to church regularly, have a strong relationship with Christ, and am even teaching a youth apologetic's class at church. I enjoy serving wherever I can and love how God has given me a servant heart. My first priority is my relationship with Jesus, second is my future family (and helping my parents back home when I can), and third is my work and being a good provider for my future family.
The part I find most discouraging, however, is the lack of women who are this way. Every woman near my age, that I see, is going to college and usually working as well. While I don't have a problem with women doing these both before marriage and child-bearing, I see little hint of them desiring to be married and have children.
Also, my only romantic relationship was with someone who was very much a career-oriented feminist. So, I'm far more cautious when ladies mention they're going to college and pursuing some degree/career path. I understand many woman lack the security of prospective husbands. Most men my age are somewhat equally influenced by the feminist culture (even in the church). So, women don't have much of a choice but to seek their own provision.
However, my question is in how I would tell the difference between a woman who is merely going that route prior to marriage and would easily give it up when she's married versus a woman who is going that route and wouldn't give it up? Could I even know before pursing a relationship with her?
I guess it simply has to do with her priorities. On a first date, I could ask if she would rather have a future career or future family as her priority.
Whoso findeth a wife findeth a good thing, and obtaineth favour of the LORD.
Proverbs 18:22