Husbands Using My Posts to Convict Their Wives
Husbands Using My Posts to Convict Their Wives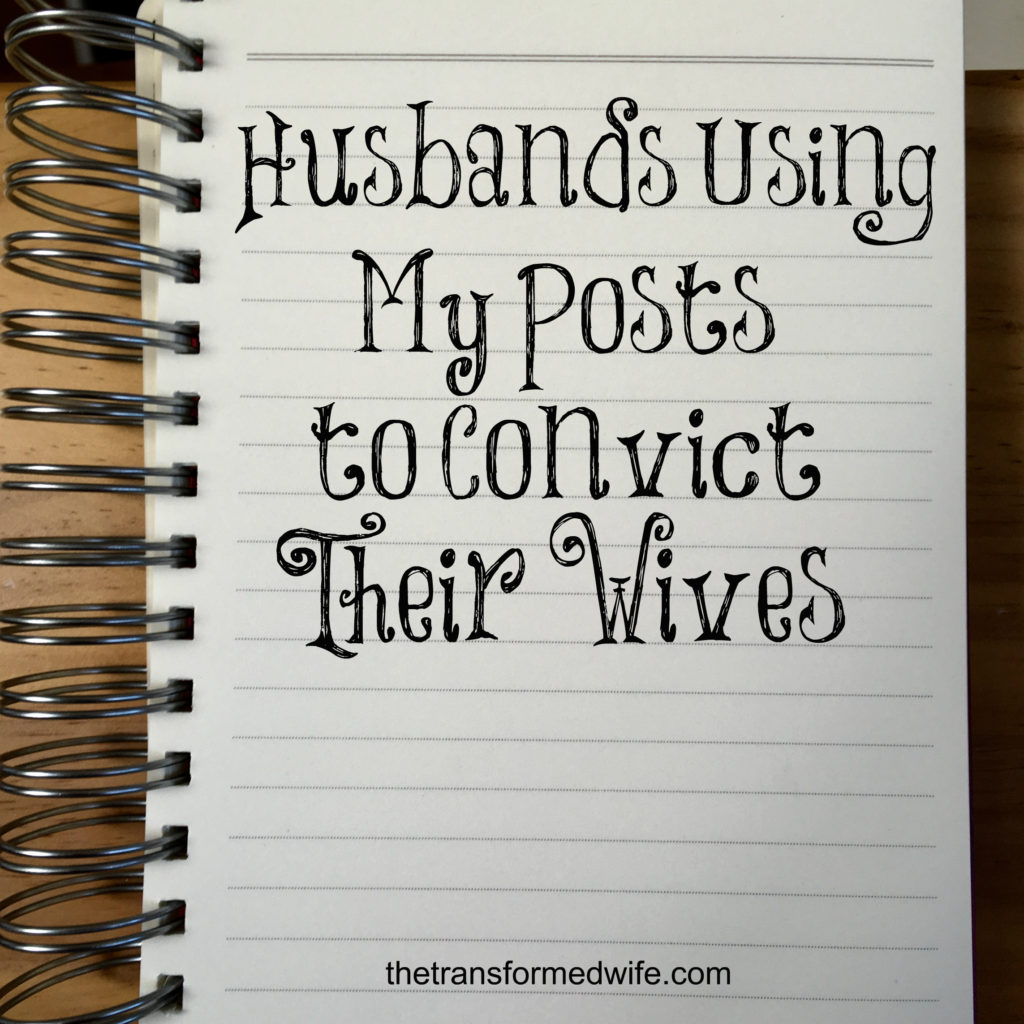 Are husbands "allowed" to use my posts to try and convict their wives about something I have written? Of course they are since they are head over their wives and the leaders of their homes. What if they are using them to manipulate their wives? I am not sure a wife could know her husband's intentions but he has every right to show her whether it be to exhort, rebuke, or encourage her (Titus 2:15). The one thing I want to make clear, however, is that I am teaching what God has commanded older women teach younger women in His Word. I try to be true to the Word in everything I write.
One such woman wrote me this: "I am the one in the household who cleans the house, does laundry, puts away the laundry, takes out uniforms daily for the kids, prepares all the home cooked meals, does the dishes and makes sure my kids have had bathes, not to mention projects as well. I also work full time as a teacher and have to bring home work sometimes. My day begins at 5:00 am and I go on until about 10:00 pm." She is exhausted and then her husband shows her my viral post as if to say, "See, I shouldn't have to help you with housekeeping."
There are many such situations in today's culture. I could have written this post 100 years ago and it wouldn't have caused a stir at all most likely. If this woman has decided to work because she wanted to get out of the home and away from the children, I would encourage her to go home, be a keeper at home, and raise her children since they need and want her. Many believe that being a school teacher is a perfect job for a mother. It's not, as you can see from this woman's comment to me. Some women whose mothers were teachers told me that they felt robbed because of it. They said their mothers gave all they had to the children they taught and had nothing left for them when their mothers finally came home. Another one said that her mother was so busy that she was never able to teach her the fine arts of keeping a home.
If you are in this situation and your husband has shown you my post, then tell him that you will probably give your notice to come home and take care of the home without asking for his help.
If you are working full time because your husband is not working much and wants you to continue working, ask the Lord to convict him about this since he is the one the Lord has called to be the protector and provider. Show him you can live very simply on his income so that you can be home and take care of all of the home duties that alone are a full time job for those mothers with children. Look at God's prescription for you in 1 Peter 3:1-6. Even though your husband is the one who is supposed to be working hard to provide, you need to still live in subjection to him with godly behavior.
If you are in this situation and he shows you my post, tell him that you are trying as hard as you can to juggle all of your duties the best that you can but it's impossible without some help. If he refuses, see if he will get you some help. If he refuses this, then give it to the Lord in prayer and do the best you can.
If she is working because her husband is working very hard at any job he can and even multiple jobs but still can't seem to make ends meet, then she needs to pray consistently that her husband will find a good job that can support the family so she can come home. Our heavenly Father owns everything. What He has commanded He supplies. Any wife in this situation should read Laine's Letters 50 Ways We Paid Off Our House with One Income. Her husband never made over $30,000 a year but with a lot of prayer and simple living she was always able to stay home with her children because this is where she knew the Lord wanted her to be.
In saying all of this, I have no problem with wives asking their husbands for help when they need it. None. I have to ask Ken for help whenever something is too heavy for me or needs to be fixed which is often because of my bad neck. The viral post was for those women who nag and complain to their husbands because they have asked them to help but they don't. Some have even destroyed their marriages over it.  The problem today is that the roles have become so blurred that it has caused chaos in the homes and culture. Women were created to be their husbands help meet and to be the keepers at home. Men were created to be the protectors and providers. Everything works better when each knows their role and does it, contrary to what feminists have fought so hard for.
Woman are home-oriented. God has made them this way. This is why the home fixing up shows are so popular. Women love their homes and want them to be beautiful. They are also the nurturers. God made them this way too. They are the ones who bear and nurse children. When their children are sick and they have to work, all they want to do is be home with their children. If your husband doesn't want to help you with housework, since many men have no desire to do housework, do it joyfully as unto the Lord and remember that the JOY of the LORD is your strength.
And whatsoever ye do, do it heartily, as to the Lord, and not unto men.
Colossians 3:23
***If you would like a signed copy of my book, send $12 through PayPal (for only those living in the US) to laalex2@aol.com.
Make sure you add your address with it. Thank you!