I Don't Judge Women. Truth Judges Them.
I Don't Judge Women. Truth Judges Them.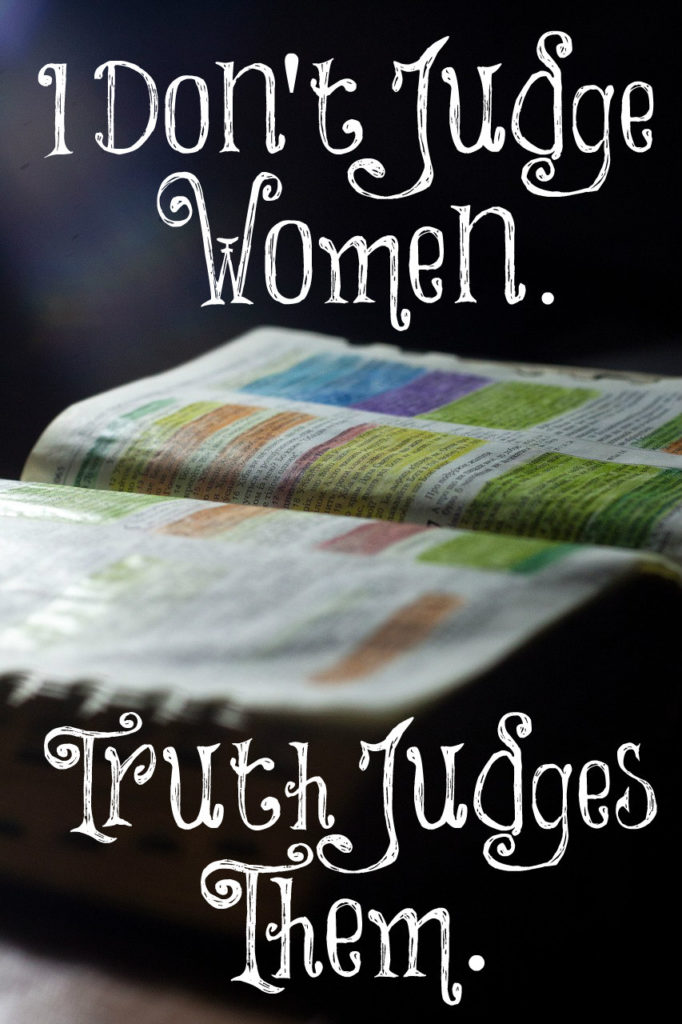 In our devotions the other day, we read these verses: "But if all prophesy, and there come in one that believes not, or one unlearned, he is convinced of all, HE IS JUDGED OF ALL: And thus are the secrets of his heart made manifest; and so falling down on his face he will worship God, and report that God is in you of a truth" (1 Corinthians 14:24, 25). What does prophesy mean? We are given the answer in 1 Corinthian 14:3: "But he that prophesies speaks unto men to edification, and exhortation, and comfort."
Prophesying is speaking the truth of God's Word. As I wrote last week, I receive comments from women that I'm judging them because I teach the truth of God's Word. As I was pondering this, I realized that truth always convicts. For those who don't like being convicted, they shout out at me, "YOU'RE JUDGING!" They want to ignore the conviction of truth instead of change. They enjoy their godless lifestyle more than living in obedience to the Lord.
Truth judges people. It exposes the sin in their hearts and in their lives. This is a good thing if received with a soft and teachable heart. "He is judged by all – By all that speak; by all that they say. The 'effect' of what they say shall be, as it were, to pass a 'judgment' on his former life; or to condemn him. What is said will be approved by his own conscience, and will have the effect to condemn him in his own view as a lost sinner. This is now the effect of faithful preaching, to produce deep self-condemnation in the minds of sinners." (Barnes' Notes)
Therefore, it's not me who is judging as I am often accused. The truth brings judgment into their lives because it points out their sin and they don't like this one little bit. When I teach women to be keepers at home, I am not judging career women who choose to work away from their children. The truth of God's Word is judging these women. When I teach women to be submissive to their husbands, I am not judging unsubmissive women. God's Word is judging unsubmissive women.
This is why so many women actually hate what I write. They don't like someone who teaches the truth of God's Word because of its conviction and judgment in their own hearts. They much prefer their ears to be tickled and feel comfortable with how they are living their lives. They love feminism and what it has accomplished. They don't like hearing that their entire lives are based upon lies and deceptions from the prince of the power of the air.
This I say therefore, and testify in the Lord, that ye henceforth walk not as other Gentiles walk, in the vanity of their mind, Having the understanding darkened, being alienated from the life of God through the ignorance that is in them, because of the blindness of their heart: Who being past feeling have given themselves over unto lasciviousness, to work all uncleanness with greediness.
Ephesians 4:17-19