Is it Sinful For Christian Couples Not to Have Children if They Can?
Is it Sinful For Christian Couples Not to Have Children if They Can?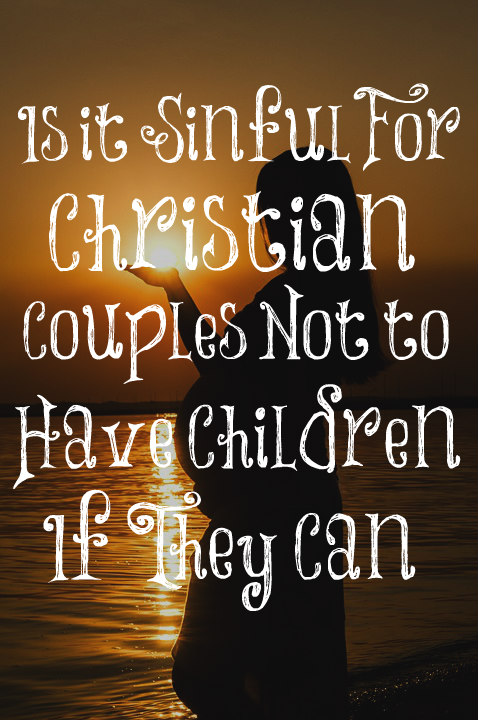 Married women have written to me and told me that they are deliberately choosing to not have children, then ask me if this is a sin. What if ALL Christian couples who could have children decided to not have children? Would this be sin? Of course! One of the main purposes for marriage is to raise godly offspring. The first command God gave to Adam and Eve was to be fruitful and multiply.
Did you know that the United States fertility rates have fallen to an 'all-time low' according to the CDC. Our culture has become anti-child. In the women's fights for their rights, they have left children behind and children have barely any rights at all. Couples deciding to deliberately not have children should not be named among Christians. This type of attitude supports the abortion mentality that children are a nuisance instead of a blessing. This world needs godly offspring more than it needs anything else, and we should value life and giving life. We don't need more female nurses, teachers, CEOs, senators, or anything else in the workforce. We need more mothers at home raising their own children.
I asked the women in the chat room how they would respond to the question of whether or not it is a sin for a couple to decide not to have children. Here are a few of their answers:
Lindsay: "Yes, it is sin to decide to marry while intending never to have children. In fact, it is not marriage. To reject a large part of what God designed marriage to be is to reject marriage. It is just as much a deviation from God's plan to reject children in your marriage as to reject having sex with your husband or to reject that marriage is one man and one woman. It means you don't want marriage.
"Of course, some marriages are childless because of infertility, and people who cannot have children can still make a marriage. The issue is rejecting children in principle and thus deciding to reject what God made marriage to be."
Sharon: "God's Design – marriage, sex, biology, His express words, godly older women training younger as well as His principles for health, lifestyles, attitudes, work – ALL will result in children IF we don't do anything to interfere. To CHOOSE to interfere, to go against His Design WILLFULLY, has to be sin. IF a young woman 'doesn't want' children, there is something amiss: her training, her understanding, her selfishness, her worldview. She needs to 'be transformed by the renewing of her mind!' You cannot say you love God and reject the fundamentals of His Design."
Lorrie: "I would respond with the thought that there is something wrong with our hearts if we do not want to obey Gods commands. This is something that needs to be mourned—if you do not want children as a woman, your heart is on earthly matters, not heavenly things. All reasons for not wanting to have children are earthly treasures that will eventually be burned up. The only thing that lasts forever is our souls. As a Christian mother and father, when you have a child, you have contributed (prayerfully) to an eternal soul that will spend eternity with God."
Al Mohler wrote in his article "Deliberate Childlessness: Moral Rebellion with a New Face, "Marriage, sex, and children are part of one package. To deny any part of this wholeness is to reject God's intention in creation and His mandate revealed in the Bible. Couples are not given the option of chosen childlessness in the biblical revelation. To the contrary, we are commanded to receive children with joy as God's gifts, and to raise them in the nurture and admonition of the Lord. We are to find many of our deepest joys and satisfactions in the raising of children within the context of the family. Those who reject children want to have the joys of sex and marital companionship without the responsibilities of parenthood."
I will therefore that the younger women marry, bear children, guide the house, give none occasion to the adversary to speak reproachfully.
1 Timothy 5:14