Job Descriptions for Older and Younger Women
Job Descriptions for Older and Younger Women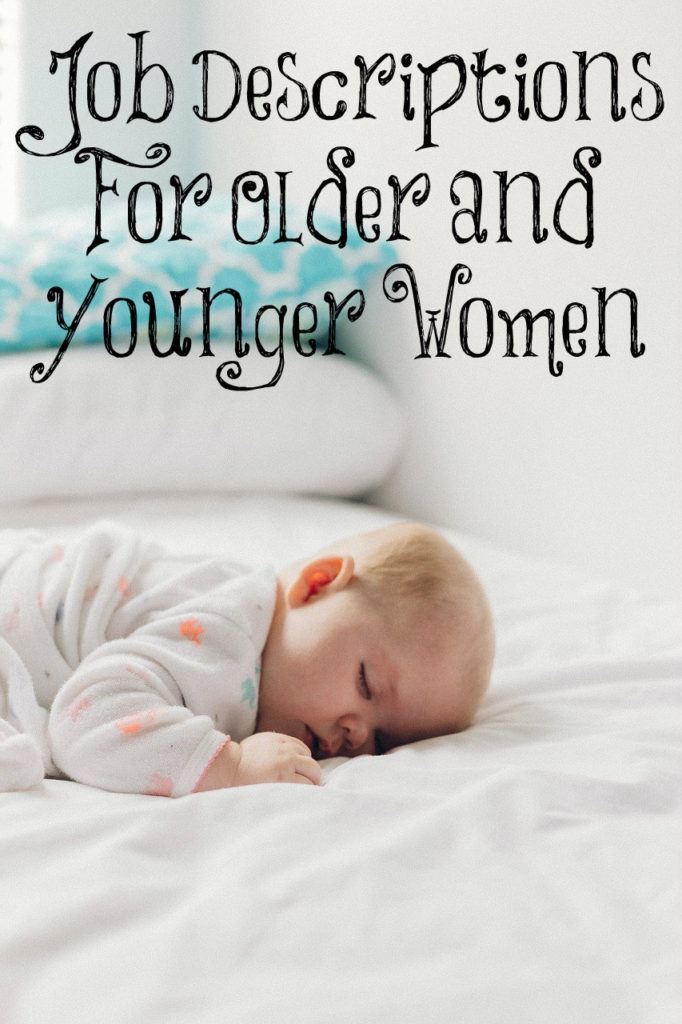 Here's the job description from God for younger women:
"I will therefore that the younger women marry, bear children, guide the house, give none occasion to the adversary to speak reproachfully" (1 Timothy 5:14).
"That they may teach the young women to be sober, to love their husbands, to love their children, To be discreet, chaste, keepers at home, good, obedient to their own husbands, that the word of God be not blasphemed" (Titus 2:4, 5).
"Notwithstanding she shall be saved in childbearing, if they continue in faith and charity and holiness with sobriety" (1 Timothy 2:15).
Here's the job description from God for older women:
"Well reported of for good works; if she have brought up children, if she have lodged strangers, if she have washed the saints' feet, if she have relieved the afflicted, if she have diligently followed every good work" (1 Timothy 5:10).
"The aged women likewise, that they be in behaviour as becometh holiness, not false accusers, not given to much wine, teachers of good things [then it goes on to tell what the aged women are to teach the younger women]" Titus 2:3.
Do you see a common theme in these verses? Women's job description given by God is to bear and raise children! Motherhood is our calling from God. If you are barren or single, you can still mother! It's in our nature to mother. It's not in our nature to leave our homes and children each day and work in the workforce. This is in a man's nature. God created him to do this, not us. The way our bodies were created reminds us monthly (before menopause) that we are to bear children. We are to nurse them at our breasts. It's God's perfect will for us.
I read Facebook posts written by mothers who have many children. They will admit it's not an easy life but it's a good life and they wouldn't trade it for all the things the world has to offer. They admit that pregnancy and giving birth are difficult, but the results are eternally amazing! They admit that disciplining and training children takes a lot of hard work and diligence, but it's worth it when their children grow up walking in truth.
Read through the Bible and notice that all of the women who were barren deeply mourned over their infertility. They instinctively knew they were created to have babies but could not. From Sarah who was barren for many, many years (Genesis 11:30), to Rebekah (Genesis 25:21), to Rachel (Genesis 29:31), to Samson's mother (Judges 13:2), to Hannah (1 Samuel 5:1-5), and finally, Elisabeth, John the Baptist's mother (Luke 1:7). They all suffered for years with infertility, but the Lord opened up all of their wombs, some as old as 90 years old which was definitely a miracle! Elisabeth was "well stricken in years" but it doesn't tell us how old she was.
This is what Elisabeth said when she found out she was pregnant: "Thus hath the Lord dealt with me in the days wherein he looked on me, to take away my reproach among men" (Luke 1:25). It was considered a bad thing to not have children back then. Children were valued and an expected part of being married. This is why I love the Bates' and the Duggars' TV shows. The young women marry, bear children, and guide the home, just as the Lord has commanded that they do. It's a breath of fresh air in this anti-child culture in which we live.
He maketh the barren woman to keep house, and to be a joyful mother of children. Praise ye the LORD.
Psalm 113:9

***I am asked frequently about infertile women and if I believe it is due to sin in a woman's life. Infertility is a result of sin in general. We live in a fallen, sinful world. Some women are infertile from being sexually promiscuous prior to marriage so yes, sometimes infertility is a direct result of sin in a person's life. The birth control pill and other forms of artificial birth control can also cause infertility. Abortions can cause infertility. Many things can cause infertility, but it doesn't always mean it is a punishment of God, especially for those who have lived according to God's principles for them. It's simply a result of living in a fallen world. Here's a great post for single and barren women.