Is Your Husband Truly the Head of Your Family?
Is Your Husband Truly the Head of Your Family?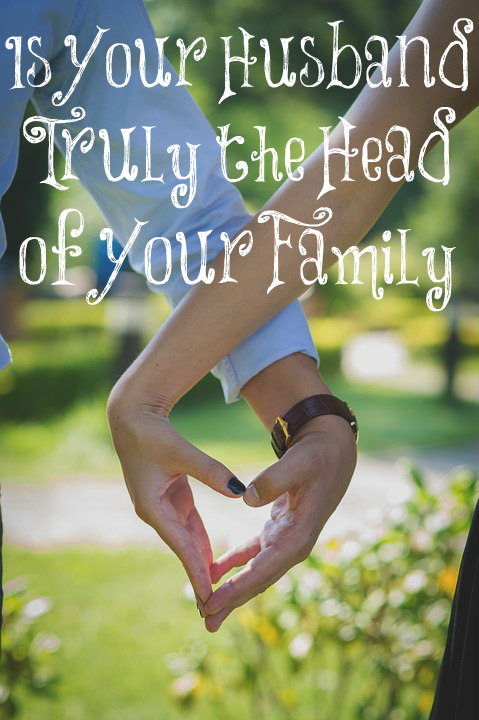 There is a lot of contention among believers over many things. This should not be named among believers in Jesus Christ! "But if ye bite and devour one another, take heed that ye be not consumed one of another" (Galatians 5:15). Yes, hold firm to your convictions but share them in kindness, not to dominate others. How about all the issues that can cause contentions in a marriage? What about them?
In all of these things, women, is your husband the one who decides? Does he decide whether or not you celebrate Christmas and Easter? How about vaccinations? Is he the one who has the final say on this issue even if you disagree? What about headcoverings? Do you wear one if he wants you to and do you not wear one if he doesn't want you to wear one?
What about the issue of spanking? Do you follow his leadership in this area? If he wants you to spank your child, do you? How about the family bed? What if he doesn't want the children in bed with both of you? Do you obey him in this area? How does he feel about modesty? What are his standards and have you asked him? Do you let him set the modesty standards in your home?
What about the translation of the Bible that you use? Is this important to him and if it is, do you use the translation that he believes is best? How about the issues of circumcision and birth control? Do you honor his wishes in these areas or do you fight for what you want?
Another big issue is how to school your children. Do you live in submission to his wishes even if you disagree? What about the TV shows and movies that are allowed in the house? Do you cause contention about this in your home or do you let him decide since he is the leader of the family? What about the kind of church you attend? Do you let him pick what church your family will go to?
All of these are big issues to many of us and most of us have very strong convictions about them BUT we must remind ourselves that God made our husbands as head over us (the ones in authority) and we are commanded to live in submission to them. God has given our husbands the authority to decide these issues, not us. Sure, we can share our opinions and what we believe is best, but we must not quarrel or cause contention about them. Pray about the way the Lord leads your husband instead. Pray he will be a wise leader and make good decisions.
Remember, if your husband is making decisions that you don't like, you won't "win him" by arguing and being contentious with him. No, the Lord commands that we live in subjection to our husbands even when we believe they are wrong. No, we don't submit to evil but none of the above are clearly in the "evil" category even though some of you would like to make them be such as vaccinations. (The evil things are evil in the sight of all strong believers such as your husband asking you to watch porn, engage in a threesome, rob a bank, have an abortion, any type of physical abuse, etc.)
I am a firm believer in not getting vaccinations. I believe they are full of toxic ingredients and have many potentially harmful side effects. An argument can even be made that aborted fetuses are used in the making of vaccinations BUT most people believe  in the benefits of vaccinations, even many strong believers. If your husband wants your children to get vaccinated, he wants this for their good. A wife has no physical ability to stop a husband from vaccinating his children nor should she. She should kindly state her case and then pray. If her children are vaccinated, pray diligently over them and feed them a healthy diet. This is a husband's decision in the end, women. Don't fight him on it or on any other issue. We are called to live in submission to our husbands with godly behavior.
What I have noticed is that it seems that women tend to have much stronger convictions on some of these issues than men, but it still doesn't mean that they are right or that they get to decide. God didn't give us this role. He gave it to our husbands so in all of these areas, talk to your husband about it, share your opinions, and then obey him. As you are submitting to him, you are submitting to Christ since this is what Christ commands of you. Trust God as you submit to your husband and do not be afraid.
Even as Sara obeyed Abraham, calling him lord: whose daughters ye are, as long as ye do well, and are not afraid with any amazement.
1 Peter 3:6