Just Eve Was Deceived?
Just Eve Was Deceived?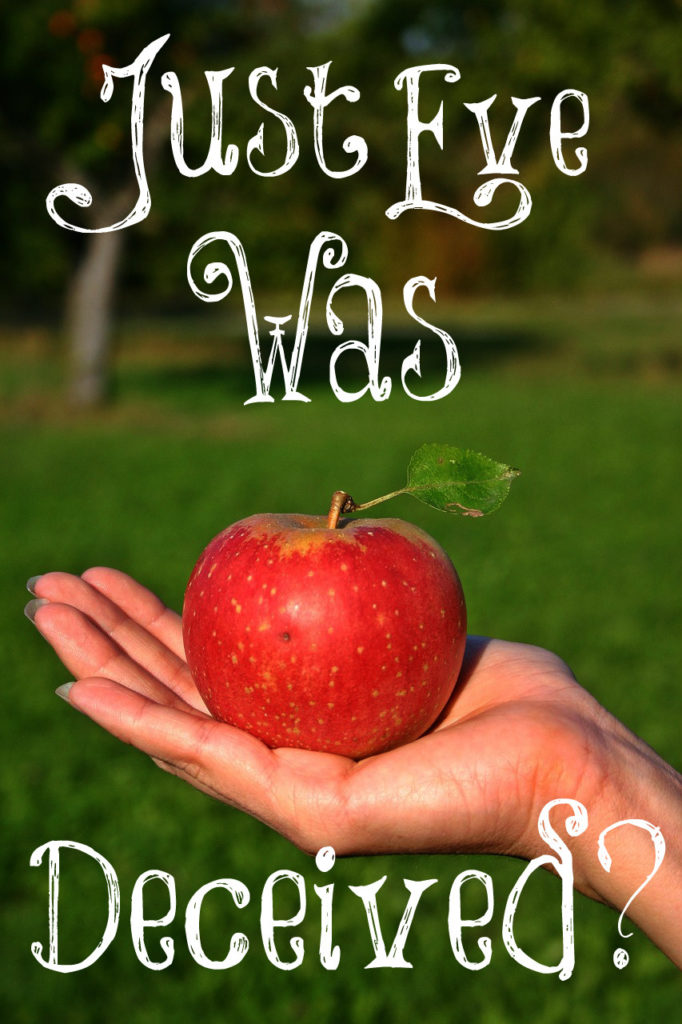 There are two reasons given why women cannot teach nor be in authority over men in the churches. "But I suffer not a woman to teach, nor to usurp authority over the man, but to be in silence" (1 Timothy 2:12). The first reason is that Adam was created first. "For Adam was first formed, then Eve" (1 Timothy 2:13).
God created the men to be the ones in authority all throughout the Bible. The main prophets, the priests, the patriarchs, and the apostles were all men. When Israel wanted a leader, God gave them a king. "As for my people, children are their oppressors, and women rule over them. O my people, they which lead thee cause thee to err, and destroy the way of thy paths" (Isaiah 3:12).
Yes, God used women in amazing ways all throughout the Bible, even having a female judge at one time. Queen Esther helped saved her people from death even though she wasn't in a position of authority. I have known some amazing women in positions of authority such as school principals. But I do know their home lives and marriages suffered. We were never created to do it all as young women are told today.
God is very specific about men having authority in marriage and in the churches. There's no guessing game to this. The husbands are head over their wives and the wives are to live in submission to their husbands and the elders and deacons (those in authority in the churches) are to be the "husband of one wife."
The second reason given for women not teaching nor being in authority over men in the churches is that Eve was deceived. "And Adam was not deceived, but the woman being deceived was in the transgression" (1 Timothy 2:14). I have just been reading a good book about how feminism has affected women and the author believes that this verse does not mean that all women are more easily deceived than men.
If this were the case, then why have this verse as the second reason that women are not to teach nor be in authority over men? Perfect, sinless Eve who walked in the Garden with God was deceived, therefore, women aren't allowed to be in authority over men nor teach them BUT it doesn't mean that all women are more easily deceived. This makes no sense! This verse wouldn't be in here if women aren't more easily deceived.
Women's nature is more emotional and sensitive than men's. God created us this way to be home and raise children. We are the softer sex. Men are typically more skeptical and questioning. I sure know this is the case between my husband and me. I am way more easily deceived than my husband. I believe this is a huge reason why God has men in authority positions instead of women and to not believe this makes the second reason for women not being in authority invalid.
This doesn't make men better than women. There is no better than or worse than between males and females. God simply created us differently for different roles. The serpent knew that Eve was more easy to deceive than Adam and this is why he went to Eve. Knowing that we are more easily deceived should make us more reliant on our husband's judgement, especially if we are married to a godly man.
The reason this author doesn't believe that this verse means women are more easily deceived is because then it would mean women can't teach children. No, this isn't the case! Women sit under male teaching in the churches and learn from them. If they have a question, then they ask their husbands at home. They should also spend daily time in God's Word growing in the wisdom and the knowledge of God. Then they will be fully prepared to teach their children all about the Lord at home but for them to be in authority positions over others and teaching the Bible hasn't been given to them. It was given to men. The Bible is very clear about this. Older women have been given the ministry to younger women to teach them the ways of biblical womanhood as spelled out in Titus 2:4, 5.
That they may teach the young women to be sober, to love their husbands, to love their children, To be discreet, chaste, keepers at home, good, obedient to their own husbands, that the word of God be not blasphemed.
Titus 2:4, 5