A Culture Killing Disease
A Culture Killing Disease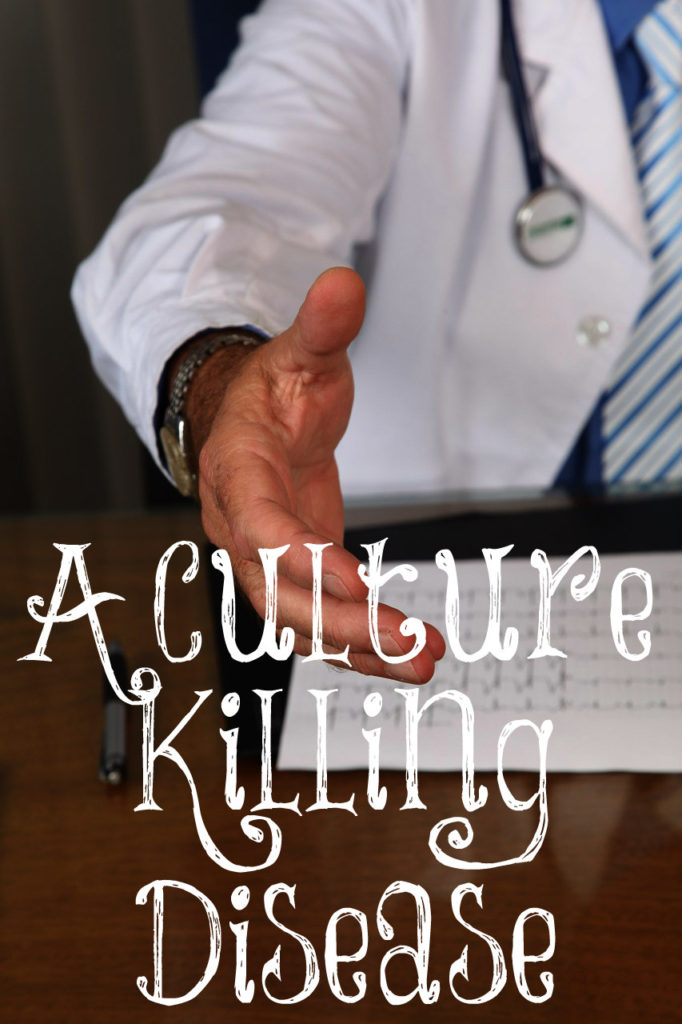 There were thousands of angry people with me because of my post about women destroying the medical profession. Many female doctors made comments and told me how they are raising wonderful children even though they are working full time as doctors. Many told me they were Christians and doing what God has "called" them to do.
Here are a few of the comments that were made. (Yes, I received many, many comments about being old-fashioned, going back to gender roles and inequality, etc. but I didn't publish them since my blog isn't a contentious blog but a teaching blog.)
"I don't understand the line of thinking that says men are created to be all manner of things, with all manner of skill, temperament and talent. They can do whatever they like as far as vocation is concerned. Yet women, despite having all sorts of gifts, temperaments, talents and abilities, all get the same job."
"Have you watched The Handmaid's Tale? You really should. Not all women want to stay at home and be baby factories. Perhaps you can celebrate that fact and appreciate that women have the ability to do what they want."
"Women cut back to part time more often than men because it is still more socially acceptable for a woman to do so (not because of anything in the Bible). Once society gets over your ancient gender roles, everything will equal out and you will see a more equal number of stay at home/part time dads."
They don't understand that God made men and women differently. This is what Dennis Prager said is wrong with universities today. Students go into them knowing the difference between male and female and come out not knowing the difference. Look at a male and female's body. They are different. One is created to bear and nurse children. The other is bigger, stronger, and is created to do what it takes to provide for his family. Simple nature shows us what role each one plays but our mixed up, evil culture no longer can see what's clearly before them.
I just read an article that men today are able to have sex freely with many available women so they get their fill of sex but end up lonely and alone. It's not satisfying in the end. It's because God didn't create men to do this. They were made to cleave to one wife all of their days and protect and provide for them while their wife stays at home and cares for their home and children if they are blessed with them. This is God's perfect plan and it's clearly visible if one wants to open their eyes and see.
My dad was a doctor. He didn't want any of his daughters to marry doctors because it's an extremely stressful job with long hours. This is why many female doctors can't work full time. They weren't created for this kind of stress and long hours away from home. They were created for home and being with their children if they have them. Yes, being home full time with children can be stressful and exhausting but there are breaks, rest times, and times to simply watch the children play in the backyard. It's not even close to the stress of being a doctor.
By the way, I wasn't the one that made up the statement that women taking over the medical profession is destroying the medical profession. The article I linked to stated this by facts of what is happening. When more women than men are in medical schools, something is very, very wrong.
This means fewer women being help meets to their husbands (marriages falling apart), fewer mothers home full time with their children (children are much more likely to be insecure and unstable without their mothers home full time with them), and fewer men with jobs that provide good livings for their families (men need work to provide). Society has suffered deeply without mothers in their homes caring for those in their communities, elderly parents, and their own children. Society keeps getting worse not better! We can't expect good results from leaving God's perfect paths for us.
"God created mankind 'in His image…male and female He created them.' The image and glory of God on this planet is tied to our human masculinity and femininity. Anything Satan can do to bend, blur, or deface that image is a big-time coup for him. So he is at it with a vengeance today, in your lifetime and mine.
"Could you pause with me a moment on this page? My heart's desire at this juncture is to convey the gravity of this matter to you. These gender battles in the cultural wars are not 'faddish.' They are not a 'minor distraction' or a 'cultural hiccup' to be lightly regarded or blandly accommodated. Here me, please, when I say that these issues represent a rock-bottom, down-in-the-trenches, gut-tearing attack on our society's vital organs.
"To tinker with the image of God, represented in male and female, is to slap God in the face. This is something more than politics, economics, social studies, or some bleeding-heart, feel-good crusade for 'equality.' This is a culture-killing disease. It also represents an ancient, long-simmering attack on the very person of God and His loving intentions for His children." (Stu Weber from "Four Pillars of a Man's Heart.")
Feminism is a culture-killing disease. It's a blatant attack on God. It's that simple and that destructive. It fights for "rights" that are opposed to God's plan for men and women. It has blurred the lines between male and female. It has made women angry and jealous towards men and now we have a war on men by women. It can't get any worse than this.
Yes, expect to be hated if you speak the truth about God's roles for men and women but it's okay. There are a few who listen and know in their hearts that God's path for them is right and good. They see the destructive influence that feminism has had on their own lives.
Stop allowing Satan's lies to ruin your marriage, children, and home. Go home and love and serve your family if at all possible. This is God's will for you. Don't allow the enemy of your soul to have his way in your life because his aim is to kill, steal, and destroy.
I will therefore that the younger women marry, bear children, guide the house, give none occasion to the adversary to speak reproachfully.
1 Timothy 5:14