Keeping Your Children From Evil
Keeping Your Children From Evil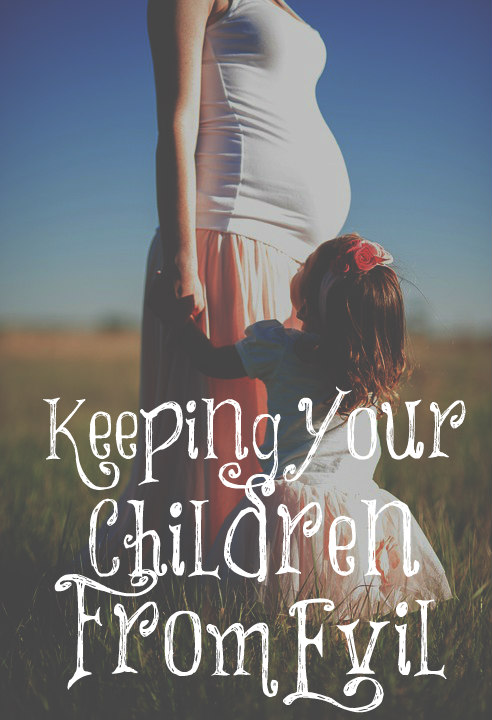 How do we keep our children from evil in this wicked land? We are told in God's Word to "Be sober, be vigilant; because your adversary the devil, as a roaring lion, walketh about, seeking whom he may devour" (1 Peter 5:8). The devil wants nothing more than to devour your children, women. You must raise them up in the nurture and in the admonition of the Lord, as God commands, since there is NO greater joy than to have children walking in truth. Susannah Spurgeon is a great woman to learn from. She was a godly wife and mother. Her husband adored her!
This was written about Susie: "She delights in her husband and finds sweetest content and solace in his company, his fellowship, his fondness. The domestic circle is her kingdom; that she may there create happiness and comfort, is her life work; and his smiling gratitude is all the regard she seeks."
It's almost impossible to raise God-fearing children if a mother isn't home full time with them. God gave mothers to children for their protection and commands that they be keepers at home. He wants mothers passing on their faith to their children and speaking to them throughout the day teaching them godliness. And remember, one of the greatest gifts you can give to your children is to love their daddy deeply and be committed to him until death do you part. Children NEED a mother and a father, regardless of what our wicked culture is trying to tell you.
I am once again going to take a few excerpts out of the book Susie: The Life and Legacy of Susannah Spurgeon by Ray Rhodes. (Please read it, if you have a chance!) Susannah Spurgeon had twin sons and here is a prayer that she most likely prayed daily for her sons.
"Lord, keep my boys from the evil that is in the world." Then she would tell them this: "You will hear, see, and learn things from older boys that perhaps you never dreamed of before. Turn resolutely away from everything that looks like vice or wickedness, and keep yourself pure unto the Lord. Temptation will be very strong sometimes, but cry unto God; cry mightily and He will deliver you. Something in my heart compels me to say this to you today; if you do no feel the force of it now, you will soon; so treasure up my words and above all, trust Jesus and distrust self."
Bible reading and prayer were a priority for Susie and Charles Spurgeon from the beginning of their marriage, and this was at the heart of their parenting.  Whether they "lodged in some rough inn on the mountains or in the luxurious rooms of a palatial hotel in a city, they did not neglect reading the Bible and praying together."
The elements of family worship modeled by Charles included Bible reading/explanation, prayer, and hymn singing. As the Puritan Matthew Henry declared, "They who pray in the family, do well. They who read and pray, do better, But they who sing and read and pray, do best of all."
"During their childhood, the sons lived beneath the blessings of God in a home where the Scriptures were honored and read; God was sought in prayer; hymns were sung; godly counsel was given; and Christ was exalted. And though their father was often away from his family, he left the boys in good hands under the care and tutelage of his beloved Susie.
"Along with teaching them the way of godliness from the Scripture, praying with and for them, Susie modeled patience and perseverance in trial by pointing them to Christ and the gospel. The lessons that the Spurgeon sons learned from childhood would help to steel them as they witnessed the effects of their parents' faith in the midst of great tragedy."
Thy word have I hid in mine heart, that I might not sin against thee.
Psalm 119:11