We Can't Fix the World
We Can't Fix the World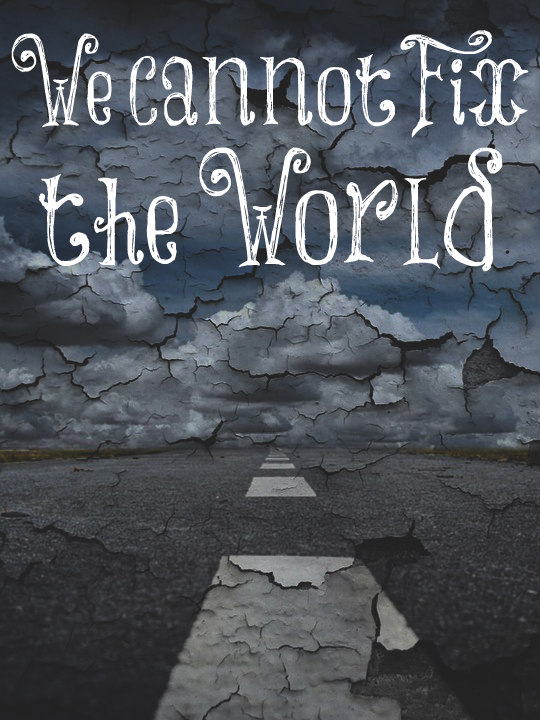 Should pastors be preaching on current events? I think so. It's good for Christians to know how to respond to evil happening around them. They need to be continually reminded of God's Word and will for us. John MacArthur is a pastor who is doing this. Since the lockdown, we have been listening to him.
This past week, he preached a sermon called How Should Christians Respond to the Riots? And like the previous week, it was an excellent sermon. I took notes so I am going to share them with you but I didn't take it of the entire sermon. He went into the evil roots of the Black Lives Movement and I'm not writing about this since I have already shared that on Facebook. (Read what they believe if you don't know.) Here's his sermon:
There is a two pronged life of a Christian in the world: to denounce sin and to speak for God of inevitable judgement and plead with sinners under that judgement to escape by embracing Jesus Christ. People will accuse us of being unloving because we denounce sin and warn of judgement.
Can we join the protests? Can we mingle in a crowd of the lawful and the lawless? "Don't join in an evil matter" (Ecclesiastes 8:3). Rebellion often turns out very badly. What good is there in being in rebellion against authority? In Romans 13, we are warned against resisting authority. You want no fear of authority? Then do what is good. Do right. Submit.
So you are suffering unjustly? So what. Welcome to the world. Welcome to life in a fallen world. You put yourself in a position of divine grace when you suffer unjustly. (Read 1 Peter 2.) We've been called to suffer unjustly. Christ is our example. What do we do when we suffer unjustly? We commit no sin, no deception. We don't strike back. We utter no threats. We entrust ourselves to the One who judges righteously.
When Christ suffered unjustly, He accomplished the greatest work ever in history. God has His purposes in our suffering. When you suffer unjustly, you'll receive grace and it will make you stronger. The Apostle Paul lived in a world of slavery. Millions of slaves and he never protested slavery. He called us slaves to Christ.
We are people of the truth. We are perfected through our suffering. Yes, the protests have grievances, but they have covered the truth with lies. To conclude that there is systemic racism, white supremacy, and widespread police brutality are all lies. I can't join the protests without being part of the lies. Satan is the father of lies. The Black Lives Matter movement is a satanic system so you can expect lies. It's trying to bring down the last restraint against evil, the police.
What about working to change laws? No matter how many laws you make, you can't change the sinner. Those who are in the flesh can't please God.
God has put restraints in the world. First, it's the law of God in our hearts and in our conscience. This culture has completely destroyed that. The second restraint is the family, and the authority and discipline that the parents bring to restrain sin in children. The culture has destroyed that. The Church has fallen on hard times by trying to entertain sinners and make them feel comfortable so it comes with no force against sin. The final one standing is police and they're under assault.
The bottom line is we can't fix the world. All is fleeting and vanity. We can't control life in a fallen world. Wise people understand this. We're going to die. The only one who can change it is God. We don't know what God is doing in all these times. There's nothing better than for you to rejoice and do good in your life.
Live your life in joy, happiness, and goodness as one who knows God, because we don't know what God is doing in the world. Every single thing that happens will have its day in God's court. We need to fear God and set our minds on Him as the One who will resolve all of the injustice and unrighteousness. We're just passing through. We aren't going to erase fallenness. Be happy in your activities! Walk in obedience to God. Don't be part of disruption and rebellion. What's the point?
We don't know what's coming. Be happy. Take everything God has given you and enjoy your work. Enjoy your marriage and enjoy your life. Be happy. You don't need to spend your life as an agitator, hostile, angry, full of bitterness, and vengeful. (What an awful way to live!) We're all dust to dust so enjoy what God has given to you. God will make everything beautiful in His time. We aren't built to see the big picture. Only God can.
For even hereunto were ye called: because Christ also suffered for us, leaving us an example, that ye should follow his steps: Who did no sin, neither was guile found in his mouth: Who, when he was reviled, reviled not again; when he suffered, he threatened not; but committed himself to him that judgeth righteously.
1 Peter 2:21-23