Lack of Traditional Values Destroys Nations in Three Generations
Lack of Traditional Values Destroys Nations in Three Generations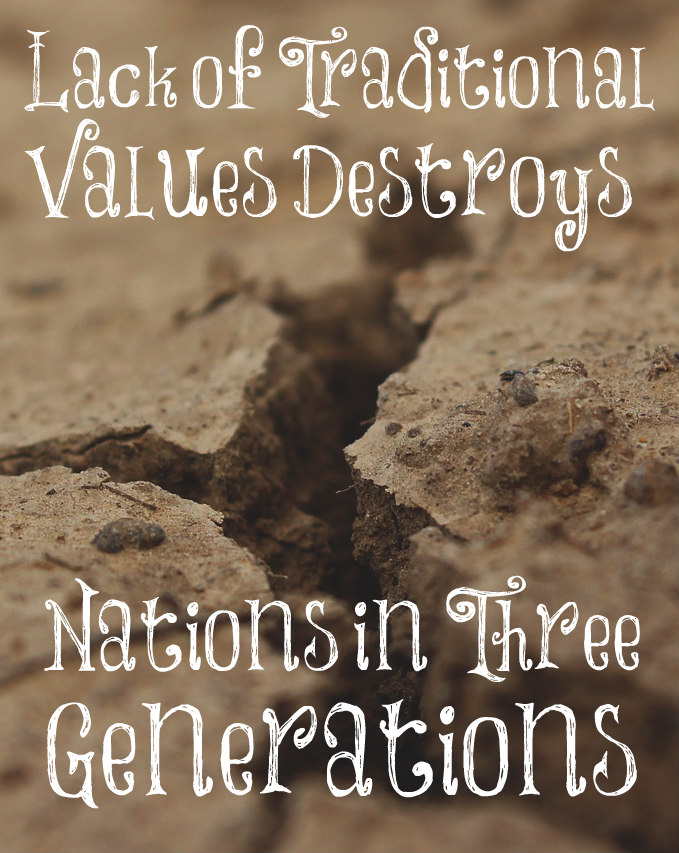 Yesterday, our pastor said that an atheist man set out to figure out what destroys nations. His conclusion was that the leaving of morals (disintegration of family and unbound sexuality) is what destroys nations in three generations. We can see this happening in our nation.
When my mom was growing up, people still highly valued the institution of marriage, having children, and raising a family. Living together before marriage was considered "living in sin" and everyone knew homosexuality was a sin. If a man got a woman pregnant, he would most likely marry her. Divorce was rare.
When I grew up in the 1960s and 1970s, people still highly valued the institution of marriage but divorce became more common. A lot of my friends in high school were from broken families by the time they reached their teens. Young couples were having sex outside of marriage and were thinking nothing about it. Homosexuality was still considered a sin and rarely mentioned. I went to public schooling all of my childhood and I never heard the terms oral or anal sex, pedophile, or transgender. No one spoke of these things even in a public high school where kids were sleeping around and smoking on campus.
Since my children have grown up, it's gone steadily downhill to the point where most people in my children's age group are living together before marriage, not getting married, and if they do, many of them aren't having children. Sadly, all these are even common in the churches. There is no restraint on sexual immorality anymore. All types of wicked and perverted pornography are available at the click of a mouse. Everything is accepted and even being demanded to be "celebrated." Traditional values are mocked and ridiculed (just look at the comments on my Facebook page).
Therefore, we are living in the second generation since traditional values have tanked. How are we to live knowing this? Our nation may cease to exist in a generation. Should young couples no longer have children in fear of bringing them into this wicked culture? That's sure what Satan would love for them to do! He would love for all of the Christians to live by fear and stop having children. His goal is to kill, steal, and destroy and we can clearly see that he is the prince of the power of the air.
Live by faith, young women, instead of by fear. We are all going to die one day. When you bear and raise children no matter what's happening in culture, you are raising eternal beings that will live eternally with you on the brand new earth. Raise them in the nurture and the admonition of the Lord. Train them in the way they should go. These commands have been given to you, not to strangers. If their eternal souls are all that matter in the end, raise them with this in mind. Sacrifice your time and energy for them. It's worth it!
This world needs more salt and light, not less. Stay married to the husband of your youth until death do you part. Have children and raise them to know God. Love your children deeply and discipline them diligently. Be faithful to teach them God's Word, His ways, and hide His Word deeply in their hearts so they won't sin against Him. Remember, God still reigns over this earth and He will until He destroys it by burning it up with fervent heat (2 Peter 3:10). He will never leave nor forsake you.
Thus saith the LORD, Stand ye in the ways, and see, and ask for the old paths, where is the good way, and walk therein, and ye shall find rest for your souls. But they said, We will not walk therein.
Jeremiah 6:16