Women Neglecting Their Husbands After Having Children
Women Neglecting Their Husbands After Having Children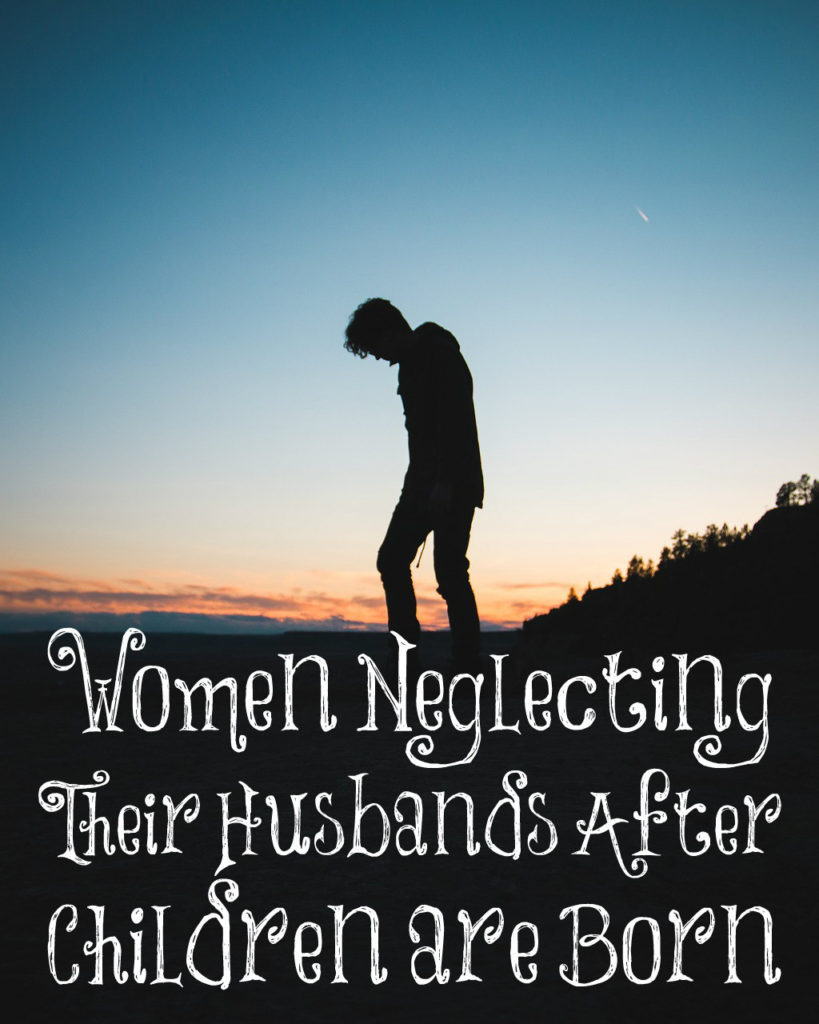 A man wrote the following comment on my post yesterday about mothers believing they need time way from their children: "I don't see how it's possible for a woman to be a mother to numerous children (as you've trumpeted as a good thing, a blessing) and at the same time to be a help meet to her husband. I've known too many women, my wife included, that once they became mothers, they stopped being wives. They got matronly, unattractive, and totally focused on the children.
"From what I've read in many of your previous posts, you believe God encourages women to be in perpetual motherhood until menopause kicks in (my perspective). Frankly, I for one miss my wife. She's been gone for 17 years since my firstborn came along. I don't blame my kids for that, I blame her. I don't see how it's possible to be both wife and mother with equal effectiveness.
"On another note, I don't know how it is with other men, but being responsible to be the sole breadwinner for the household sucks. It's not filled with a sense of accomplishment or pride or anything positive. It's like a huge boulder I carry around that is slowly crushing me and will bury me in the ground. I've described it to my wife and others before; it's like I'm a draft horse hooked in harness to my wife pulling a heavy wagon, but instead of her pulling her weight, I'm pulling the wagon and her because she's so focused on being a mother, she's no help in other aspects of life."
First of all, women must remember that they were created to be their husband's help meet or helper first. This is why God created them. Many women tell me that their husbands don't want anymore children. The main reason, I believe, is that their husbands no longer have a helper. They have lost their help meet to their children.
If you have ever watched the Duggars or the Bates on TV, who both have 19 children, it's obvious that both of them have great marriages! The laughter comes easily to both women and you can see the love and affection they have towards their husbands. They both teach women that their husbands need to be a priority. Also, neither of them are slender but their husbands adore them because they have become lovely through their kind, loving, and joyful spirits. This man wouldn't consider his wife "matronly and unattractive" if his wife was putting him first and being joyful. Beauty is only skin deep, remind yourselves. True beauty comes from within.
This man said that I believe that women should be in "perpetual motherhood until menopause." I teach that children are a blessing. I hate what birth control and the birth control mentality have done to our nation, which has led to the slaughtering of 63 million unborn babies. How many children each individual couple has is up to them but hopefully, believers will have a love for children and see them as blessings rather than burdens.
I love what John Coblentz wrote in his excellent book "Christian Family Living" about this topic: "While Christian families claim not to have the values of their non-Christian counterparts, the pressures are certainly there. To have one or two children is acceptable. To have three is borderline. Four raises the eyebrows. Five and over means you are careless and irresponsible, likely raising parasites of society. The family of 10 or 12 is a phenomenon of the Dark Ages. So the reasoning.
"The Bible says, 'Lo, children are an heritage of the LORD: and the fruit of the womb is his reward. As arrows are in the hand of the mighty man; so are children of the youth. Happy is the man that hath his quiver full of them: they shall not be ashamed, but they shall speak with the enemies in the gate" (Psalm 127:3-5).
"God considers children a divine blessing to the home, and we must certainly acknowledge that the decrease in children today has not made for a happier, healthier family unit. Christian parents, who walk in step with God, will love children, will see them as a blessing, and will not succumb to the self-centered pressures of society."
Then this man proceeded to complain about having to be the sole breadwinner for his family and that it "sucks" according to him. Yes, this is a result of the Fall for men. They would have to toil in the soil all of the days of their lives. Life on this earth isn't easy since sin entered in. It's hard for women to be pregnant for nine months, go through labor, be up during the nights nursing their babies, and then training and raising their children up in the ways of the Lord. Neither men nor women have it easy in this life but we are commanded that godliness with contentment is great gain. We have never been promised an easy life but one of tribulation (John 16:33).
Imagine if this man's wife was continually praising and thanking him for working so hard for him. Would his attitude be different? I think so. Imagine if she lovingly cared for him in his home and praised him to their children. Imagine if she was the help meet to this man that God has called her to be. Remember, we are told that a wise woman builds her home up and a foolish one tears it down with her own hands.
Be wise women, dear women, and build your homes up! Remember, you can do ALL things through Christ who gives you strength, and He tells you that His commands are not burdensome. There's no greater gift you can give your children than for them to see you deeply loving and caring for their father, your husband.
And the LORD God said, It is not good that the man should be alone; I will make him an help meet for him.
Genesis 2:18