Leaving His Socks on the Floor
Leaving His Socks on the Floor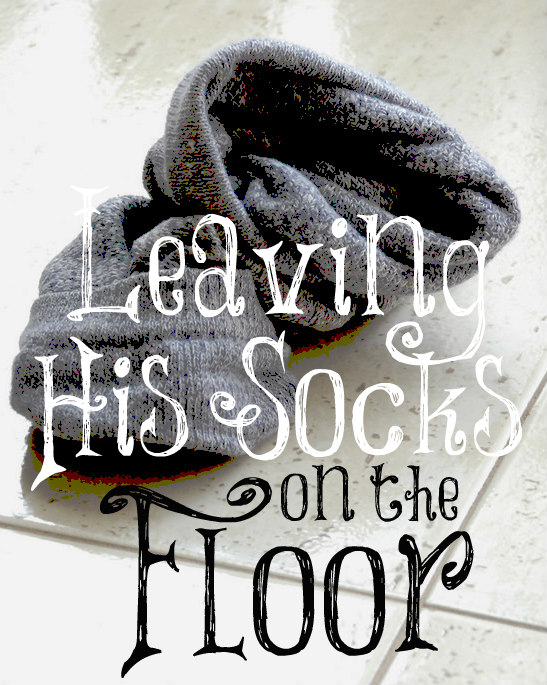 A woman commented in the chat room: "There was an article recently about appreciating your husband even when he leaves his socks on the floor etc… I'm sure most people have read it… I kept thinking so basically appreciate the sucky things he does because hey, at least he's not dead…. I'd rather my husband appreciate me for more than 'at least she's not dead.'"
Another woman responded to her the following that will bless all of you!
"I am married to a precious man, made in the image of our Father, who almost died on September 1, 2016 during one of our three marital separations, from an enormous brain aneurysm. But God. Even now, he is FAR from perfect (as am I), and he has yet to be our provider financially in full (we have four small children still at home.) Why do I say this to you? To have a martyr complex? To guilt you? To show you how "righteous" I am? PERISH THE THOUGHT.  No, I share this with you because almost losing your husband DOES put things like socks and dishes in perspective.
Once, before our third separation, I was so disgusted and furious with him that I picked ALL THE SOCKS AND UNDERWEAR of HIS out of our dirty laundry, and began carrying all my stuff downstairs to the washer dryer to do the wash. As I stood there, the Holy Spirit impressed upon my heart: 'Whose wash do you think that IS, anyway? Yours? His? That laundry belongs to the LORD.' I laughed. I mean, I LAUGHED OUT LOUD! Because it was so utterly absurd that I thought I could PICK OUT THE SOCKS that weren't 'mine' and wash the rest and somehow be justified, because after all, my husband was a total JERK. (And he really was, in his flesh, a total jerk!)
I do not wish the pain of hearing your husband's voice from EMS, having a large stroke, on anyone. But I will say: take heed to the words I share. There is perspective. When you look at that dishwasher, thank Jesus that you have hands to load it and push the buttons to turn it on. Thank Jesus that you are healthy enough to get up in the middle of the night and do it. Thank Jesus that you even have a husband. Thank Jesus that you do not have to wash your dishes in prison. Anything you can think of to get the focus off of self and onto Jesus.
I know it's not easy. That's why it's called putting off the old and putting on the new. That takes effort when our perspective is being changed by the LORD. I encourage you to just turn to Him whenever negative thoughts try to turn on you, and just thank and praise Him out loud, as you work and love and serve and as you lie down to rest, and as you rise up! Soon, you will not even think negative thoughts, or if you do, you will cast them down immediately! Blessings on your new baby to come very soon. Enjoy this. We can be so fickle; myself included. 'Oh, I want him here! Oh, no I don't!' I get it. Be encouraged. You CAN do it! Love and hugs from a woman who is NOT widowed, by the grace of God."
But he that is greatest among you shall be your servant.
Matthew 23:11