Reverencing Our Husbands
Reverencing Our Husbands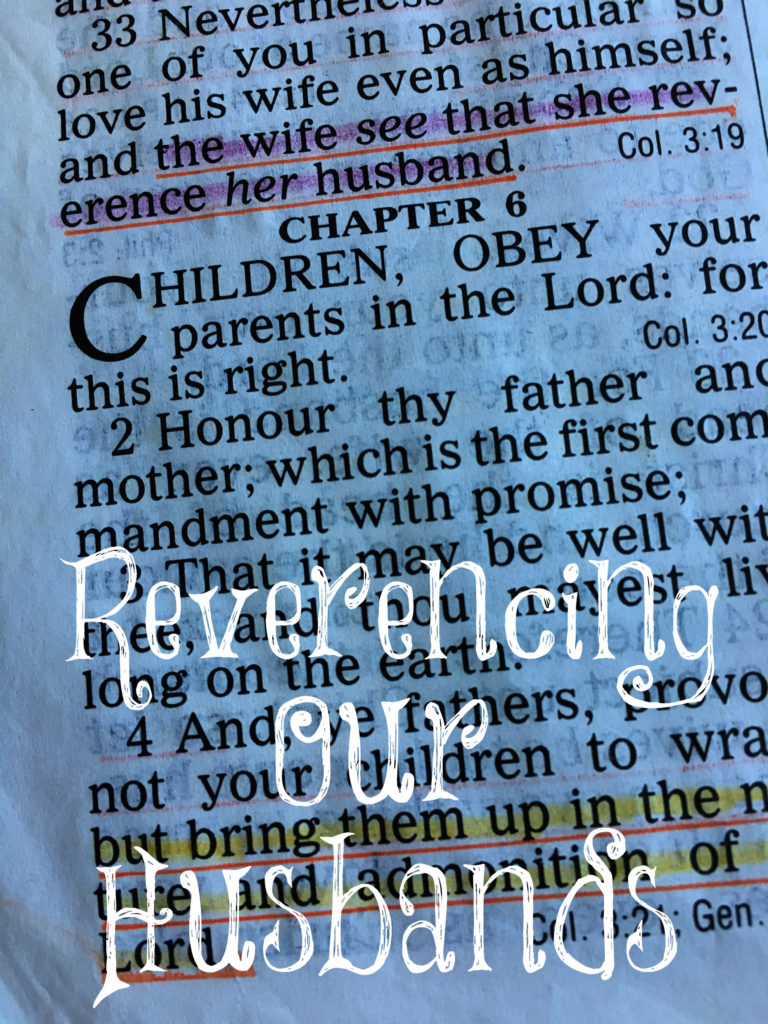 Most women today do NOT reverence their husbands. Most Christian women don't even know what it means. I need to learn what it means. I do these words studies not only to teach those who want to learn but for me too. I have seen a few wives who reverence their husbands but it doesn't come easy for most of us.
I made a YouTube about reverencing our husbands but I know some didn't like it because they know that their husbands aren't Christ. In the video, I said to treat your husbands as if they were Christ and then you will know what reverence looks like! I am not sure why I would even have to remind these women that their husbands aren't Christ. Of course they are not but we are still commanded to reverence our husbands so I am going to try to explain what this means by using by trusty 1828 Webster's Dictionary.
"Fear mingled with respect and esteem; veneration." Veneration means "the highest degree of respect and reverence; respect mingled with some degree of awe; a feeling or sentiment excited by the dignity and superiority of a person, or by the sacredness of his character, and with regard to place, by its consecration to sacred services."
Look at Sarah and how she reverenced her husband. "For after this manner in the old time the holy women also, who trusted in God, adorned themselves, being in subjection unto their own husbands: Even as Sara obeyed Abraham, calling him lord: whose daughters ye are, as long as ye do well, and are not afraid with any amazement" (1 Peter 3:5, 6).
The holy women trusted in God. This is foundational to our obedience to Him. "And hereby we do know that we know Him, if we keep His commandments" (1 John 2:3). What are those "commandments" we are to keep. The footnote to the word "commandments" in my Bible tells us: "John uses 'commandments' in the general sense of the divine will, however, revealed, 'his word' (v. 5) and especially of the law of Christ." It's NOT talking about the Old Testament Law, thankfully!
If we trust in Him, we will have no problem reverencing our husbands since He has commanded for us to do this. If our husbands make bad decisions, we will trust in God to make it right. If we are fearful over our husband's job or income, we trust in God to be our Provider for when we are reverencing our husbands, bottom line – we are trusting in God.
From Barnes Notes on the Bible concerning these verses: "It was probably inferred from this instance, by the apostle, and not without reason, that Sarah habitually used this respectful appellation, acknowledging by it that he was her superior, and that he had a right to rule in his own house. The word lord has the elementary idea of ruling, and this is the sense here – that she acknowledged that he had a right to direct the affairs of his household, and that it was her duty to be in subjection to him as the head of the family."
The easiest way for me to understand what reverence looks like in my relation to my husband is to treat him as if he were Christ and how I would treat Christ if He were living in my home. I haven't found any other example or illustration that helps me to better understand this concept than this that was given by Denny Kenaston in The Hidden Woman, especially since I was never modeled it and having a servant's heart doesn't come naturally to me although I am a lot better than I used to be.
Our culture doesn't reverence anything. They don't even know what it means, therefore, most of us don't either, but wives are commanded to reverence their husbands in Ephesians 5:33. If you love the Lord and want to obey Him in everything, then learn to reverence your husband. Reverence from a wife is a powerful thing in a husband's life.
The wife see that she reverence her husband.
Ephesians 5:33