Let's Stop Exalting Singleness
Let's Stop Exalting Singleness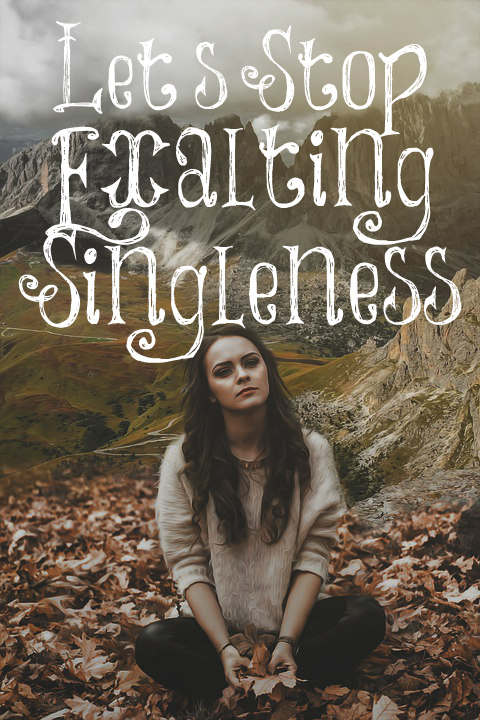 Written by My Husband, Ken, and Me
Many want to build their opinions about marriage on this verse: "For I would that all men were even as I myself" and "I say therefore to the unmarried and widows, It is good for them if they abide even as I" (1 Corinthians 7:7, 8). The Apostle Paul is saying that he wishes all could remain single as he is so they can preach the Gospel, BUT right before this verse, he wrote, "But I speak this by permission, and not of commandment." A few verses after this, however, he wrote, "But if they cannot contain, let them marry: for it is better to marry that to burn."
We must remember that we should not build a theology based upon a few verses. God created marriage and He said it was good. He created a woman for a man to be his help meet, since it's not good for the man to be alone. His first command to them was to be fruitful and multiply. One of the main purposes of marriage is to produce godly offspring, as Malachi 2:15 points out so well:
"Did He not make them one, with a portion of the Spirit in their union? And what was the one God seeking? Godly Offspring. So guard yourselves in your spirit, and let none of you be faithless to the wife of your youth."
Can you see how marriage with a husband and wife becoming one with the Spirit inside of them is an example of the Godhead, three in one? Can you see how husband and wife are an example of Christ and His Church? Marriage is a vivid illustration of who God is and what He is doing in birthing a spiritual family who will enjoy eternity with Him forever. If you could sum up almost all of what God is doing with His creation into just a few words you would find that at the heart of it all is family. Look up for yourself how many times in one way or another God says, "and I will be their God and they will be my people" (Jeremiah 7:23; 32:22 &38; Genesis 17:7; Exodus 6:7; Ezekiel 36:28; Isaiah 54:13; 2 Corinthians 6:16; Hebrews 8:8-10; Revelation 21:3).
There is absolutely nothing more important that most of us will be able to do for God in this lifetime than to bear and raise up godly offspring. This is why God commands young widows to marry, bear children, and guide the home (1 Timothy 5:14). He tells young women to love their husbands and children (Titus 2:3-5). Elders and deacons, who are to be our role models in the churches, are to be the husbands of one wife and are to be chosen based on how their children reflect the glory of God which their parents have instilled in them (1 Timothy 3:4, 5). Older widows are to be known for bringing up children (1 Timothy 5:10) and in 1 Timothy 2:15 we are told, "Notwithstanding she shall be saved in childbearing, if they continue in faith and charity and holiness with sobriety."
The great overwhelming weight of Scripture and practice of the Church shows what God's will is for most men and women to marry and have children. The command to raise our children in the nurture and the admonition of the Lord should be taken so gravely seriously because we are raising God's children, not just our own!
This is why I believe that one of the main reasons that God wants women to be keepers at home – raise godly offspring. Some women are given one little talent, another two or three, and some have six to ten little talents running around their home in need of the instruction, discipline, and love they need in order to become godly offspring and a part of the family of God for eternity. God has asked us to be the life-givers and care-takers of His children, not ours. Are you taking seriously the little investments that God has given to you and can you stand before Him some day and give an account for having taken your little babies that nursed on your breasts and gave them all they needed as a foundation to grow up into a full and mature child of God? And great will be the reward of the mothers who have taken seriously this great ministry God has given to them!
Perhaps the greatest ministry of all is now downplayed and set aside by a world bent of self-serving instead of using the talents God has given them. Success, ego, vacations, and 401ks are for too many Christians more important than those little talents God has entrusted to them, mainly because they do not understand the value of their own children. With so many children walking away from the Lord as young adults and having parents squander the talents God has given them, please don't fall back on the great lie that blames God's sovereignty. Far too many want to go about violating the very clear precepts of God's Word then throw up their hands and say, "God's will be done!" It doesn't work that way.
We do not understand exactly how God's sovereignty and man's responsibility intersect, but when God gives us His will, we are to follow it in order to see His blessings in our lives and the lives of our children. How many times must God tell us that we will give an account of our lives and our works will be judged. Whatever is wood, hay and straw will be burned up, but whatever time, energy and love put into our children, and into all those with whom we come into contact every day as our neighbor, these are the things of gold, silver, and costly stones.
"Every man's work shall be made manifest: for the day shall declare it, because it shall be revealed by fire; and the fire shall try every man's work of what sort it is. If any man's work abide which he hath built thereupon, he shall receive a reward. If any man's work shall be burned, he shall suffer loss: but he himself shall be saved; yet so as by fire" (1 Corinthians 3:14-15).
Do you see that these verses are referring to the Christian who was given talents from God and that He expects a return on his investment? It is God's design for us to marry so we will not burn with passion and to fulfill the intimacy we all long for to be truly one with another who was made to be our perfect complement. That burning desire for sex is what allows mankind to be fruitful and multiply, and for the believer to birth and deliver to the throne of God godly offspring for eternity.
Marriage is God's design and it is GOOD! Singleness isn't His design. Yes, it happens even to those who would love to be married because we live in a fallen and imperfect world. There are very few who truly don't burn, never want to marry, and want to devote their lives to the Lord, so let's stop exalting singleness as many are doing. Far too many are staying single well into their thirties because they simply do not understand how they fit into God's plan for creating the family of God. And too many Christian parents are not taking the investments of their children God has given them seriously to deliver to Him someday soon as godly offspring.
Marriage and bearing children take great sacrifice or maybe a better word is investment. Every moment of the day that we invest in our children and even grandchildren, we are multiplying the talents God has given to us and for this, there is a great reward that can only come from a godly marriage and family. Singleness is for a few, but it is marriage and family that accomplishes the plan of God for eternity.
In the fear of the LORD is strong confidence: and his children shall have a place of refuge.
Proverbs 14:26