Why are So Many Women Not Getting Married?
Why are So Many Women Not Getting Married?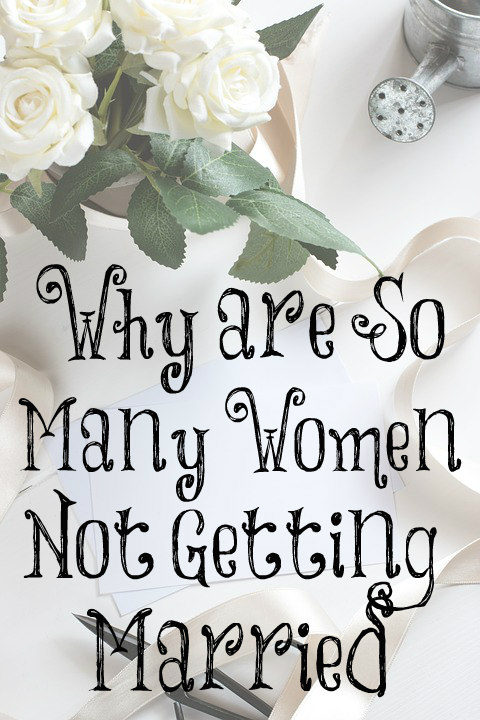 Marriage is becoming less and less popular. Many women are grieving the fact that they never married in their 20s, because they put it off for higher education and careers. They thought they would get married in their 30s and begin having children, but it's not happening. In pondering this, I am coming to some conclusions of my own why this is happening.
When I went to college beginning in 1976, going to college wasn't that big of a deal. We didn't study for the SATs. There wasn't the high competition to get into college. It cost $3600 per year for everything. It was no loss if we didn't use our college education for a career.
My college friends and I weren't career-oriented. We all wanted to just get married and have children. We weren't hard-core feminists AT ALL! We enjoyed talking with guys and were all still very feminine. We had no desire to be competitive with the guys or be like them! We liked being feminine and enjoyed being in the company of guys.
We spent a lot of our free time with guys, just hanging out with them and getting to know them. None of us were book worms and cared all that much about our grades. We cared a whole lot more about getting our Mrs. degree rather than a real degree.
I married soon after college and so did most of my college friends. Then we began having babies a few years later. We're all still married to the husbands of our youth. No, not all of the marriages have gone smoothly but none of them have even contemplated getting divorced.
Compare this to the young women of today, even the Christian women. The competition is fierce to get into colleges. They must do good in high school, study hard for the SATs, and then wait patiently to see what colleges they get into. Then they go to college and feast on the feminist's doctrine. Careers are the be all and end all.
They become stronger feminists the longer they are in college (even high school is doing this these days, I am sure); for we are told that bad company corrupts good morals. They are never taught the value of femininity, marriage, and child raising. No, it's compete with the guys for the grades, the colleges, and then the jobs. This is NOT conducive for men wanting to marry women.
I believe this highly competitive and feministic culture has made men less and less attracted to women. They see that women no longer need them and I am not sure they enjoy having the competition that they have with women these days. I still think that men want feminine women! They want women who aren't in competition with them. They need and want to marry help meets, not competitors.
Raise your daughters to value being wives and mothers. Teach them all of the ways of biblical womanhood and homemaking. Teach them to be joyful; for this is so important for a good marriage. Train them to serve and be generous. Don't let them be swept away with this feminist, its-all-about-me culture that we are presently living in. It's leaving a lot of women unmarried and unhappy later in life. (I am not saying that being single is bad, but it's not what most women want when all is said and done.)
And the LORD God said, It is not good that the man should be alone; I will make him an help meet for him.
Genesis 2:18