Living a Cancer Free Lifestyle
Living a Cancer Free Lifestyle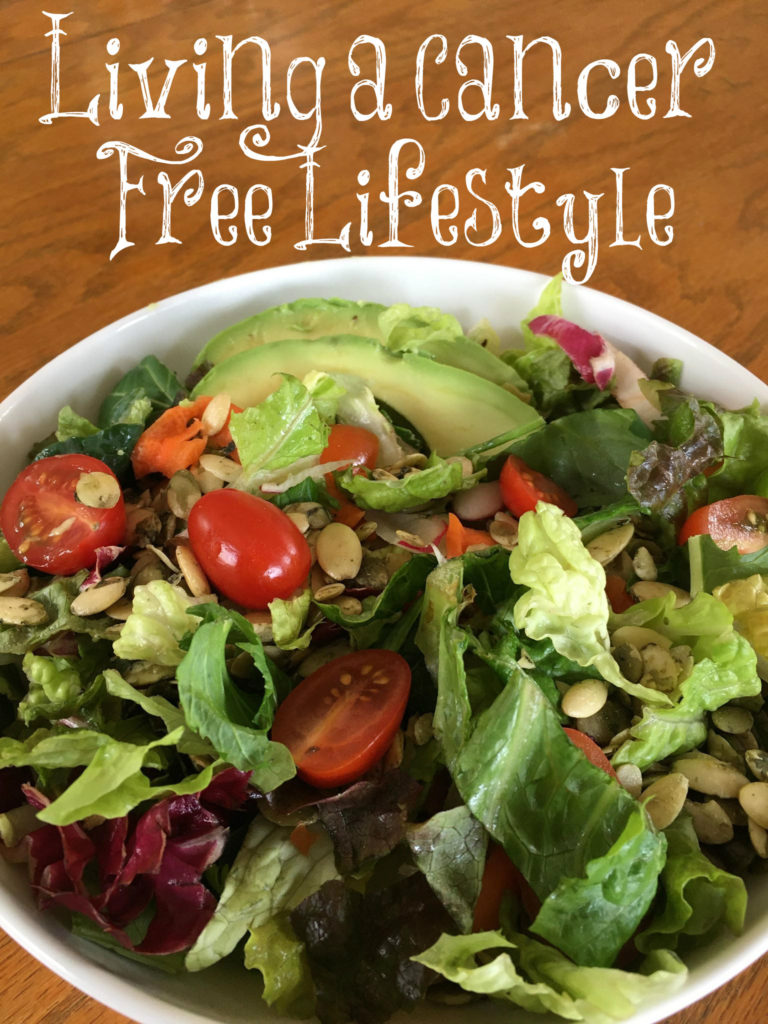 Cancer is a growing menace in our culture. I know too many women personally who are fighting this terrible disease and too many children and young adults who have died from this disease. We live in a toxic world. Yes, all of modern technology has made life a lot easier but it has come with great costs, namely, the cost to our health. We must be diligent in fighting these adverse side effects as much as possible but then leave the results in the Lord's hands. Even if we lived a perfectly toxic free lifestyle, we can still die from cancer since, as I stated, we live in a toxic world. In this post, I'm going to share with you all of the ways I could think of that I try to live a cancer free lifestyle.
I'll begin with the way I eat since Hippocrates (400 BC), known as the father of medicine stated, "Let food be thy medicine and medicine be thy food." He emphasized the importance of nutrition to prevent and cure disease. I believe the best thing I do daily to prevent cancer is to eat a big salad every day filled with romaine, arugula, and red leaf lettuces. Then I add radicchio, radishes, carrots, red peppers, avocado, tomatoes, sprouted pumpkin seeds, sardines (the best source of omega-3 fatty acids), and a couple of tablespoons of sauerkraut on it. I use my homemade salad dressing that is filled with healthy fats.
I eat almost only organic food and rarely eat out. I make big pots of vegetable soup with chicken broth filled with greens, potatoes, onions, yams, broccoli, and any other vegetables I want to add, and I have that for dinner many nights. We also eat organic, grass fed beef, organic chicken, and wild caught fish. I make almost everything from scratch and have many of my family favorite dinner recipes on my old blog. I also have breakfast recipes, dessert recipes, and many health related articles on that blog. I make my own Einkorn sourdough bread and have made it so easy to make! Between my daughter, DIL, and sister, we have it down to a few easy steps.
I eat no sugar or junk food and try to eat food closest to the way God created for us to eat. I do have a healthy chocolate recipe that we all love but I try to limit the sweets and fruits I eat, however. Too much fructose isn't good either. Cancer feeds on sugar so limit all of it in your life as much as possible. I made a video yesterday of items I have in my pantry and refrigerator if you're interested.
I make my own kefir which I have in the morning with a sprouted granola and blueberries, or I have pastured eggs on my sourdough bread. I also love to soak oatmeal overnight then after cooking it in the morning, I add raw butter and coconut sugar. Probiotics like kombucha, sauerkraut, and kefir are very important for a healthy gut. Good health begins and ends in the gut! Kefir is loaded with probiotics and has three times the amount of yogurt.
I don't drink coffee or alcohol. Caffeine is hard on the adrenals and stomach, and it's hard to remain completely sober drinking alcohol. Caffeine and alcohol are drugs. I try to take as few drugs into my life as possible, and I don't want to be addicted to anything. (I am not saying that either of them are sinful in moderation.)
In our backyard, we have numerous types of fruit trees (fig, orange, lemon, apple, guava, tangerine, and peach). We have never sprayed our yard with any toxic ingredients. We've never sprayed for ants. I use a glass jar or any type of cylinder and role that over the trail of ants. I leave the dead ants there and their comrades come and pick them up and leave my home. I haven't had a problem with ants for over 15 years! Vinegar works good on weeds but picking them out from the roots works the best. I use organic fertilizers on my yard when and if needed. If I'm having a problem with pests or mold, I find natural ways to deal with them.
We use reverse osmosis to filter our water. Berkeys are great, too. Most tap water is filled with toxic chemicals, especially if you live by a big city. I try to sleep as much as possible at night in a dark, cool, and quiet room. I go to bed early. Sleep is very important for fighting cancer and lack of sleep increases your risk for some cancers. I don't use fluoride in my toothpaste. I believe fluoride is a toxic chemical. I only take drugs IF needed and use natural means for healing unless it's an emergency. Elderberry syrup is great for preventing and/or shortening colds and the flu. I believe vaccinations are damaging to health and cause cancer since they're filled with toxic ingredients and most probably aborted fetuses. I don't have mammograms. Smashing breasts and radiating them seems like it would cause cancer.
My husband and I take a walk almost every day of the year. Thankfully, we live in a climate that allows us to do this. Exercise is very important for good health. It's also good to be out in the fresh air and sunshine as much as possible. I sleep with a window open and have my windows open as much as possible. The air in our homes is much more toxic than the air outside of our homes due to the carpets, furniture, and other things which I don't have, such as air fresheners, toxic cleaners, dryer sheets, and candles. Wood flooring and tile are much healthier than carpet since carpet is completely synthetic and harbors a lot of nasty things. We have mostly wood, and it's a breeze to keep clean. We never need to have a carpet company come out and clean our carpets. We have bought most of our furniture on Craig's List since it's out-gassed by then. New furniture is full of toxic chemicals.
Most sunscreens are highly toxic. You must know that everything you put on your skin is absorbed into your body. A friend of mine has used sunscreen on her face every single day and has never laid out in the sun but has had a TON of skin cancer on her face that she's needed extensive surgeries for. The best way to get vitamin D, which is a great cancer fighter, is from the sun. No, don't get burned or be out too long but sunshine is good for us! It causes everything to grow.
I clean with all non-toxic cleaners such as vinegar, hydrogen peroxide, Bar Keepers Friend, and a dash of non-toxic dish washing soap. I use non-toxic dishwasher detergent, dish soap, body soap, body lotion (For Christmas, my sister made me some body lotion and I love!), make up, hair dye, and everything else. I stopped using nail polish immediately when I found out that a few hours after nail polish is applied, many of the harmful, toxic ingredients are in the person's blood stream. Blood tests have proven this to be so. Whenever I find out something is toxic, I stop doing it. I don't whiten my teeth because the ingredients to do this are often toxic.
What about radiation? We only use our microwave to heat up our heating pads. I don't use it to heat up food. Microwaves are dangerous. You can read a good article about this and many other great articles at the Weston A. Price website. I use only stainless steal and cast iron skillets and pans. Never use the Teflon types. I don't put my cell phone to my ear. I use the speaker phone and I have a radiation protector on my phone. It is ironic since I have had my head radiated to death with CAT scans, MRIs, and Cyber Knife. After Cyber Knife, I drank a cup of organic green tea daily for months afterwards, since I have read that this is a good antidote to radiation. The Cyber Knife killed my tear ducts so instead of regular eye drops, I use castor oil which works great.
I store all of my food in glass container or mason jars. The abundance of estrogen in plastics and in foods such as soy are wreaking havoc on people's health. This is why men's sperm count is tanking and I believe why so many women struggle with infertility. We have too much estrogen in our water, food, and air. Make it a habit to read the ingredients of everything that you buy and stay away from anything with soy in it, has dyes in it, and chemicals. You want to eat food only.
I use very little makeup but what I do use is non-toxic. EWG.org is a good site to find out how toxic products are and be able to make wise choices.
In 2015, I wrote a post titled Cancer – Leading Cause of Death in Children. In this post, I give links to many things I have found to cure illnesses rather than drugs. All drugs are toxic to the human body. Doctors are taught this in medical school so drugs should always be used with discretion. I have had many things happen to me in my 61 years of life but have found many healthy, alternative ways to treat my body other than drugs.
If you can't afford all organic food, look up the dirty dozen and try to eat those organically. With Costco and Trader Joe's stocked full of organic foods, it's more cheaply available than ever before! Plant a garden and have some chickens if you are able. Look on EWG.org and find the best rated and cheapest products. Make your own laundry detergent. I did for years. There are many ways to afford living a cancer free lifestyle if you put your mind to it.
If you have anything to add to this post, feel free to add it to the comment section. Remember women, we do the best that we can, we don't worry about it, and we leave our lives in the hands of Almighty God. Our times are in His hands but He gives out wisdom freely, so ask for it. I love what one woman wrote on my Instagram, "Clearly many of us are deceived into thinking this kind of lifestyle is unobtainable. Basically, I am taking baby steps to achieve these ideals. My Naturopath explained that real and lasting change is made slowly."
What? know ye not that your body is the temple of the Holy Ghost which is in you, which ye have of God, and ye are not your own? For ye are bought with a price: therefore glorify God in your body, and in your spirit, which are God's.
1 Corinthians 6:19, 20