Godly Women are Today's Rebel
Godly Women are Today's Rebel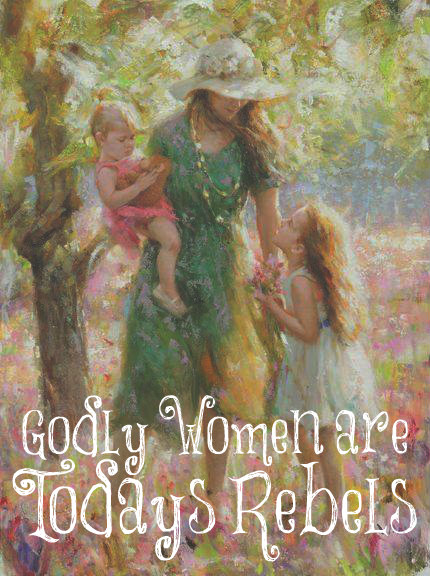 There's a convention that is being taught by men for women. The organizer of the event contacted me and told me that my viral post Men Prefer Debt Free Virgins Without Tattoos was the motivation for having this convention. In a video of his, he used the picture for my viral post and said that women like this are today's rebel and nearly impossible to find. He's right!
Let me be clear that this is NOT a Christian convention. This type of convention wouldn't even be sought after if pastors and older women were teaching this in all, or at least many, of the churches. It's a sad state of affairs that a convention like this is teaching a type of biblical womanhood (a return to traditional values) by men when most churches won't.
What this man doesn't know is that he's biblically accurate. We are a remnant. We are considered strangers and aliens (1 Peter 2:11). "Who can find a virtuous woman? for her price is far above rubies" (Proverbs 31:10). Who can find a virtuous woman? This questions proves that it isn't easy! I don't know how a man who isn't a believer in today's feminist culture has any hope at all of finding a feminine, submissive wife. It's hard enough for godly men to find feminine, submissive wives yet alone unbelieving men.
In past generations, finding a debt free virgin without tattoos was fairly easy. Most, if not all, women didn't have any debt because they didn't go to college. Virginity was valued in the history of America until the 1960s. Tattoos were frowned upon by most. Women were feminine. My viral post would not have gone viral 50 or so years ago. People would have thought nothing about it except maybe, "Duh!"
It would have been easier for unbelieving men to find these kind of wives before the 1960s. Yet, I still doubt many women would have been submissive and loving wives, since most wives want to control their husbands (Genesis 3:16), however, no matter what generation they were raised in. This is why God commands older women to teach young women to love their husbands and be obedient to them in Titus 2:3-5.
Women have been deceived to think that the only way that they can influence culture is by becoming men but God didn't make women men. He made them women for a VERY important purpose. A woman in the chat room named Paige Brandt wrote the following:
"Does a woman have more power to change the world by shaping a man or by competing with one?
"Feminism says, 'Being a homemaker and raising children is a useless career, a degrading waste of time. We must compete with and dominate men in the workplace to gain equality and change the world.'
"But true femininity says, 'Let my husband go to work and compete with the other men. I'd rather shape the next generation of men (and women). I'd rather impact their hearts and minds and mold them into intelligent, kind, and respectful gentlemen. This is what will carry on for generations to come. A career competing with men *might* impact things today, but a career raising men (and women) will impact generations to come, and even eternity."
Do you understand this, women? We have much greater influence by being godly help meets to our husbands and raising godly offspring. This is God's perfect will for us! He didn't create us to be men and leaders. He created us to be women and life-givers. Embrace your role, women! Be deceived no longer. Be a rebel, God's rebel. Rebel against our culture and what it values. Value what God values for you.
Notwithstanding she shall be saved in childbearing, if they continue in faith and charity and holiness with sobriety.
1 Timothy 2:15
***Here's some good news, it appears that some men in the "manosphere" are turning to Christ! Holding biblical values without Christ are meaningless. Here is what Roosh published on Twitter yesterday and wrote above it, "A masculine Christian revival will replace the manosphere."