Mothers Who Work Outside of the Home are Better Mothers?
Mothers Who Work Outside of the Home are Better Mothers?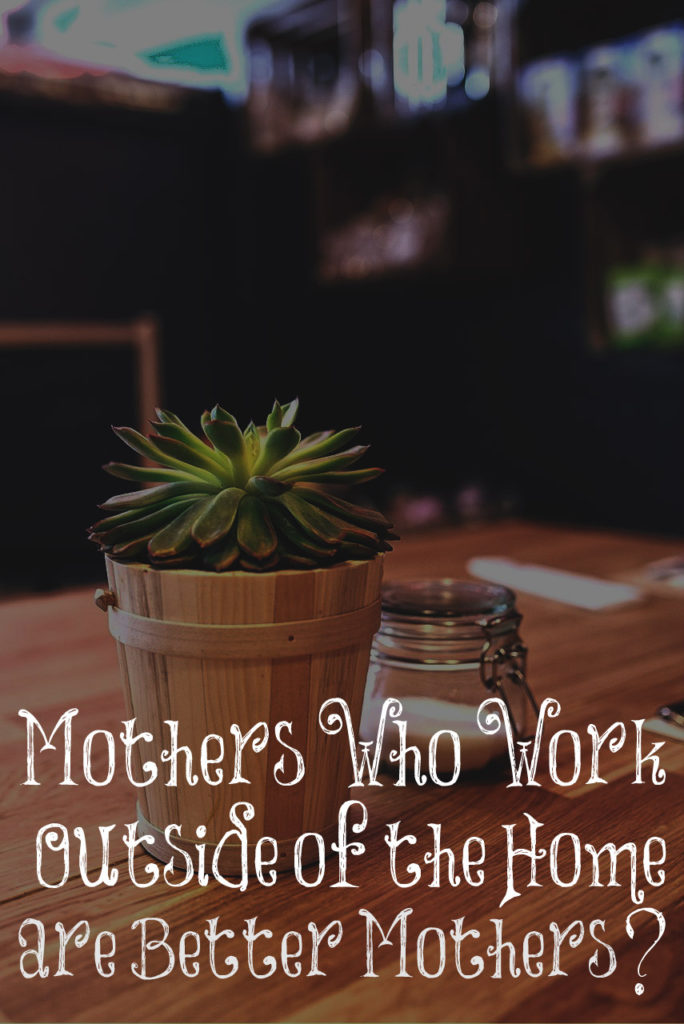 Women try to convince me that they are better mothers because they work outside of the home. How can they be better mothers if they aren't with their children full time? How can they train them in the ways of the Lord as they walk along the way if they aren't home full time? How can the mothers discipline and teach their children to be obedient, hard working, and good if they aren't with them for a large portion of almost every day?
Raising godly children is a full time job. It's a job that is given to mothers. God created them for this very special job. Can you imagine Jesus' mother, Mary, leaving Him, the Savior of the world, in the hands of strangers all day long for five days a week while she went off to work outside of her home for a paycheck? Can you imagine Elizabeth leaving John the Baptist with strangers while she trotted off to work each day for a boss? NO! Even Jesus and John needed their mothers home full time.
All children need their mothers home full time with them. This is why God commands older women to teach younger women to be keepers at home. Women tell me that I'm the only one teaching this. No, there are others like Debi Pearl and Nancy Campbell. Nancy Leigh DeMoss used to teach this strongly but you don't hear many older women teaching this important truth.
It's not an easy truth to teach in today's environment where mothers don't want to be home full time with their children. They would rather go out into the world and make a name and money for themselves. Yet, the most important thing they can do is to raise their children to know and love God. This world needs this way more than it needs women in the workforce. Children have suffered terribly since mothers left their homes.
The only mothers who may be better mothers when they work outside of the home are those mothers who don't truly love their children. When they are with their children, they are irritable and unkind. They treat their children like nuisances. They have not been taught to love their children by godly, older women, thus the children grow up to not feel loved and are insecure. So they are not really better mothers after all. They are not true mothers at all.
No, there are no mothers who are better mothers who work outside of their home and away from their children. They are only part-time mothers, probably even less than this since they give most of their time and effort to strangers instead of their children. When they get home, they are exhausted and have little to give to their precious children.
Don't believe the lies that our culture is trying to tell you, dear mothers. Your children need and want you. No one can take your place in your children's lives. If you want to raise emotionally secure and stable children, go home.
As Paige put it perfectly: "Working outside the home doesn't make for a 'better mother.' That's an oxymoron! You don't become a better gardener by NOT gardening, or a better cook by NOT cooking! You become better at things by practicing them.
"To say you are a 'better mother' when you're working is like saying you're a better pianist because you don't spend time playing piano. It's a senseless argument, and ultimately an excuse to do what you want instead of what you're called to do."
He maketh the barren woman to keep house, and to be a joyful mother of children. Praise ye the LORD.
Psalm 113:9