Women are No Longer Marriage Material
Women are No Longer Marriage Material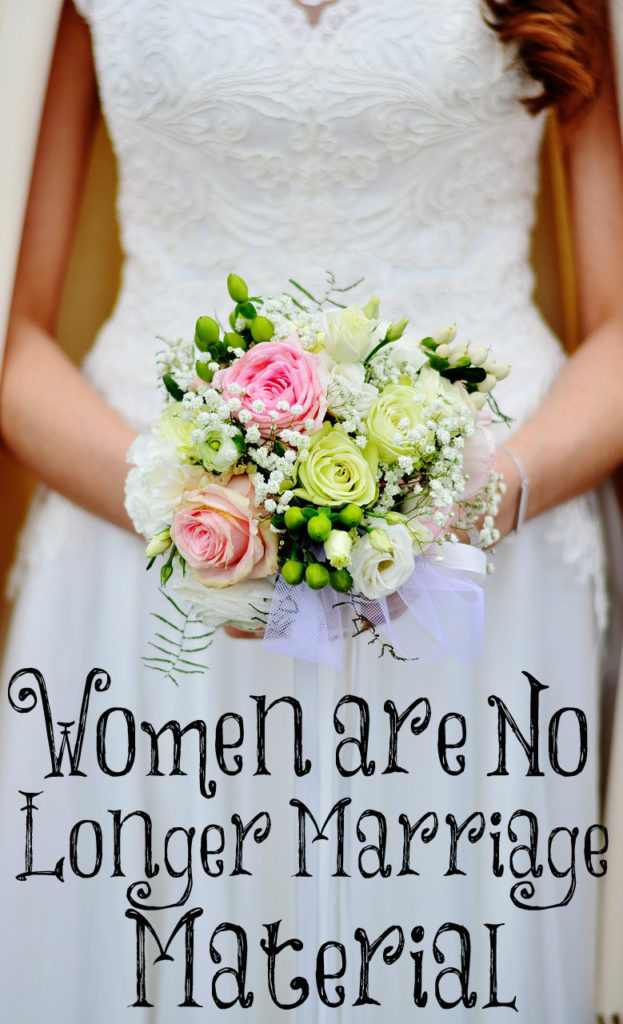 Feminism (sin: wandering from God's ways) has caused women to no longer be marriage material. Unfortunately, most men have been influenced by feminism and don't even know they need a wife ("it is better to marry than to burn," the Bible states, and most men burn), what to look for in a wife, or what they want with their lives. Men, if they were unaffected by feminism, would want to marry in order to have a wife who would help them throughout their lives and would willingly bear and raise children for them. They would want a help meet, a sexual partner, a homemaker who will cook, clean, and care for their home, and a family. Many women no longer want to be nor do these things.
Feminism has caused women to want to be equal with men. They want to have careers and be away from their homes. Many no longer want to bear nor raise their children so why should men want to marry since they can have their sexual needs fulfilled so easily by the many available women who are choosing not to save themselves for marriage?
Women are also the ones seeking divorce so this makes marriage even more undesirable for most men. I look around me and see few young people marrying and bearing children. Men don't want to get married and then give half of what they own to a woman who will then divorce them, raise their children away from them, and may even remarry so another man raises their children. Way too many young Christian couples are divorcing after only being married a few years and it's tragic.
"There is no denying that marriage is a very, very bad deal. When you get married you immediately give your wife all the power over your money and your children. 'No-fault' divorce really means 'his-fault' divorce. If your wife is to decide she wants a divorce she can have all the benefits of being married and none of the drawbacks. Divorce is theft from the man. It's a redistribution of wealth from men to women. She can live off of your paycheck via alimony and child support and she can keep your children and raise them in a single-mother or step-daddy household.
"She has the complete and full support of Papa Government behind her. In the eyes of the law she can do no wrong and you can do no right. And there is nothing you can do about any of that. That's why you have to choose the right wife in the first place to eliminate much of that risk." (written by Victor Pride. I am not linking to the article because I don't agree with all of it – like men waiting until 30 years old to marry – and some of the language isn't appropriate. I also don't know what else he believes or supports, but the article has some good points such as this quote concerning divorce.)
Even Christian women are choosing to divorce instead of being married "until death do they part." They aren't considering the long-term impact that divorce will have upon their children. God's ways are good and He commands we be married to one person for a lifetime. Too many women go into marriage thinking that divorce will be an option if they want out.
God's ways make women beautiful marriage material. God encourages younger women to marry, bear children, and guide the home with a meek and quiet spirit. I love watching the Duggar children marry and bear children on their TV show "Counting On." Most of them are marrying young and having children as soon as the Lord blesses them. They count children as a gift.
The young women don't go away to college and then have careers. They find productive work in and around their home. Once they are married, they are all full-time homemakers while their husbands provide for the families. The women have meek and quiet spirits and they are joyful because they know who they are in Christ and follow Him. They respect their husbands. They are obeying God's plan for their lives and it's a blessing to watch since it's so rare these days.
No, I don't teach men but I would like to ask them a question: Would you prefer to marry a career woman who had little time for you, your children, or your home because she was so busy with her career or would you prefer to marry a woman with a meek and quiet spirit (not argumentative, contentious, or quarreling) who loved to take care of you, your children (which includes the willingness to have children), and your home where you would come home at night to a clean and tidy home with a homemade meal? I believe most men would far prefer a woman who followed the Lord's plans for her since most men want a peaceful home and share it with the wife of their youth but they have been made to believe lies due to feminism.
"Maximize wife's happiness with her wifely and motherly duties (the complete opposite of everything you will see, read or hear). It's not about empowerment (or any other buzzword designed to kill the traditional family), she should be completely devoted to her family. True happiness for a woman comes from her family, it does not come from her career, or her 'independence', or her sexually liberated point of view." (Victor Pride)
Who can find a virtuous woman? for her price is far above rubies.
Proverbs 31:10