My Addition to the IF:Gathering
My Addition to the IF:Gathering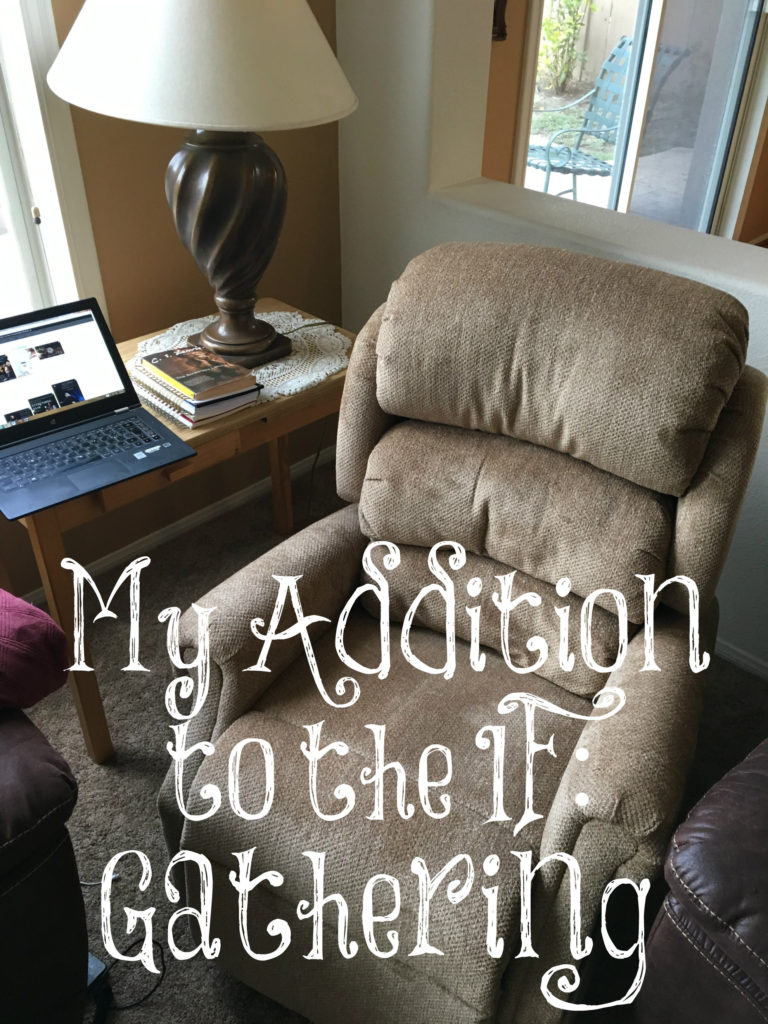 On Saturday morning, I spent four or five hours in my office above listening to the IF:Gathering where hundreds of thousands of women were listening in. In between times, I went on a walk with my husband and had breakfast with my parents, mentored a few women, and later babysat my precious grandchildren. I noticed that the majority of the main speakers were mostly younger women preachers who have children at home.
Their stated purpose: "We exist to gather, equip and unleash the next generation of women to live out their purpose." I guess God's Word, the Holy Spirit, and godly male preachers and teachers aren't enough for women today, along with older women who should be willingly teaching the younger women the principles of Titus 2:3-5. They spoke a lot about Jesus, mentoring others about Jesus, being Jesus to others, giving to and helping others, and this is all great! This world needs Jesus and His name was loudly proclaimed. But I do have some questions.
What IF these verses were taught from 1 Timothy 2?
9 In like manner also, that women adorn themselves in modest apparel, with shamefacedness and sobriety; not with braided hair, or gold, or pearls, or costly array;
10 But (which becomes women professing godliness) with good works.
11 Let the woman learn in silence with all subjection.
12 But I suffer not a woman to teach, nor to usurp authority over the man, but to be in silence.
13 For Adam was first formed, then Eve.
14 And Adam was not deceived, but the woman being deceived was in the transgression.
15 Notwithstanding she shall be saved in childbearing, if they continue in faith and charity and holiness with sobriety.
God wants women to "learn in silence with all subjection" knowing that God created men to be the leaders and teachers because they were created first and women are more easily deceived.
IF all women truly understand what "shamefacedness" actually meant: not drawing attention to ourselves, women may not want to be up on stage preaching either. God clearly calls MEN to preach and teach the Word of God. They are to be the husband of one wife. This is God's will. Women should definitely be pointing people to Christ but then to godly male preachers (John MacArthur, Michael Pearl, Charles Spurgeon, Brian Sauve, Eric Conn, Costi Hinn, and many more) who should be teaching these people the meat of the Word since God calls men to preach the Word with authority, not women.
What IF they taught these verses from 1 Corinthians 14 at IF?
33 For God is not the author of confusion, but of peace, as in all churches of the saints.
34 Let your women keep silence in the churches: for it is not permitted unto them to speak; but they are commanded to be under obedience as also saith the law.
35 And if they will learn any thing, let them ask their husbands at home: for it is a shame for women to speak in the church.
 I guess the Apostle Paul wanted to make this point very clear so he wrote it again. Wives are to ask their husbands at home if they have a question concerning the Bible. If they aren't married, they can ask an elder, deacon, or one of the many Bible commentaries that are written by solid men of the faith. I don't know about you but I take the Word seriously and I know without a doubt that God's purposes for women are good and perfect but in the roles that He gave for us to walk in.
What IF these verses being taught from 1 Timothy 5?
9 Let not a widow be taken into the number under threescore years old, having been the wife of one man.
10 Well reported of for good works; if she have brought up children, if she have lodged strangers, if she have washed the saints' feet, if she have relieved the afflicted, if she have diligently followed every good work.
11 But the younger widows refuse: for when they have begun to wax wanton against Christ, they will marry;
12 Having damnation, because they have cast off their first faith.
13 And withal they learn to be idle, wandering about from house to house; and not only idle, but tattlers also and busybodies, speaking things which they ought not.
14 I will therefore that the younger women marry, bear children, guide the house, give none occasion to the adversary to speak reproachfully.
There aren't any women in the Bible that preached the Word to large gatherings of women. They served and helped their families and those who were in need. Even single women are commanded to be holy in body and spirit (1 Corinthians 7:34), not preaching to other women.
This conference failed to teach these clearly defined roles given in the above verses for older and younger women. The older women are called to bring glory to the Lord by bringing up children, showing hospitality, bringing people into their homes, and serving those saints in need, especially the younger women. The younger women bring Him glory by getting married, bearing children, and guiding their homes.
What IF the roles were even more narrowly defined for older and younger women?
3 The aged women likewise, that they be in behavior as becomes holiness, not false accusers, not given to much wine, teachers of good things;
4 That they may teach the young women to be sober, to love their husbands, to love their children,
5 To be discreet, chaste, keepers at home, good, obedient to their own husbands, that the word of God be not blasphemed.
Can you imagine how amazing it would be if tens of thousands of women were taught to love and obey their husbands and what this looks like on a day-to-day basis? I am sure this would have gone over great (not) but it is something younger women desperately need to be taught! What about being modest in what they wear and how they behave? Forget about teaching women to be keepers at home since this offends way too many women. It sure doesn't offend their children, however, who would love to have their mothers home full time.
What IF they taught the verses about women tearing or building THEIR HOMES down or up, quarreling and contentious women, or any of these verses from Proverbs given to women, and especially from Proverbs 31?
Who can find a virtuous woman? for her price is far above rubies.
11 The heart of her husband doth safely trust in her, so that he shall have no need of spoil.
12 She will do him good and not evil all the days of her life.
27 She looks well to the ways of her household, and eats not the bread of idleness.
If our marriages are a mess due to a lack of submission, respect and love towards our husbands, and our children are in rebellion due to our lack of disciplining, training, and caring for them full time, the testimony we show to the world will be greatly weakened and it will more difficult to be salt and light to a lost and dying world. This is why God commands the older women to teach the younger women, so they don't all blaspheme His Word. Shouldn't this be our goal – to shine Jesus to the lost and bring glory to the Lord? God will use us in powerful ways when we live according to His commands. "If ye love me, keep my commandments" (John 14:15). And we can keep His commands because His Spirit works mightily within us (Colossians 1:29).
"You are as much serving God in looking after your own children, training them up in God's fear, minding the house, and making your household a church for God as you would be if you had been called to lead an army to battle for the Lord of Hosts."
~ Charles Spurgeon
Here's Michelle Lesley's take on the IF:Gathering.