My Favorite Church Service With the Pearls
My Favorite Church Service With the Pearls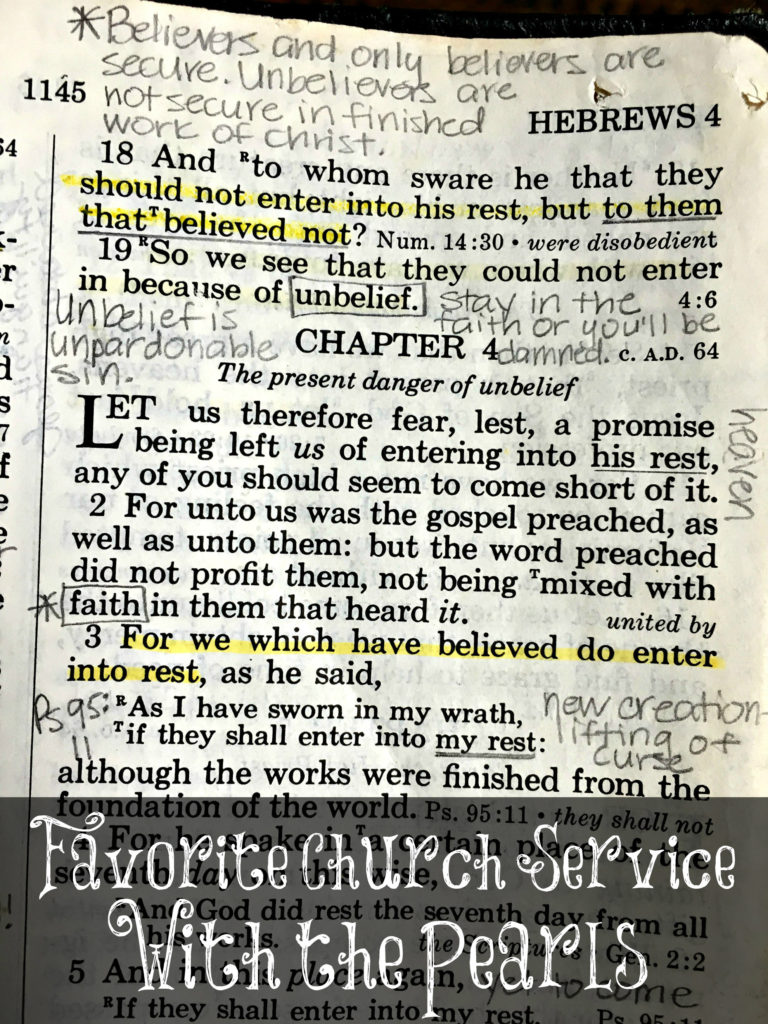 Years ago, right after Debi Pearl's book Created to Be His Help Meet was published in 2004, we went to a week-long retreat of theirs where Michael was going to preach to us the meat of the Word – the book of Hebrews. I asked if Ken would go with me the first night and he did because he liked what Debi's book was doing for our marriage and for me. When we got there, we saw Mike right away and went up and greeted him. He's a big, kind of gruff guy but man, can he preach the Word of God. Ken liked his preaching so much that he went with me the entire week!
Every session, Debi would sit in the front row and smile and nod her head towards Mike. You could see her love towards him and his love towards her the entire week. One day Debi had a class for just women and mostly answered questions about her book. She was soft and gentle and it was fun listening to her. I went up and talked to her for a bit and she was warm and friendly towards everyone. She gave another class on health but I couldn't make it. I was still recovering from my first brain surgery so it was a miracle I was even able to attend.
I have heard Debi criticized for not teaching the Word in her book but she leaves this up to Mike. In my book, I had Ken share the parts that were teaching the Word since I have become convicted that yes, God gave men the responsibility of doing this and it is a heavy responsibility.
I loved listening to Mike teach about the Lord, how we're freed from the Law and sin, and how grace now pours down upon us. There were so many things he taught us during that week thirteen years ago that I still remember clearly to this day. No other minister of the Word has had such a great impact upon our lives. He's a GREAT story teller and he gave an example of God's grace upon us. He mentioned the old-time cable cars in San Francisco and how they are connected to wires overhead all throughout the city. Where ever you walk, you're likely to be near or under the cables that bring electricity to these cable cars. God's grace is like this. It just is pouring down upon us all the day long covering up our sins done in ignorance and blessing us with God's peace.
On Sunday, they had a church service so all of our children came with us. They were all teenagers by this time and they loved it! The Pearls take the Bible seriously and women were not allowed to speak during the service. Yes, we sang songs praising the Lord. At one point, Michael asked for testimonies of any who came to know the Lord that week. He said if a wife came to know the Lord that the husband stand up and share for her. He then spoke a powerful sermon and prayed over all of us.
And you know what, I wasn't offended in the least that not one woman spoke during this church service. It didn't demean women at all, as many want us to believe. It's God's created perfect order for us and it was beautiful. The women were dressed modestly and acted modestly. The women learned from Debi Pearl, the older woman, the ways of godly womanhood and all of us learned the meat of the Word from Michael. Just the way God has ordained it to be.
We sang some great old-time hymns and Michael would have a hand raised to the Lord with tears streaming down his face. During his sermons, sometimes he would get so choked up speaking about the His glorious Savior that he would have to stop for a few moments. This big, old gruff guy was moved greatly by the Lord and His love for him. One time Debi was late to one of the sessions so she walked gracefully and cutely up the aisle to the front and he said, "That woman still turns me on!" We all broke out in laughter. So yes, Christians can have a lot of fun and why not; the JOY of the LORD is our strength!
After this week, I bought all of his CDs and wrote all over my Bible learning from this great man of faith. It has been life transforming for Ken and me. Debi helped change our marriage and Mike changed how we see the Lord and who we are in Him. God is using them in powerful ways because they are willing vessels for him. The conference was free because Michael doesn't want to be beholden to anyone, just as the Apostle Paul was a tentmaker so he wouldn't be beholden to anyone. They preach the Gospel clearly and with authority and this is why this was my favorite church service ever!
On the last day as we were leaving, Ken found that black Bible in the picture. Everyone had left so they told us to keep it. It's the Bible I used when listening to all of Mike's Bible teachings so it's beat up, marked up, and old. It was old when I got it but I treasure this Bible with God's Words of wisdom and Michael's preaching notes in it.
The Apostle Paul's instructions to Timothy, a young male pastor:
Preach the word; be instant in season, out of season;
reprove, rebuke, exhort with all longsuffering and doctrine.
2 Timothy 4:2