My Bout With Shingles
My Bout With Shingles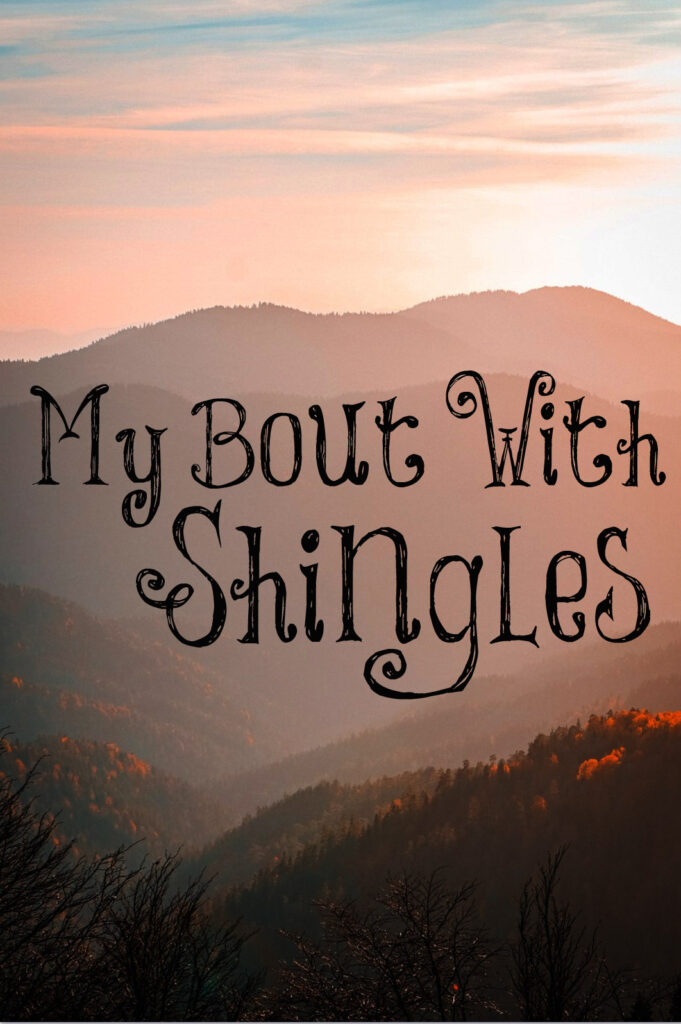 Many years ago, my aunt told me that she and a friend both had shingles at the same time. Her friend went the doctor/drugs route, and she went the chiropractor's route which was to take nine L-lysine capsules the first day, eight the next day, and so on. By the ninth day, she was so much better, and her friend was still suffering. I wrote this down, so I would never forget in case I ever contracted it. (This was one of my aunts that was raised by my grandma who believed that drugs, doctors, and demons were synonymous!)
About a month ago, my BIL who is a doctor told me that shingles has exploded since the chicken pox vaccination. "Mass varicella (chicken pox) vaccination is expected to cause a major epidemic of herpes-zoster (shingles), affecting more than 50% of those aged 10–44 years at the introduction of vaccination." Before the chicken pox vaccination, it was even unheard of for older people to get shingles. The shingles vaccination also spreads shingles. The makers of the vaccination even admit this to be true! "Transmission of vaccine virus may occur between vaccines and susceptible contacts."
Well, a few weeks ago on Wednesday, my back began itching. The next day, I looked to see if I had a spider bite, and there was a clump of bumps. I immediately suspected shingles, so I began taking L-lysine.
I remembered that Jacqueline from Deep Roots at Home had written about having shingles, so I carefully read and studied her blog post about it. Some had asked me if I was going to go to the doctor and go on the antivirals. Jacque did that, and it made her shingles so much worse, plus she suffered side effects from the drug. As soon as I knew what it was, I knew I wouldn't go to the doctor. I don't do good on drugs, and I know they have a lot of side effects. Drugs, for me, are only for emergency situations.
From her blog, I ordered these homeopathic pellets for nerve pain called Hypericum perforatum 200ck. (I can't take Tylenol or any of those kind of drugs, because they hurt my stomach.) They definitely took away some of the throbbing nerve pain at night so I could sleep. My fifth day was the worse, and I was taking three of these under my tongue every hour. I also ordered the Shingles Nosode that Jacqueline recommended, and I was taking ten drops a day three times a day until I read that when the condition is acute, take it every 15 minutes for three hours and then once every hour after that. So, I did this. (Read the comment section on Jacque's post for even more information.) I also used Calendula Cream on my rash which helped with the burning, itching pain a lot. I did take my normal vitamins of C, D, and others every day too.
As I write this, I am on the tenth day since the rash broke out, and I am feeling much better. It was very painful. I never reached a 10 in pain, but was pretty steady at six and seven between days four through eight. I did put a pack of frozen corn on the throbbing pain behind my shoulder frequently. (The shingles was on my upper back, side, and breast.) Since icing helps dramatically with the nerve pain in my neck, I figured it would help with the nerve pain from shingles. My daughter had shingles many years ago and the only thing that gave her relief were the ice packs. I definitely saw a great improvement by day nine. I was even able to take a small walk around the park!
One thing I have learned through this experience is to do all you can to prevent contracting shingles by taking a capsule of L-lysine every night before bed (It helps with sleep!) and take 10 drops of the Shingles Nosode once a month under your tongue. I will be doing these things from now on to hopefully never catch this again. It is no fun at all. Everything you read about shingles states that the pain can last between three to six weeks, and even longer if you get the post-nerve pain. I didn't want this to happen to me, so I did everything I could to prevent this.
The LORD will strengthen him upon the bed of languishing: thou wilt make all his bed in his sickness.
Psalm 41:3
Here's my medicine cabinet for shingles!