Nancy Wolgemuth's "Better Understanding" of Keepers at Home
Nancy Wolgemuth's "Better Understanding" of Keepers at Home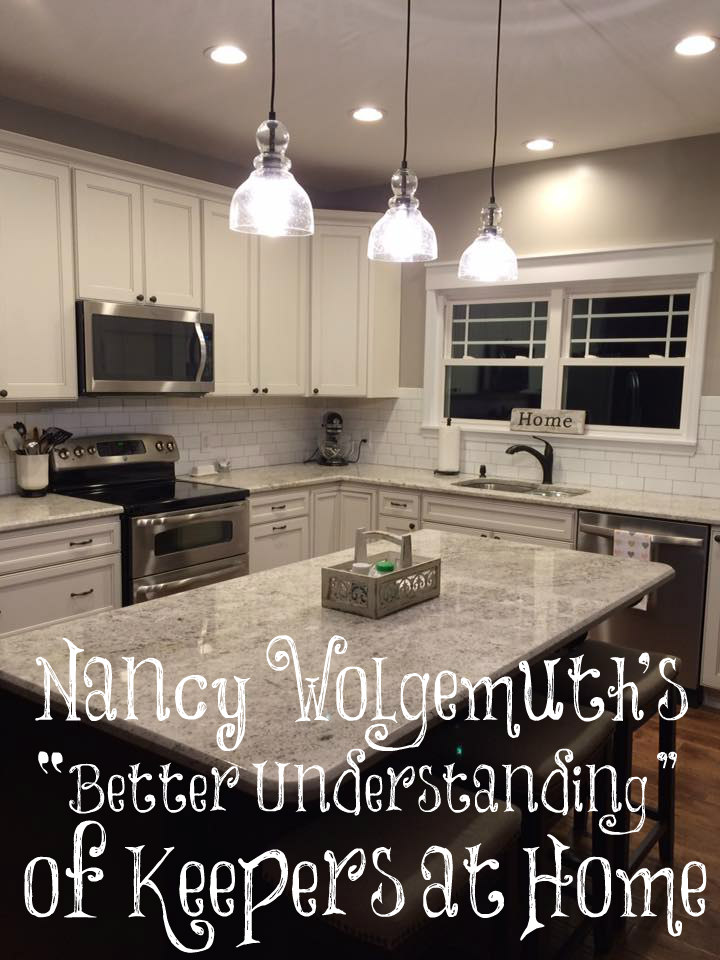 "A woman who is not content to have a priority placed on her home and her role there – who has to be always out, always doing other things, always engaged with people outside her home – you may find that, if she's not willing to be content with her home ministry and responsibilities, there are other sins that will accompany that as well." (1 Timothy 5:11, 12)
 "If women would focus more on making their home a place of beauty and order, and a haven of peace and joy and contentment for their own husband and their own children and for guests that God brings into that home, how much protection might there be on other fronts and from the possibility of other kinds of sins."
Both of these quotes were given by Nancy DeMoss Wolgemuth before she got married many years ago and are no longer on her site. She clearly understood the importance of women being in the home and working there. I was excited about her new book Adorned since it was based on Titus 2:4, 5. I was especially excited to see what she had to say about being keepers at home, since this is the topic I get most anger about from women in our feminized culture.
When I read this, I was concerned: "As a result of studying this over the years, this is one phrase in this passage where my thinking has evolved over the years, and I'm teaching this a little differently today than I did when I first recorded this series eight years ago because I've grappled with more of what it's talking about, some of the cultural and historical background and some of the interpretation of the Scripture. So I want to share with you a better understanding of what I think this passage is saying to us."
But then she said this: "The world's idea of home is so messed up, so fractured, so splintered, which isn't to say that Christians don't have family problems. They do. We do. But we're supposed to have grace for dealing with those issues. And people who are the result of multiple generations of serial divorce and re-marriage, promiscuity, and gender confusion, their hearts are longing for home. And it's Christian homes tended to by Christian mothers and wives and women that ought to create in the world's mind and in their hearts an appetite for our ultimate home of heaven."
 And this: "The 'private sphere,' on the other hand, the home that used to be the center of productivity and the economic engine for the society, the 'private sphere' has now been devalued—that's the home where loving marriages are nurtured, where children are discipled and trained, where disabled or elderly family members can be cared for, and hospitality and care can be extended to friends and neighbors. Those things you don't get paid to do in your home, so that work has been devalued while the work outside the home that you get a paycheck for has been exalted."
Then she began to veer off in another direction: "Far from demeaning women, Paul was actually in this passage progressive for his time and his culture because he called Christian women throughout his epistles to be intentional about employing their heads, their hearts, and their hands for the sake of the gospel. The apostle worked with Priscilla and her husband in their tent-making business. His ministry in Philippi was supported by the business successes of a woman named Lydia."
She argues that the home is no longer a place of commerce like it was back in biblical days. Families worked together to provide a living for themselves. Nowadays, she states that the home is a place of consumption and people leave their homes to make money so they can use it in their homes. I disagree. Homes can still be a place of commerce. Women can save money by cooking from scratch, growing some of their own food, using things up, not wasting, being creative, sewing, selling goods or services from home, and many other things. There are many women today who live simply and carefully while living within their husband's income, so they can be home with their children.
 "Paul is not mandating that women are only to work at home or that the home is to be their only sphere of influence or investment. He is not saying that their domestic activities are to be their sole focus of that their home requires 24/7 attention at all times….As we have seen, that doesn't necessarily mean it's the only or number one priority at all times. But he is saying to women, 'Don't drop the ball!'…This passage also implies that 'young women' – that is, women in the child-bearing, child-rearing season of life – have a distinct responsibility to prioritize their homes and children…Periodically we need to push the pause button and ask ourselves if some of those activities (jobs, hobbies, even ministry involvements) would be better postponed for another time when we can undertake them without violating other God-given responsibilities."
"What matters – particularly for married women and moms – is not what a woman's home looks like or what she does there, but whether she is giving it the appropriate priority…Having a heart for home will look different for different women, depending on the configuration and particular circumstances of their family and what best serves their needs at any given time."
Then Nancy gives examples of women who worked in various ways to make money but she never mentions family, relatives, and the church financially supporting widows so they don't have to leave their homes as the Apostle Paul did in 1 Timothy 5. Nor does she site studies that prove that children with mothers home full time are much more emotionally stable and secure. I am seeing the devastating results of mothers not being home full time on women I mentor who didn't have mothers home full time with them and how it affects their lack of ability to be mothers and wives.
Nancy does give a story of a woman who hated housework and became involved in a ministry outside of her home, leaving her husband to do all of the housework. Eventually, he found another woman who was interested in him and left her. But her eyes were opened and she saw how she had torn her home down with her own hands and "how she had devalued and neglected her husband, daughter, and home." Thankfully, they were able to rebuild their marriage.
 "And when we cultivate homes where others can grow and be nurtured, where they feel welcomes, loved, and cared for, we put the heart and character of God on display…The often tedious and mundane tasks of homemaking become acts of worship, our ordinary movements works of art."
She also used a great quote by Jani Ortlund: "Our homes, imperfect as they are, should be a reflection of our eternal home, where troubled souls find peace, weary hearts find rest, hungry bodies find refreshment, lonely pilgrims find communion, and wounded spirits find compassion."
Nancy's mother did have seven children and was a keeper at home. "My mother worked hard to create an atmosphere in our home that reflected God's beauty, His order, and His merciful, welcoming heart. In so doing, she gave our hearts a taste for heaven."
My thoughts: Nancy has definitely softened her stance on women being keepers at home and I can understand why. Women are merciless in trying to get me to soften my stance but I try hard to stay true to Scripture. Feminism has invaded the Church and made it very difficult to teach women to be keepers at home. Nancy still clearly teaches the value of women being keepers at home but gives many exceptions and I know there are some, but I have a hard time finding them in Scripture and especially when the exceptions become the majority. Priscilla and Lydia most likely worked in their homes. We are not told if they had children, but I seriously doubt they left their homes for eight hours a day and their children in the care of others.
Single mothers have a greater opportunity today to seek the Lord in wisdom in how to be able to stay home and make money from home. Family, relatives, and the church should be supporting widows so they don't even have to think about providing for themselves. They can then focus upon raising their children who need them now more than ever since they have lost their father. The last thing these children need is to be raised by someone other than their mothers.
Nancy fails to mention the high cost of higher education and the debt most amass because of it or the debauchery in most universities. Also, many times when women achieve good careers, they can't quit when they have babies due to the debt and amount of time spent getting their career. Husbands many times want their wives to work when they have good careers because they see dollar signs instead of the value of their wives raising their children.
Therefore, I will continue to encourage women to be full-time keepers at home since this is what God commands that older women teach. What each woman wants to do with this teaching is up to them but I encourage them to search the Word for themselves without being swayed by feminist teachings. If only we had another President who was able to articulate clearly the importance of a keeper at home:
 "The good mother, the wise mother…is more important to the community than even the ablest man; her career is more worthy of honor and is more useful to the community than the career of any man, no matter how successful." – Theodore Roosevelt
 "To me, feminism has backfired against women…I see feminism as the Great Experiment that Failed, and women in my generation, its perpetrators, are the casualties. Many of us, myself included, are saddled with raising children alone…Feminism freed men, not women…What's worse, we asked for it. We packed them off to day-care canters where they could get their nurturing from professionals. Then we put on our suits and ties, packed our briefcases and took off on the Great Experiment, convinced that there was no difference between ourselves and the guys in the other offices…The reality of feminism is a lot of frenzies and overworked women dropping kids off at a day-care center." – Kay Eberling
Finally, from one of my favorite older women who teaches truth, Nancy Campbell: "Ephesians 6:8 tells us: 'Whatsoever GOOD thing any man doeth, the same shall he receive the Lord.' Dear mother, I want to remind you that you are doing a GOOD work. God tells us in Titus 2:4, 5 that the 'GOOD' things the older women must teach the younger women are all about the home–loving your husband, loving your children, and being a keeper at home. When you embrace this lifestyle God planned for you, you are doing a good work. When you nurse your baby, teach your children, prepare the meals, clean, and keep your house in order you are doing GOOD things.
This is why I will never stop teaching younger women to be "keepers at home… that the word of God be not blasphemed."
Titus 2:5