Raising Children in the Light of Truth
Raising Children in the Light of Truth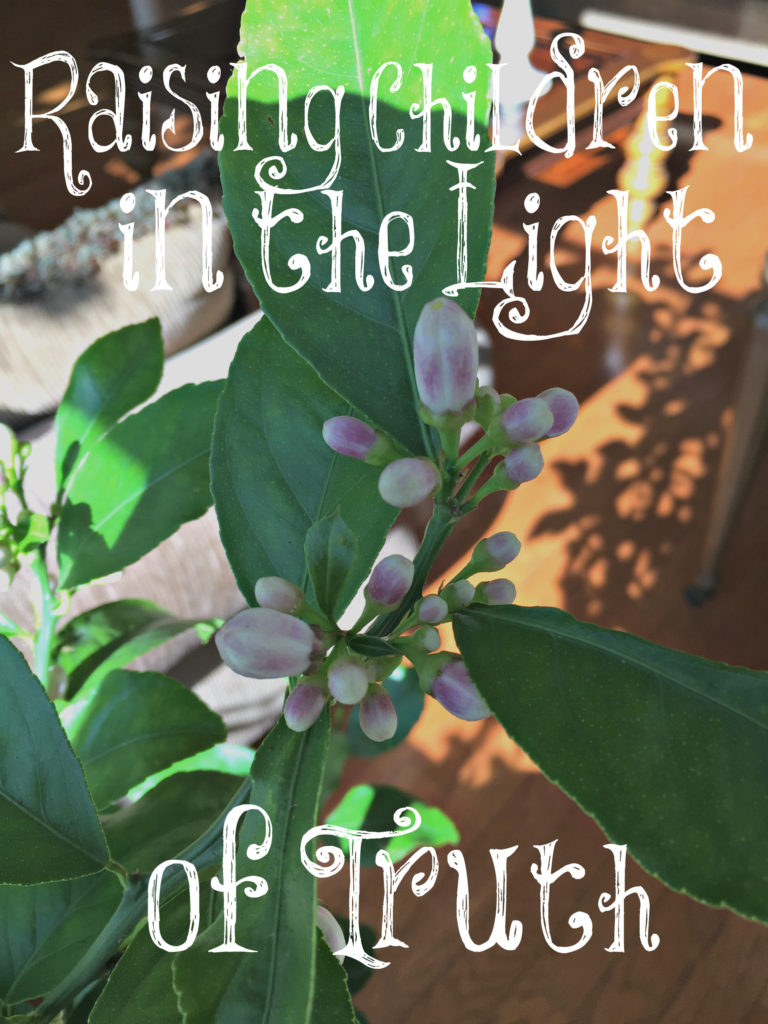 This is a lemon tree I bought at Costco a few weeks ago. We have many lemon trees outside of our home and we have for years but they don't do that good. This tree is sheltered from the salty air and winds that those outside are exposed to on a daily basis. It doesn't have snails and grubs crawling all over it during the night like the ones outside. I often check it to see if it has enough water and fertilize it with healthy food made just for it. Every day, it receives sunlight from the early afternoon until the sun sets because it sits in a southwest corner of our home with windows on both sides. This tree is FULL of flowers like the ones you see and is so much healthier than the ones outside. It's exactly how children should be raised: sheltered from the wicked culture around them and basking in the light of the Truth while being cared for and nurtured by their mothers.
Matt Walsh is one wise, young man. He wrote this yesterday on Facebook:
"I was on with Glenn today to talk about my book, The Unholy Trinity. He asked me if I have any hope for the future of our country. I answered as honestly as I could, even if my answer is not necessarily cheerful.
The truth is that we have a very long and arduous road ahead. If we are going to 'reclaim the culture,' it will be something achieved over the course of generations. We need to raise our children in the light of truth, and they need to raise theirs the same way, and if we stay on that path for a considerable amount of time, we may be able to say, sometime off in the future, that we live in a truly Christian nation again (although it will still be far from perfect, until Christ returns). I say 'we,' but you and I will be long dead by that point.
Anyone who suggests that the fight can be won any other way, or any quicker, is lying or delusional. We lost the culture over generations. We have to win it back the same way."
And how do we do this? By mothers going back home full time and raising their children in the ways of the Lord as Timothy's grandmother and mother did by passing on their faith to him (2 Timothy 1:3). By mothers who are determined to raise their children in the nurture and the admonition of the Lord (Ephesians 6:4) instead of sending them off to godless institutions that are run by a godless government most of their lives. By wives who are committed to their marriages until death do they part and learn to be submissive, obedient, and kind towards their husband and allowing their husband to lead their families. Women who allow Christ to work in and through them so their husband and children know, without a doubt, that they love the Lord deeply.
By mothers who teach, train, and discipline their children for the purposes of godliness and hide God's Word deeply in their hearts. By women who care more about their children's eternal souls than making a buck or having it all. This is a full-time job and don't let anyone, especially feminists or even your church, tell you otherwise. It is mothers' God-given role to be home, bearing children, and raising them for the Lord and His Kingdom.
This culture needs Jesus. All cultures need Jesus. A woman from Africa commented on my Facebook page yesterday and wrote that women there have to work to support their families. Africa needs Jesus and His ways. It needs men who are willing to marry and work hard to provide for their families so the mother of their children can stay home and raise those children in the ways of the Lord: to work hard, to have self-control, to be joyful, continually pointing them back to the truth of God's Word, teaching them to have sound doctrine and a sound mind, and to love the Lord more than the pleasures of their culture.
Mothers at home, you are doing Kingdom work and storing your treasures in heaven. Each moment you spend at home raising your children is good in God's eyes. No, making money is not the be all and end all at all. It's not your job. Your job is to raise the next generation and stop the madness of what we see taking place around us. It's raising children without an entitlement mindset, but instead, children who work hard and enjoy the fruit of their labor. Let your husbands decide how to raise your sons to be men. Don't interfere!
As Lindsay Harold stated it perfectly, "If you want to get your man excited about Christianity, help him see this as a culture war that we need him to fight by training his own children to be soldiers in the realm of ideas, to fight lies with truth, to show evidence for the Christian faith, and to stand strong in the face of oppression, ridicule, and even persecution, and then to do the same with their children. This is a vision that appeals to men and that we need Christian men to rise up and take on in their own corner of the world, to fulfill the mandate to be fruitful and multiply, to have dominion over the earth, and to spread the gospel."
All of this is good and pleasing in the sight of God and this is all that matters. Women have blasphemed the Word of God by not being keepers at home but instead allowing others raise their children. Let this not be said about you.
And ye shall teach them your children, speaking of them when thou sittest in thine house, and when thou walkest by the way, when thou liest down, and when thou risest up. nd thou shalt write them upon the door posts of thine house, and upon thy gates: That your days may be multiplied, and the days of your children, in the land which the LORD sware unto your fathers to give them, as the days of heaven upon the earth.
Deuteronomy 11:19-21