Negative Reviews on Amazon
Negative Reviews on Amazon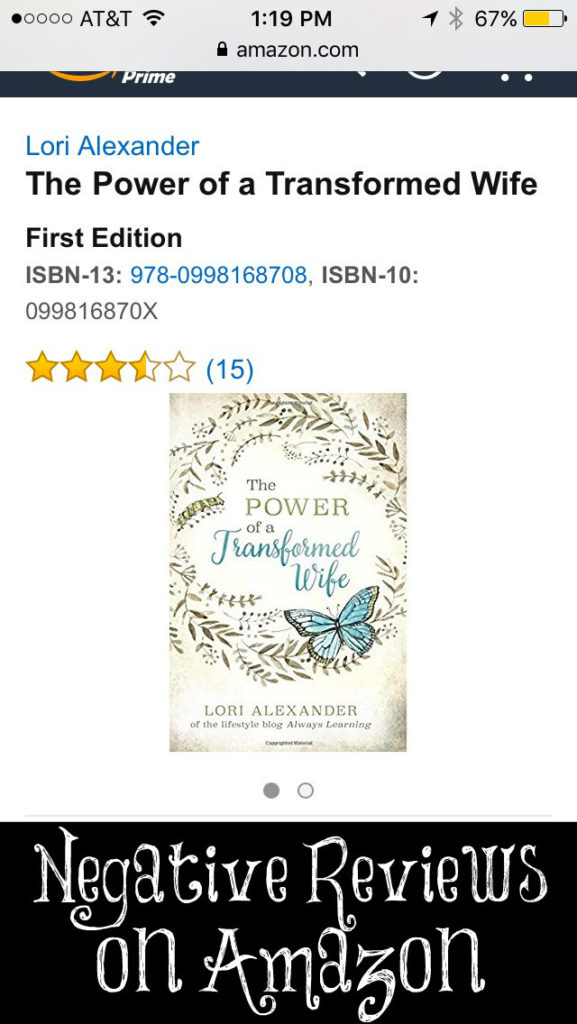 When my editor and I were talking about having my book sold on Amazon, I told him it would get blasted with horrible reviews since there are some who hate me and what I teach. He wasn't worried about it and thought it would simply bring more traffic to my book. Well, yesterday I saw that sure enough, they were posting nasty reviews about me and my blog, not even my book! (I have no idea why Amazon allows comments from those who haven't read the book. ) They are the same people who have maligned me since I began blogging almost six years ago and they repeat the same false accusations over and over again. They have sites dedicated to slandering me. They follow me even when I comment on another's blog and attack me there. They seem to know every detail of my life because they know details from every comment I have ever written on my blog. They have nothing better to do with their time than to cyber stalk and speak evil of others. I went to the women in the chat room and asked them to write reviews for me about what they know about me and what I teach. Some of them happily did this for me. (If any of you would like to do this for me, I would appreciate it very much.) I know, without a doubt, that this is a spiritual battle.
An hour later or so, my youngest daughter called me and told me she saw the bad reviews and even commented on one who wrote this, "If one reads Mrs. Alexander's original blog 'Always Learning' you will see where she has advocated what can only be described as child abuse to her children and grandchildren. Smacking a little one over and over for hours to pick up raisins?" This is the same typical false accusation made at me over and over again. 
Cassi wrote, "As I am the little one who was being 'smacked' around for hours to pick up my raisin, I have a right to defend my parents. First of all, I was never abused…not even close. By having me pick up my raisins, it was actually a sign of love. It wasn't easy for my mom to spend hours disciplining (disciplining, not abusing; there is a big difference) me that day, but she taught me a valuable lesson that I was able to learn at two years old the easy way instead of 10, 20 or even 30 years later down the road the hard way. She taught me obedience. Obedience to authority and to God. My parents saved me from SO much grief learning this at a such a young age because I learned early on in life that when they say no or tell me not to do something it is because they have my best in mind, just like God. God disciplines the ones He loves because He is protecting the children He loves. It isn't easy for Him, but He knows better than us and wants to protect us from hurting ourselves. I don't know what your relationship with God is or why you hold so much anger towards my parents, but just because you don't agree with everything (or anything?) they say, does not mean that this book can not help save difficult marriages."
Tears were in my eyes when I read her words and to know that she was defending me to this person who loves to tear me down whenever given the opportunity. All those who are writing such nasty reviews must be miserable people who use their precious time in trying to destroy others. They need Jesus but they are so blinded to the goodness of the Lord and the beauty of His ways that they can't see good from evil. I have never promoted abuse of any kind on this or my other blog and I never will since it is evil. Yes, we disciplined and trained our children for their good but not one of them would tell you they were abused in any way, just as Cassi has so beautifully stated. Lindsay in the chat room had this to say about it, " It happens for every Christian book that is in any way controversial. Apologetics. Creation science. Complementarian. Pro-real marriage. The rebellious against God try to shout down truth. One wonders how they have so much time to write negative reviews. But I have seen many such wars on Amazon in the review section."
We are in a battle, women. People hate the Truth and they always have. If they hated Jesus, they will hate all those who love the Lord and speak His Truth. This is a given but we have nothing to fear for greater is He in us than he who is in the world. We know how it is all going to end so we pray for those who are lost and even those who are evil.  I keep this verse printed on a page in my Bible, "But love ye your enemies and do good, and lend, hoping for nothing again: and your reward shall be great, and ye shall be the children of the Highest: for he is kind unto the unthankful and to the evil. Be ye merciful, as your Father also is merciful" (Luke 6:35). Therefore, we must continue to be kind to all in hopes of them seeing and wanting Jesus who lives in us.
I asked my chat room this the other day, "Do the people who are friends on your Facebook page know you are a believer in Jesus Christ? I see way too many Christians posting about all the fun they are having without ever mentioning the Lord. It makes it look like they are seekers of pleasure and not seekers of God. The world is watching us, women. What does it see that you value in your life?" I pray that none of you are ever ashamed of the Gospel of Christ and His ways and others know that you are a seeker of God whatever it costs you.
For I am not ashamed of the gospel of Christ: for it is the power of God
unto salvation to every one that believes.
Romans 1:16