Never Encourage Women to Divorce Their Husbands
Never Encourage Women to Divorce Their Husbands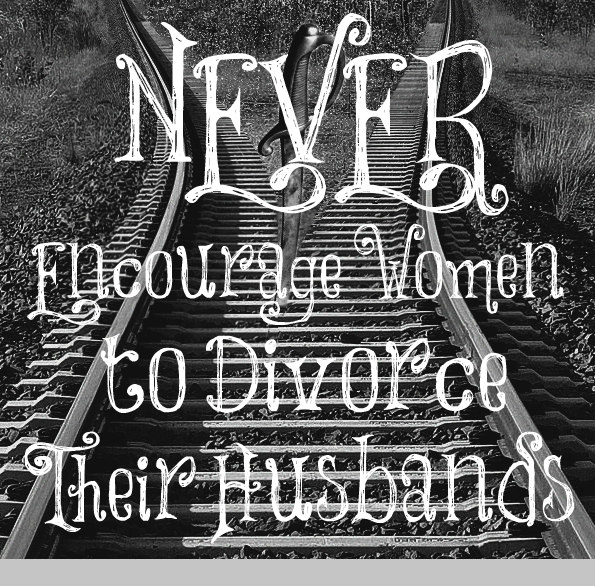 There are women who are STANDING for their marriages. Yes, they are married to disobedient, unfaithful, and difficult husbands but they understand the cost and are willing to obey God instead of listening to those around them encouraging them to take the "easy" way out and get divorced. Several women in the chat room are standing strong in the gap for their husband's soul and their marriages even though many have told them to divorce their husbands. It is a beautiful thing to witness. Here is one woman who is doing this and encouraging others who have also chosen to stand for their errant husbands.
"You're keeping your faith and your testimony is strong, even now. People want to fix the situation; it's human nature. Most people default to fixing marriage problems by shifting the power from the errant spouse to the hurting spouse, by recommending the hurting spouse use divorce to top from the bottom (regain power and authority over the situation).
"Human sympathy seems appropriate. I always ask people if they're trying to be more sympathetic than God is merciful. Because that's really what's going on: people think that they care more than God does about the errant spouse AND the hurting spouse. 'Fix this pain!' cries the flesh. My friends often think I'm completely crazy, or that I must have zero respect for myself for remaining married with things the way they can be.
"What they don't realize is that they're not going to be the ones picking up the pieces: they won't be the ones loading up four children every few days to switch homes and clearing the emotional fallout from that. They won't be paying to support my children or driving to medical appointments with me alone to help. They won't be paying the lawyers or therapists; they won't be training up my children to believe in covenant when they can't even see it. They won't be in my home holding babies for me. They won't be at Court hearings fighting for my children to have stability in the midst of chaos.
"So unless someone's planning on getting some skin in the game, I just ignore them and smile. Because I'm standing. And I'm standing with YOU!" (Robin from the chat room)
Rick Thomas has some other good words for women who are married to disobedient husbands and their marriages seem hopeless:
"Mable is in a marriage that is not meeting her expectations. She longs, dreams, and prays for her husband, Biff, to change. Biff has not changed, and it does not appear that he will ever change.
"Mable is called to be obedient to her covenant relationship even in the face of not getting all she dreams from her marriage. Mable is called to follow Him who is invisible rather than pursuing her hopes and dreams that seem to be right in front of her (or sleeping beside her each night).
"Are you willing to follow God, in obedience to God, even if you are not sure of or in control of the outcome?
"Because Moses wanted Christ supremely, the temporary disappointments in his life did not control him. Moses had a long-sighted view into heaven, and it was that view that released him from the power that the things in his world could have held sway over him.
"He saw Him, who was invisible. His eye was on the treasure. The treasure was Christ. That wealth is what ruled his heart. If your eye is steadfastly on Christ, your heart will not be controlled by the pleasures of this life, whatever they may be.
"Key Elements – Faith to suffer rather than temporary pleasure because to follow Christ was a greater treasure."
Read 1 Peter over and over again and remind yourself how much Christ has suffered for you. Set your affection on things above, not on things on the earth. For ye are dead, and your life is hid with Christ in God (Colossians 3:2, 3).
For this is thankworthy, if a man for conscience toward God endure grief, suffering wrongfully…but if, when ye do well, and suffer for it, ye take it patiently, this is acceptable with God. For even hereunto were ye called: because Christ also suffered for us, leaving us an example, that ye should follow His steps.
1 Peter 2:19-21