No Childhood Milestones Without Celebrating Holidays
No Childhood Milestones Without Celebrating Holidays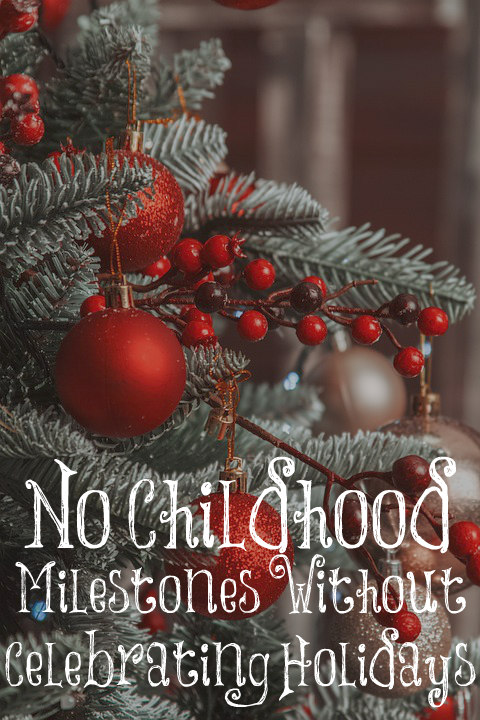 Recently, I talked with a young man. He was raised in a godly family. His family never celebrated any holidays and did very little for the birthdays. His parents thought holidays had become too secularized. He wants different for his family. His childhood blurs together since there were no special times to remember. There were no milestones to fondly look back on.
One of my daughters was telling me of all the milestones she remembers from her childhood. She remembers special birthday parties. She remembers different Christmas celebrations that stood out for one reason or another, like the time she talked her siblings into opening all of their presents at four in the morning before mom and dad woke up. She remembers going to Disneyland and Guadalupe during the Halloween times since mom wasn't a fan of Halloween. She remembers Christmas mornings at grandma's and grandpa's house with all of her cousins, aunts, and uncles then going on long hikes afterwards.
The list goes on and on but there are many milestones from her childhood that she remembers with fondness. This young man wants this for his children. He wants life to have celebrations, special family times, and his children to remember benchmark times in their lives. When he's a grandpa, he wants a home where his grandchildren remember with fondness because he turned everything he could into a celebration.
There are more than a few Christians deciding not to celebrate holidays anymore since they don't think they're biblical. That's their right to do so and I respect their convictions, but I disagree. When we celebrate Christmas, it revolves around Christ and family. The same goes for Thanksgiving and Easter. We always made holidays a joyous time for our children and now we get to celebrate them with our grandchildren.
Last Halloween, my husband and I went out to dinner because I decided I didn't want to pass out candy at the door to the children who came knocking this time. When we returned, our street had turned into a massive, fun-neighborhood gathering. People were sitting out in front of their houses passing out candy, even the old lady across the street who had just lost her husband. There was music playing and another lady across the street was dressed up like a bunny and dancing as she gave children candy.
Then there was my house. The door darkened and I am the one who sits out in front of my home often with my grandchildren and other children in the neighborhood feeding them popcorn and watching them having a great time playing together. This Halloween, I will be passing out candy to the children who come to my home. I don't like much about Halloween but I love my neighbors and the children who come to my home. It's about community and spreading the love of Jesus to those around me.
My family will continue to celebrate holidays and birthdays. This dark world needs times of celebration and gatherings of families. Parents need to give their children as many happy memories from childhood as possible. Life is hard and short. If your children know that you live to glorify God and make sure that God is in your holiday celebrations, He will be glorified.
One man esteemeth one day above another: another esteemeth every day alike. Let every man be fully persuaded in his own mind.
Romans 14:5