No Problem with Beth Moore Being the President of the SBC?
No Problem with Beth Moore Being the President of the SBC?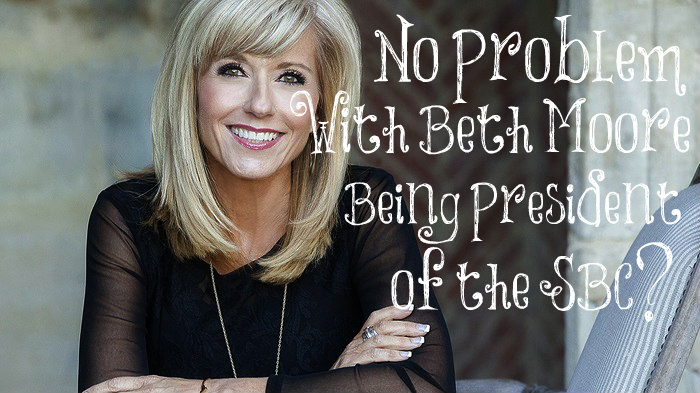 This is from this article from Christianity Today and Pastor Dwight McKissic sees zero problem with putting Beth Moore as president over the Southern Baptist Convention. "To elect Beth Moore  would do more to heal our Convention, seal women within our convention who have lost hope and right historic patterns of wrong toward women, without compromising qualifications, integrity, competency, or Scripture. The questions are, 'Are we there yet?' or do we have to wait 100 more years and experience more of God's judgment?"
I guess he has never read this verse: "As for my people, children are their oppressors, and women rule over them. O my people, they which lead thee cause thee to err, and destroy the way of thy paths." (Is. 3:12) How about this verse? "But I suffer not a woman to teach, nor to usurp authority over the man, but to be in silence" (1 Timothy 2:12)
Lindsay Harold had a great response to this article:
"Quite apart from her sex, she's a terrible Bible teacher. You would think doctrinal soundness would be an important qualification for church leadership, even if you ignore the fact that she's a woman. She's a blatant false teacher who values emotion more than sound doctrine. She says virtually nothing of any substance. It's all mindless emotional gibberish with her.
"Of course, she should have been disqualified without even consideration based on the fact that she's a woman and the Bible is clear that church leadership are to be male (among other qualifications) and that women are not to hold spiritual authority over men.
"My family left the Nazarene church several years ago when they elected a woman to General Superintendent over the entire denomination (one of just five leaders for the denomination as a whole). They had allowed female ministers for awhile, but we always had a male pastor because my dad was the pastor. However, when they put a woman in charge such that every minister and layperson in the denomination was now under her leadership, we left. We could not go along with that or remain under the spiritual authority of a woman. This was no easy matter since my dad was a 3rd generation Nazarene and was ordained in that denomination.
"This same pattern is continuing all over the place, with churches and denomination outright ignoring the Biblical standards in favor of doing what seems right in their own eyes. Church after church falls to the tyranny of women and political correctness. And after throwing out the Biblical commands about church leadership, they almost inevitably accept homosexuality as well within a few years. Once you set man's rules over God's, it's downhill from there. It's a great falling away. The Bible warned us that the way that leads to life is narrow and few find it. Some think they can widen the path by doing away with God's laws so they're not so restrictive. This only creates a false path that leads many astray."
I believe we are in these times of the great falling away. As culture progressively becomes darker, the Church follows right along. Let this not be said of any of us. Stay in the Word. Match everything you read and hear to God's Word and obey it with His Spirit working mightily within you. We must not lose our salt, women. We only keep our salt by abiding in Jesus and doing as He tells us to do.
Let no man deceive you by any means: for that day shall not come, except there come a falling away first, and that man of sin be revealed, the son of perdition.
2 Thessalonians 2:3