None of Us Want to Grow Old?
None of Us Want to Grow Old?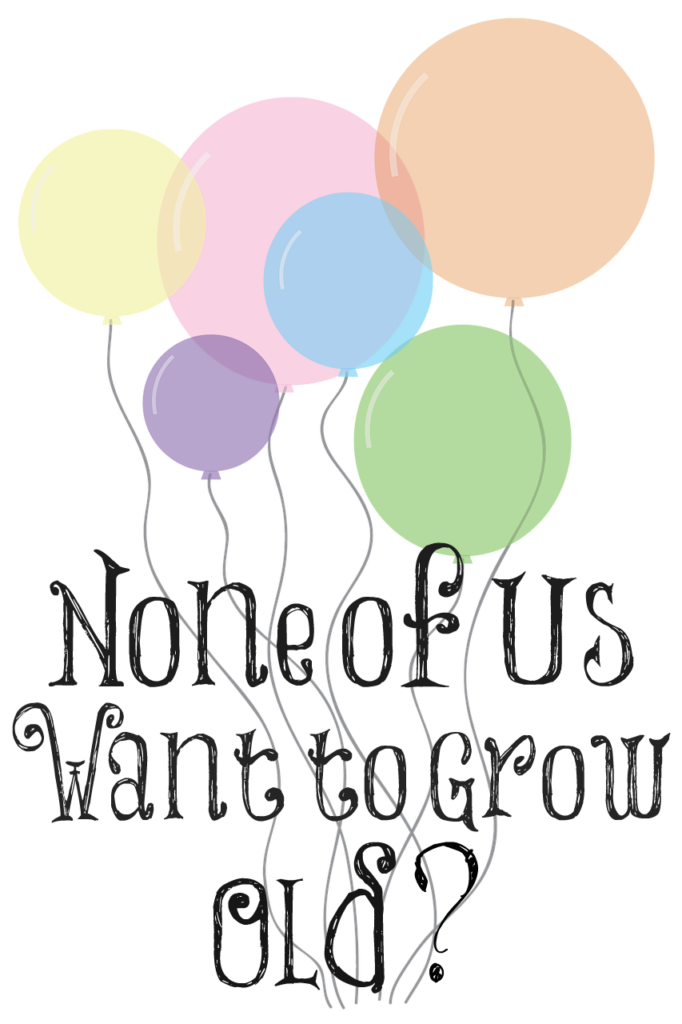 "Dr. Bernard Nash is a social worker who's considered a pioneer in the study of aging. He points out the paradox that we all want to live longer . . . but none of us wants to grow old! And that's true today." This quote was from Nancy Leigh DeMoss' blog post about her upcoming 60th birthday. We may have been born on the same day!
Unlike the quote, I am thankful to be growing old. I could have easily died when I was 45 years old and my sodium level was 110 instead of 137-147. This has happened several more times since then. They consider 110 sodium level "death level." I have also survived two brain surgeries. Last May, I had a bad reaction to my thyroid drug and my blood pressure was up to 222/110 at one point which is stroke level. Yes, I am thankful to be alive at 60 years old. Perspective is everything!
I turn 60 years old today. Each day is a gift. Overall, I have felt better the past few years than I have in the 30 years prior. I never thought I would feel good again but I have some very good days. It's fun to be able to enjoy life and be able to work hard and serve others.
I followed Jeremiah's Thomas' struggle for life on Facebook. He was only 16 years old and died of cancer a few days ago. He loved God, preached the Gospel, and fought hard against abortion. He had a bright future ahead of him but God used his illness for good. Many thousands have heard the Gospel and learned the value of the unborn while watching his fight for life. His life was short but it was used for the glory of God. Jeremiah would have loved to grow old.
My mom passed away a few weeks ago. She lived a long and good life. She never had to see a spouse, child, grandchild, or great grandchild die. Yes, she saw me through my sufferings and it pained her but she never had to experience an untimely death of one she loved. She was blessed, yet she definitely had her struggles and sufferings but she never complained about growing older since she knew this was a part of life and all of life was a gift.
If you are growing old, be thankful. If you are getting wrinkles and gray hair, be thankful. Our culture worships youth but I sure don't. Wisdom and experience are priceless things we can learn from growing old. I don't mind my gray hair and wrinkles. I am happy to have them! I am happy to be growing old with the husband of my youth who still finds me attractive! I am happy to have children in their 30s and being called a grandma. All of these are huge blessings to me.
God is good and His ways are good. I don't know what His future plans are for me but I do know that they are good even if they include suffering and sorrow. Sufferings and sorrows remind us that this isn't our home and a new heaven and a new earth are awaiting us. This life is a blip on the scene of eternity. Enjoy each day and understand that it is a gift not to be wasted with frivolous things like seeking pleasures but living it to glorify God. I am thankful to be growing old!
With the ancient is wisdom; and in length of days understanding.
Job 12:12