Children Being Swallowed Up By Those Big Yellow Monsters
Children Being Swallowed Up By Those Big Yellow Monsters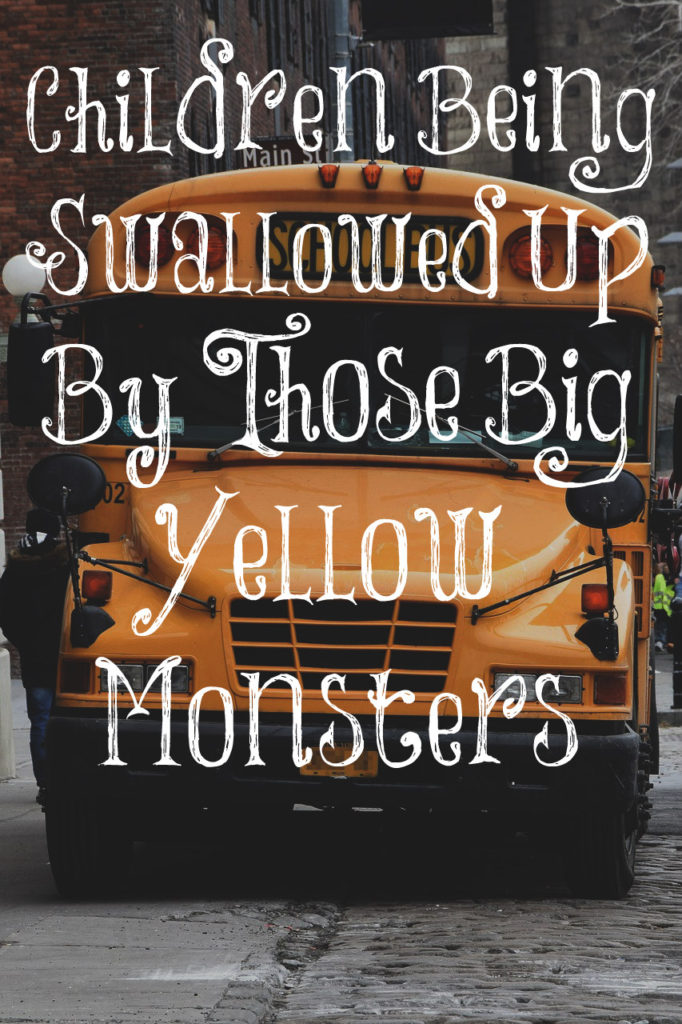 Women have asked me why I support homeschooling because they don't believe there is any biblical support behind it. Oh, really? God commands fathers to raise their children in the nurture (to educate; to bring or train up) and the admonition (gentle reproof; counseling against a fault; instructions in duties; caution; direction) of the Lord. He commands younger women to be keepers at home and love their children, i.e. be the ones home to love, protect, and raise their children.
The greatest passage in the Bible against public schooling is found in 2 Corinthians 6:14-17: "Be not unequally yoked together with unbelievers: for what fellowship hath righteousness with unrighteousness? And what communion hath light with darkness? And what concord hath Christ with Belial? Or what part hath he that believeth with an infidel? And what agreement hath the temple of God with idols? For ye are the temple of the living God; as God hath said, I will dwell in them, and walk in them; and I will be their God, and they shall be my people. Wherefore come out from among them, and be ye separate, saith the Lord, and touch not the unclean thing; and I will receive you."
We are also warned that bad company corrupts good morals and we are also commanded to walk with the wise. We are told to teach the Lord's ways to our children continually. "And ye shall teach them your children, speaking of them when thou sittest in thine house, and when thou walkest by the way, when thou liest down, and when thou risest up" (Deuteronomy 11:19).
Joel Belz in his article A History of Separation wrote, "My very first exposure to the general truth of that assertion (that splitting up family units has always been a specialty of what we used to call 'liberal' political interests, but which many refer to as 'progressive') came some 70 years ago when I overheard my father talking with my mother and other folks from our church. 'There's just no way,' I remember Dad's saying, 'that we're going to keep tolerating our children being swallowed up by those big yellow monsters—just to go and be taught an alien gospel.' Several local public schools were in the process of being consolidated into just one, and for Dad, the big buses that would haul us to a more distant town were grim symbols of a government stripping from parents their God-given rights and duty to shape their own children's education."
There's nothing in the word of God that calls us to ship our children off to strangers five days a week for hours a day for all of their childhood. The purpose of having children is to raise godly offspring (Malachi 2:15) and how will they become godly if they aren't being raised full time by godly parents? God has been kicked out of the public schools yet Christians all over the place continue to send their precious children, who have soft, teachable hearts and are so impressionable, to be taught the ways of the world.
The peers that your children will be with all day long will have a great influence upon them which is not good either. You all can see the garbage that is on the TV, movies, and the music people are listening to but most parents don't censor any of this for their precious children. These children will share this worldly garbage with your Christian children. Children in public schools are not being protected from the evil of our culture by their mothers! As culture grows darker, we must be all the more diligent to protect our children from Satan's influences.
Be sober, be vigilant; because your adversary the devil, as a roaring lion, walketh about, seeking whom he may devour.
1 Peter 5:8