Opening Up New Platforms
Opening Up New Platforms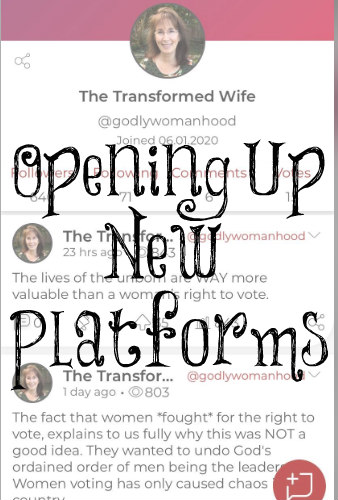 As we are witnessing, most of the social media sites are heavily censoring conservatives. In one day a few weeks before the election, my Instagram account went from receiving about 1,300 likes a day on a post to about 200 a day. I've been put in Facebook jail multiple times for teaching that women are more easily deceived, and that they are the weaker sex; both things which the Bible teaches. Most in this world hate truth. It's just a fact. They hate God and they want to be their own God.
I will stay on Twitter, Instagram, and Facebook until they shut me down, but I do have accounts on these sites for any of you who are leaving Twitter, Instagram, or Facebook:
MeWe – https://mewe.com/p/thetransformedwife
MeWe Chat Room (a private space for like-minded women to discuss biblical womanhood) – https://mewe.com/join/alwayslearningchatroom
Parler – https://parler.com/profile/godlywomanhood/posts
GAB – https://gab.com/LoriAlexander
We've switched from watching Fox News to NewsMax except for Tucker Carlson who is great!
I am thankful that there are conservatives who are not putting up with the Communist-style censorship anymore and are opening up sites that give us the freedom of speech which this country was founded upon. May we use all of our social media sites as places to glorify God Almighty. The censorship sites think they are closing down Truth, but they are fighting against God and He will never be closed down. He has already won the battle. Keep your trust in Him, women!
These things I have spoken unto you, that in me ye might have peace. In the world ye shall have tribulation: but be of good cheer; I have overcome the world.
John 16:33