The Travesty in the American Christian Family
The Travesty in the American Christian Family
---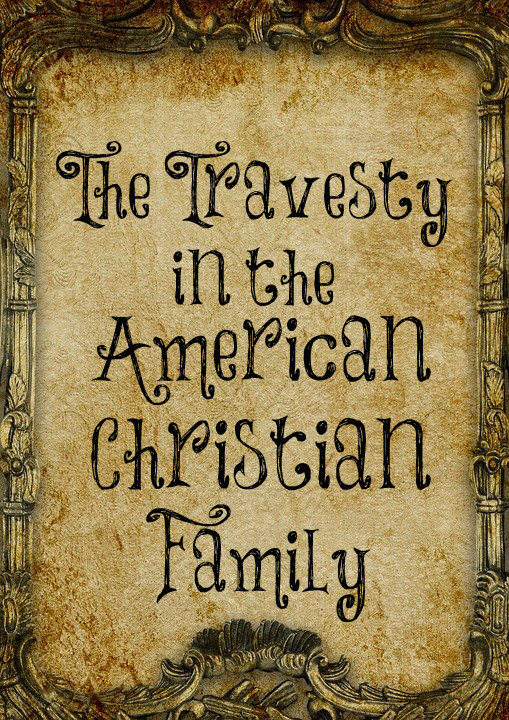 Written By Ken Alexander
With the erosion of American morals goes the American dream of a true and responsible democracy. Although both Mom and Dad each play a great influence on the moral fiber and character of a child, nothing will create a stronger young man or woman than a child raised in a home where mother and father join together to invest their lives into raising up the next generation. Unfortunately, we now have a nation of far too many young adults who are the product of selfishness and sin, and the results are devastating to our once great society.
It grieves me to see the Christian man who has bought into the world's lies that their daughter needs to be taught that they can be every bit as productive and successful as a man. Taught that they do not need a man to care for them, but instead must get educated and successful to protect themselves against the man they choose to marry. These Christian fathers have no confidence in their daughters being able to be joined by God to a Christian man who has been trained to work his tail off to ensure that His family is well cared for while his daughter stays home to raise their godly children. Worse yet, Dad and Mom are teaching their sons and daughters by their own examples that their children are secondary to their own personal pursuits. The roles of husband and wife are now so intertwined all in the name of egalitarianism.
Nothing could be more foreign to the scriptures than the idea that we are to walk away from God's design for marriage and family so that we may achieve "equality." Christ makes us equal in worth and value, yet if we are to be like Jesus, equality is not something to be grasped but to willfully conceded for the sake of our relationship with God and others.
"Let this mind be in you which was also in Christ Jesus, who, being in the form of God, did not consider it robbery to be equal with God, but made Himself of no reputation, taking the form of a bondservant, and coming in the likeness of men" (Philippians 2:5-7).
Equality in every way is now a goal for many, even in the Church, including care for the home and children, and equality in successful careers. The world's thinking has permeated our churches precisely because few pastors are willing to teach God's ways anymore on this vital matter out of fear it will harm their popularity and following.
We have now reached perhaps the final tipping point where most Christian fathers of this generation are either so emasculated or so indoctrinated in the world's thinking, that they are unable to train their sons how to be godly leaders of their family. Christian man, can you tell your family how you have worked yourself to the bone to put food on the table so Mom can stay home with your children? Explain to them why God's design for the husband to provide and Mom to care for the home no longer applies to your family. Tell your sons why Mom seems to more often have the final say in the decision making as you shrink away from your God-mandated role as leader of your home.
Certainly, I see the vicious cycle Christian men are caught in when many try to lead their wives who are the opposite of submissive nor desirous of a man's leadership. Instead, many wives desire to be in control to protect themselves from "that man" they were told by their parents they could not depend upon to protect and provide. Taught just the opposite of any idea of enveloping their life into a husband to become the one flesh of God's desire and design. If our children learn mostly by watching the example of Mom and Dad, what example are you giving them? Does your marriage look like the world's or like the one-flesh marriage of the order that God has designed for us? The God-head three in one as the example of husband, wife, and God's Spirit united the three as one.
When the Church thinks it can walk away from God's design for marriage and family under the guise of "necessity" or "choice," it fails to see the coming repercussions. If we happen to raise up a son in the way he should go, and teach him self-discipline, servant leadership, and hard work, he still is confronted by a Christian young woman who has been trained by her parents not to trust him. Never to put all her eggs in his basket, but to protect herself against him in case he may some day fail her or abuse her.
It is no wonder that many Christian marriages never experience the true oneness, harmony, and intimacy that God intends for marriage when even our godly Christian young men keep crying out to their wives, "Hey, what about me? Can you be vulnerable and envelop your life into mine without my having to constantly try and prove my love and affection? Without having to compete with you for leadership or even who is more productive or smartest? Just because you choose me to be your man?"
The deck is stacked against our young Christian men. Many don't live with their Dad because of divorce, and many who do live with Dad live with a shell of a man who is unable, or no longer willing, to try and compete with Mom to be the leader of the family. If you are in Christian marriage, please think about what you are showing your sons by your marriage. Please, Dad, take the time to instill these basic ideals into your sons so that they will have a chance to some day captain a family of their own in the name of Christ Jesus:
Teach them that true leadership may be service-oriented, but it is never wimpy or backing down when it comes to leading and decision-making.
Teach them how to be gentle, kind, and respectful to all women, especially their wife. Never should a harsh or unkind word be spoken, even if a firm correction may be necessary.
Teach your sons that hard work and battling through adversity will always win in life and marriage. That they are to be the primary providers for their home and if Mom helps out a bit, it is only short term as necessary when the kids are old enough to fend for themselves.
Teach your sons to be strong in the Lord which always results in loving and serving others yet never compromising their calling to lead their family.
The world will always be pulling the Church into Satan's abyss if it can. The only remedy against this is for those who are part of God's remnant to first understand the wily Devil's tactics, and to decide as a couple to combat them by living out their lives as examples for what their children should be doing when they raise they families. Teach them their roles, and do not hesitate to explain to them your own shortcomings when "necessity" or sin causes Mom to have to work, or Dad not to be the leader he should be in the family.
Imagine Christian, if you could have that one flesh marriage that God speaks of where both spouses are living in a loving and vulnerable relationship trusting each other as you try to live out God's Word fully in your home. Imagine that your children are watching and will emulate what you show them, far more than what you tell them,
Lori and I have found what that means and we love being one in Christ. We have exposed our lives to our children and the world not because we have been perfect, but rather because we know the difference between doing things the world's ways and God's ways. There is no comparison for the joys and rewards that come when we set our minds to do God's will. It is truly exhilarating to watch all of God's many blessings coming true in our lives and that of our children as we seek to please our Savior just as God's instruction manual clearly teaches us.
To God be all the glory, and may the Church start to once again believe God at His Word instead of making up excuses as to why it is too hard to trust God at His Word by that same faith that saved us. Just expect that whatever you are showing your children they will repeat it. Is that a God honoring thing or changes need to be made? Talk to your spouse and determine to make those changes today for the love of God and family.
And, ye fathers, provoke not your children to wrath: but bring them up in the nurture and admonition of the Lord.
Ephesians 6:4