Our Thoughts About President Trump
Our Thoughts About President Trump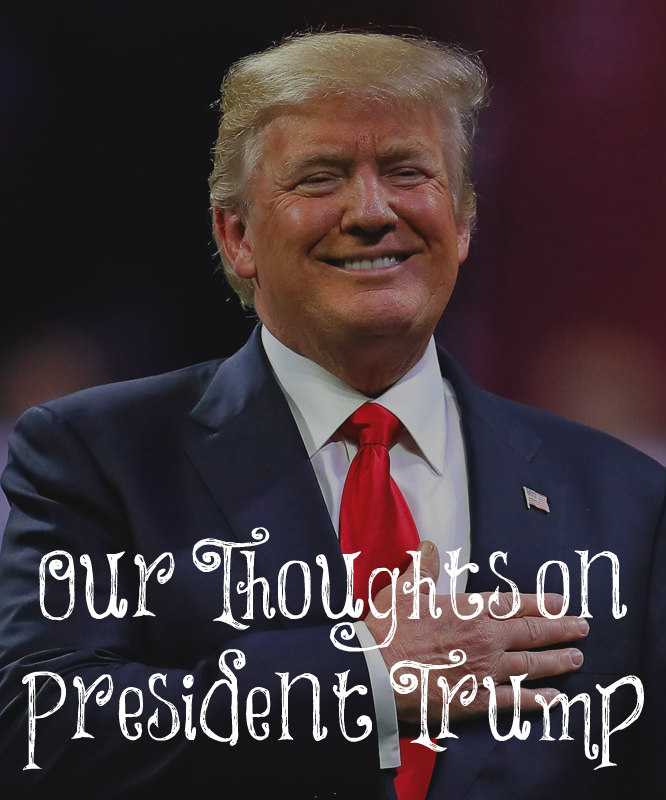 Written By Ken and Lori
We wanted Ted Cruz or Marco Rubio to win the primary. We never thought President Trump would win the way he mocked people and the things he said. However, when he did win the primary, we voted for him because we were hoping he would be a much better president than Hillary, even though we weren't sure he was a Republican.
We both like President Trump as our president a lot. Many Christians still can't stand his behavior, his tweets, and his past. They believe this disqualifies him as a president, so they refuse to support him. What about King David? He was a man after God's own heart, yet look what did. He committed adultery with a married woman and then had her husband murdered. God works through sinful, fallen man. Most of the Kings of the Old Testament were not faithful men, yet God used them to achieve His purposes. "Let every soul be subject to the governing authorities. For there is no authority except from God, and the authorities that exist are appointed by God" (Romans 13:1).
Women have told me (Lori) that he's the most corrupt leader we've ever had. They need to do a bit of research on the likes of President Clinton, Kennedy, and Nixon to see what they actually did while in office. He's far from being the most corrupt leader we've ever had. Thomas Jefferson, a beloved president, was an ardent slave owner who slept with some of his slaves and purposefully spread lies about John Adams when they ran against each other for president. Adams conceded to him the presidency when the election was deadlocked in Congress with no clear winner. We've lived through many presidencies and President Trump is definitely at the top of our list for one who keeps his promises. Remember, there is NO perfect president. We aren't told to be negative and criticize our leaders but to pray for them.
We choose to look at the good this president is doing. President Obama always behaved properly. He never mocked anyone, tweeted stupid things, or did anything that was truly bad in behavior, yet he accomplished many things that are considered abominations to the Lord. He fully supported abortion and the taxpayers funding it. He changed his mind about same sex marriage and then even promoted it. We could list many things he did that were wrong but we won't take your time.
On the other hand, President Trump has spoken out for the life of the unborn. We believe this is the most pressing need in our culture – to abolish the slaughtering of unborn babies. This is murder. More people are off of food stamps and welfare. The Bible states that those who don't work should not eat, and we understand that we need to care for those who cannot work but able bodied people need to work and provide for themselves, as it is healthy for them in so many ways. Men need to have jobs to support their families. God created them to work hard and be providers, not live off of the government.
President Trump supports our military and police officers. He believes in protecting our country. We love that he supports religious freedom and speaks about God and His grace. We don't know where he is in his faith, but we pray for him and that God will give him wisdom. He surrounds himself with many who have faith in Jesus Christ.
We dislike it when we hear Trump haters say he is racist, as he is not in any way. The black community loved Trump before he was elected and smeared by the Left. The White Supremacist charge is just a fabricated mischaracterization of what Trump actually said and meant concerning Charlottesville. Trump detests white supremacist and so do we decry any forms of racism and bigotry, yes, even misogyny, and we are talking about true misogyny, not the fabricated lies given to anyone who dares say that women and men are different in inherent qualities, roles, and characteristics, yet equal in personhood and value.
President Trump has taken many hits by some Christians and the Left for his stance on securing the border. We stand with those who want to make a better life in this country and have been personally involved in helping over four individuals and two families attain green cards and become citizens, but we stand just as firmly behind the law of the land. We have no true democracy or freedom if the laws of the land are not being upheld. Let's not blame Donald Trump for securing the border to enforce the laws of the land. If we don't like the laws, let's change them, but let us not simply allow them to be violated and encourage their violation as the Democrats have done now for many years. Trump is doing nothing more than what Presidents Clinton, Bush, and Obama promised to do and did not fulfill their promises. So far, President Trump is a major promise keeper. He's a pragmatist. When he sees something that needs to be done, he does it.
Some will tell us that we should not concern ourselves with politics at all since this isn't our home. We are citizens of the Kingdom of God. We completely understand this and are SO thankful, yet the Bible also tells us to pray for our leaders so we can lead quiet and peaceable lives. It tells us that the people rejoice when the righteous are in authority but mourn when the wicked rule (Proverbs 29:2). We read all throughout the Old Testament how much better the citizens lives were when there were good leaders compared to corrupt. President Trump is not a wicked ruler. So long as Christians live in a democracy, it is a cop out to say, "Don't get involved in politics." To do so cedes the goodness and graces that this country was founded upon as "one nation under God."
You and I have a great responsibility to choose wisely between the options before us for president. Do not allow Trump's imperfections and even sins to make you believe that it is best to vote for another whose agenda is far more wicked and fraught with destruction. Wolves often time come disguised as sheep or shepherds, calling to Christians to "help the poor and those in need," yet then when you watch what government and Democrats do with their wasteful spending on Haiti and Puerto Rico and so many other mismanaged programs. Just remember, the greatest welfare program that has every existed around the world is Christians and Christianity, giving of our hard earned dollars to those who are truly in need.
We do not need government to spend our money for us as we have a lot of places to help the poor. Just look at the difference in giving between the average Democrat and Republican to see who really cares about the needs of others. Trump puts his money where his heart is and has given a lot back to those in need, including his entire paycheck. Love him or hate him, you must respect the fact that he is one of the few presidents who is trying to keep his word even with all the hate and malice thrown against him, starting before he ever took office. He is appointing fabulous judges for our country, and that alone should get all Christian's votes. To not vote for him is your right, but we believe you are being deceived.
At least so far, Trump has proven out to be far better than who we actually thought he would be. Yes, we wish he would stop his nasty tweets and just ignore his constant enemies, but we do like the fighter in him, unwilling to relent to the pressure of socialism, hedonism, and leftism.
For kings, and for all that are in authority; that we may lead a quiet and peaceable life in all godliness and honesty.
1 Timothy 2:2