Are Marriage Retreats Worth Attending?
Are Marriage Retreats Worth Attending?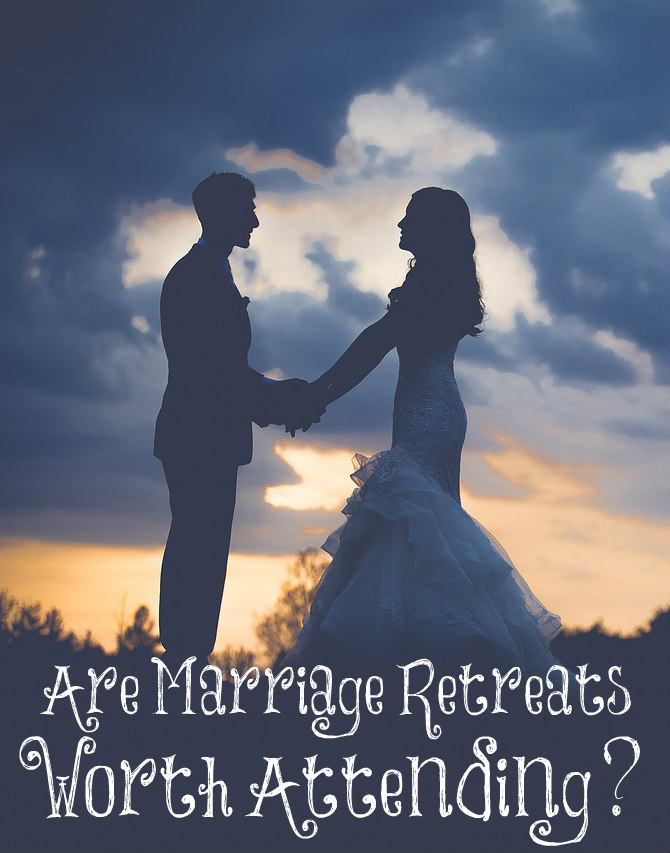 Are marriage retreats or classes worth attending? I venture to say that most of them aren't. Here's what one woman wrote who loved her marriage class:
"We attend a marriage class that lays a case that most of what we are taught in conservative Christian churches is not actually biblical – instead, it's cultural. I can't explain all of it in this format, but it boils down to two things. First: husbands are commanded to love their wives the way Christ loved the church. The church being referenced was a sinful, messy, unloving church. And Christ loved her so much he brought healing and gave his life. So, according to our church class, husbands should come home from work and connect with his wife's heart. Minister to her. Hear her heart and be a safe place to vent. Carry her load if she needs a break. Bring healing to her.
"The second premise is that in order to love her like Christ he has to recognize the ways his flesh, pride, and creature comforts put himself and his comfort above his wife. And he has to learn to recognize her emotions and feelings. And ask himself, 'If my wife was married to Christ, would she still be feeling x, y, z.'
"They say that the 'helpmeet' is our calling. Our assignment. But not to serve his flesh. Instead, we help him best to become Christ-like by being transparent with our heart. Open. Pointing out to him when he is hurtful or mean or rude so he can recognize his flesh and crucify it in his pursuit of being Christlike. Women, then, Pursue right relationship but with more freedom to be authentic."
In other words, the husbands are to pursue their wives' supposed needs and cater to their emotions and feelings while the wives continually point out their husbands' sins. I'm sorry, but this isn't biblical at all and actually extremely harmful to marriages. Christ doesn't try to connect with our heart. He transforms it. He doesn't chase after our emotions and feelings. He commands that we take all of our thoughts captive to the obedience of Christ.
This is the problem that I have with most marriage conferences/classes. They focus solely upon the husband's responsibility and water down the wife's responsibility so that she no longer has to be a submissive, obedient wife. No, she must fix her husband by being his holy spirit, according to these retreats.
This marriage class actually makes it seem as if husbands are their wives' help meets. When he comes home after a long day at work, he is to "connect with his wife's heart, minister to her, hear her heart, and be a safe place to vent." Rather, women should be taught that when their husbands come home from a long day at work, they should have their homes as clean and tidy as possible and a good dinner ready to be served. Give him a hug and a kiss and teach the children to do likewise. Make him feel like the king of his home. The nonsense this woman learned simply makes women more unhappy in their marriage, because their expectations placed on the husbands goes through the roof.
This marriage retreat also teaches "mutual submission" and that the "head" as in the husbands are head over their wives simply means "source" which is ridiculous. These types of marriage retreats do more harm than good. Did they teach about a wife submitting to her husband in everything? No. Did they teach about a wife being obedient to her husband as Sarah was to Abraham? No. Did they teach how a wife is to win her disobedient husband by living in submission to him with godly behavior? No. This entire marriage retreat was on how wives should have the perfect husbands who meets all of their emotions and feelings. This is NOT how Christ loves the Church.
Don't be fooled, women. This is why Created to Be His Help Meet is the best marriage book of all time. It teaches how wives are to live towards their husbands. It focuses solely on the wife's responsibility which is all that we will be held accountable for. And yes, we are to serve our husband's flesh contrary to what was taught at this class. "She that is married careth for the things of the world, how she may please her husband" (1 Corinthians 7:34). Jesus even told us that the greatest of all is the servant of all.
Wives, submit yourselves unto your own husbands, as unto the Lord. For the husband is the head of the wife, even as Christ is the head of the church: and he is the saviour of the body. Therefore as the church is subject unto Christ, so let the wives be to their own husbands in every thing.
Ephesians 5: 22-24