Parents are to Raise Their Children, Not Strangers
Parents are to Raise Their Children, Not Strangers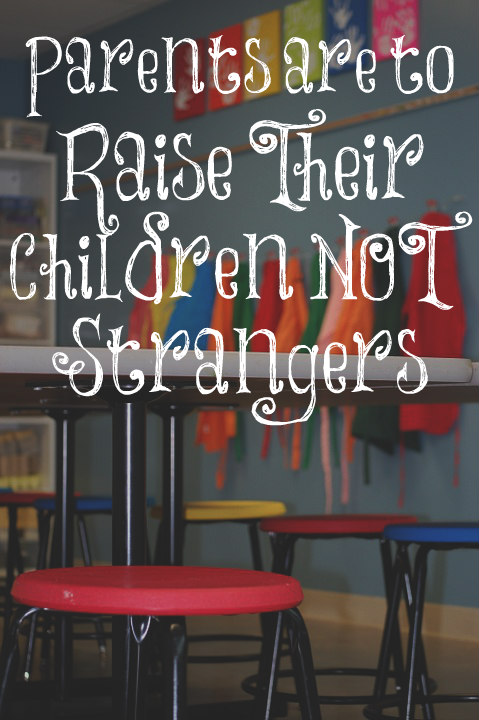 "As schooling becomes more rigid and consumes more of childhood, it is causing increasing harm to children. Many of them are unable to meet unrealistic academic and behavioral expectations at such a young age, and they are being labeled with and medicated for delays and disorders that often only exist within a schooled context. Parents should push back against this alarming trend by holding onto their kids longer or opting out of forced schooling altogether," wrote Kerry MacDonald in her article titled New Harvard Study Shows the Dangers of Early School Enrollment.
I am not sure what convinced most of us that it was okay to send our children away for most of their childhoods to be raised and taught by strangers who weren't allowed to teach them the ways of the Lord. God commands that parents be the ones to raise their children in the nurture and the admonition of the Lord (Ephesians 6:4), not strangers. Our goal should be that they grow in the wisdom and the knowledge of the Lord (2 Peter 3:18), not in the wisdom and the knowledge of the world because their eternal souls are all that matter in the end.
Children are meant to be home full time with their mothers. This is a main reason God calls young women to be keepers at home and older women are to be known for "raising" children (1 Timothy 5:10) not letting others raise their children. Children aren't meant to sit in chairs most of their childhoods. They aren't meant to be with a bunch of other children stuck in classrooms most of their childhoods. They're meant to be with their mothers.
Here are some quotes from my favorite preachers and their opinions about public schools:
"Your children will go to public school and they will be trained for somewhere around 15,000 hours in ungodly secular thought, and then they'll go to Sunday School and they'll color a picture of Noah's Ark. And you think that's going to stand against the lies that they are being told?" (Paul Washer).
"Today's parents tend to be more passive and less involved in their children's lives than any generation in our nation's history. They have turned their children over to artificial, surrogate parents. Day care centers, relatives, the television set, and the children's own peers have far more influence on the moral and social development of today's children than parents do. That is an abduction of the parent's duty before God. The Lord Himself gave parents – not schools, youth leaders, Sunday School teachers, or anybody else – the primary responsibility for the nurture and admonition of their children." (John MacArthur)
"In the meantime, our schools grow progressively worse. As fall approaches, I want to appeal to those of you with children in government schools. Please don't send them back! I beg you to consider what you are doing. As Dave Black has written: 'No academic skepticism, no secularist authors, no blatant materialism can so undermine the spiritual life of the country like the completely secularized training of the child under the authority of the state… Bible-based education is mandatory for Christian parents. If we think we can keep our children in a secular school system and escape the dumbed-down, amoral, and immoral results of secular humanism in schools, we are sorely mistaken.' (Voddie Baucham and he gives five reasons NOT to send your children back to public schools).
"Are public schools an option for children of parents who follow scripture? Al Mohler: increasingly no." (John Piper tweeted this and linked to an article why it is not.)
You would be wise to heed the warnings of these godly men.
…bring them up in the nurture and admonition of the Lord.
Ephesians 6:4