Never Take Him for Granted
Never Take Him for Granted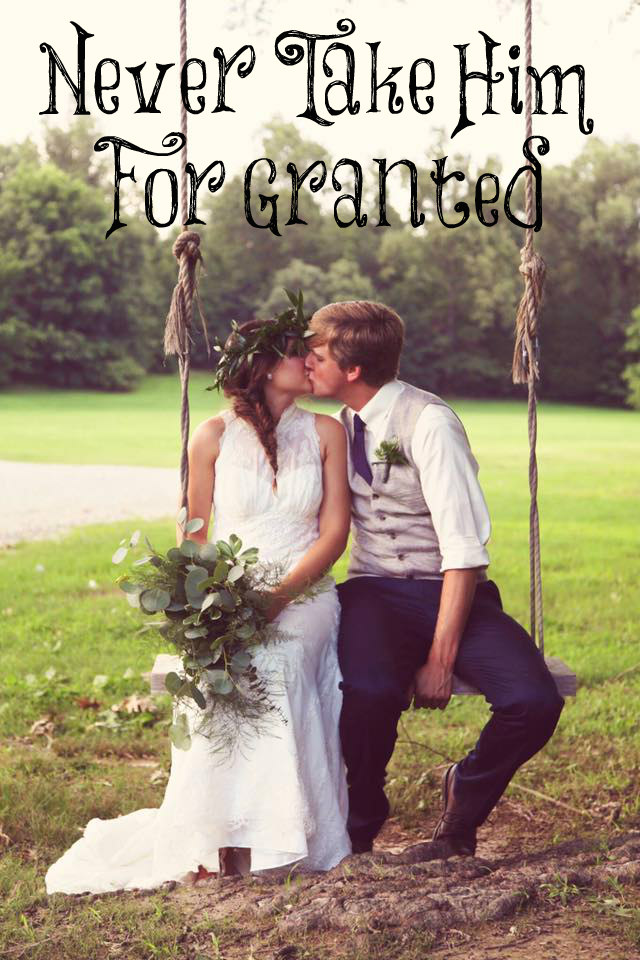 A woman's sister-in-law had posted this on Facebook. She gave me her permission to share it with all of you. Little backstory, she lost her husband in 2012 in a work related accident, leaving her with eight children to raise by herself.
~~~~~~
We did it again. The water heater gave out on us, so we boiled water on the stove top and the children found out how to survive without hot water at their fingertips.
Yes, they did say, "Looks like we need to go to our neighbors for a shower."
I said, "Oh no you don't. This is a great opportunity for you to see how we did it every day when I was growing up."
Yes, finally I got tired of it and told Merlin to go under the house and see if he can figure out where the heat element is then we will go see if we can get a replacement.
He's like, "Mom I have no idea how. I'm only 15 and nobody ever showed me how to do it. How am I supposed to know?"
I answered, "Because you are smart and are known for the ability to figure things out." (I did not want to go under the house.)
So, he goes under to check it out and I hear the muffled yell, "Mooommm! I have no idea what I'm looking at."
"Okay, okay, hang on, I'm coming."
The desire for hot water overruled my comfort, and I got under there with him. We figured out where the elements are, but how do we get it off? Our wrench just kept slipping, so I proceeded to explain how it's done.
"I think we need a large socket to get that thing off. Let's go to the hardware store and see what we can find."
We soon found it, so I explained it all in detail.
"I don't need to get under there again, right?"
I told him how to turn the water off and drain it then take the element out.
Soon there's another, "Mooommm, I can't do this! The water's not coming out of the hose anymore, yet when I go to take out the element water starts spraying all over me."
"Okay, I'm coming."
So I go under there again. We got it fully drained or so I thought. Took the top element off, but when I took the bottom one off, I got showered.
Yes, I sputtered and thought how awful miserable this is under the house kneeling in water, but we finally got it fully drained and new elements in. Turned the electric back on, and yes, it worked. Oh, the satisfaction is amazing!
So I have two messages for you ladies out there. Did you know there are a whole lot of things you can do around the house if you put your mind to it? You do not need to wait till your husband comes home to do it because now more than ever, I realize how hard a man's work is, and how much we take for granted. He too gets tired and who will comfort him? Do you have any idea what it does to me when I hear wives say, "Oh, but my husband just doesn't help much around the house, and oh, he just isn't very strict with the children in their training like he should be. That's why they are so loud and rowdy." You know what I instantly think? You are one ungrateful woman … Nope, I will not even call you a lady because a lady does not talk like that.
I wish the wives everywhere would honor and love their husbands, and realize it is their only taste of heaven here on earth. If you won your husband in the first place, stop and consider how you did it. Was it with a smile or a frown? Did you stop smiling? Did you start saying, "Are you ever going to help with the children? I had them all day and am tired. It's your turn?" Don't you think he is tired as well?
Imagine if you went outside for a day and did a man's work going up and down a ladder with tools and lumber and metal. Would you feel tired? Now consider this. After you come in that front door, would you want to be greeted with a smiling or a sour face? Which one would motivate you with just a bit more energy?
Now consider this, be glad you only need to be a homemaker and get to mother your little ones. Be glad you have a husband who gets the job of supporting you. Be glad that you don't have to worry about making the money on top of mothering. Be glad you get to be a help meet. You are there to help, not drain. You are created to meet his need. You are the one he chose. Can't you just let that alone bring joy to your heart?
What I'm saying is, please do not take your husband for granted, and please do not let me hear you complain. If it hurts me, imagine how it makes God feel. There is nothing I enjoy more then to see a couple being loving to each other. There are some who wonder if that's not painful for me to see and honestly, no it is not, but it pains me to see them not get along.
And be ye kind one to another, tenderhearted, forgiving one another, even as God for Christ's sake hath forgiven you.
Ephesians 4:32