Divorcing a Persistent Porn Addict?
Divorcing a Persistent Porn Addict?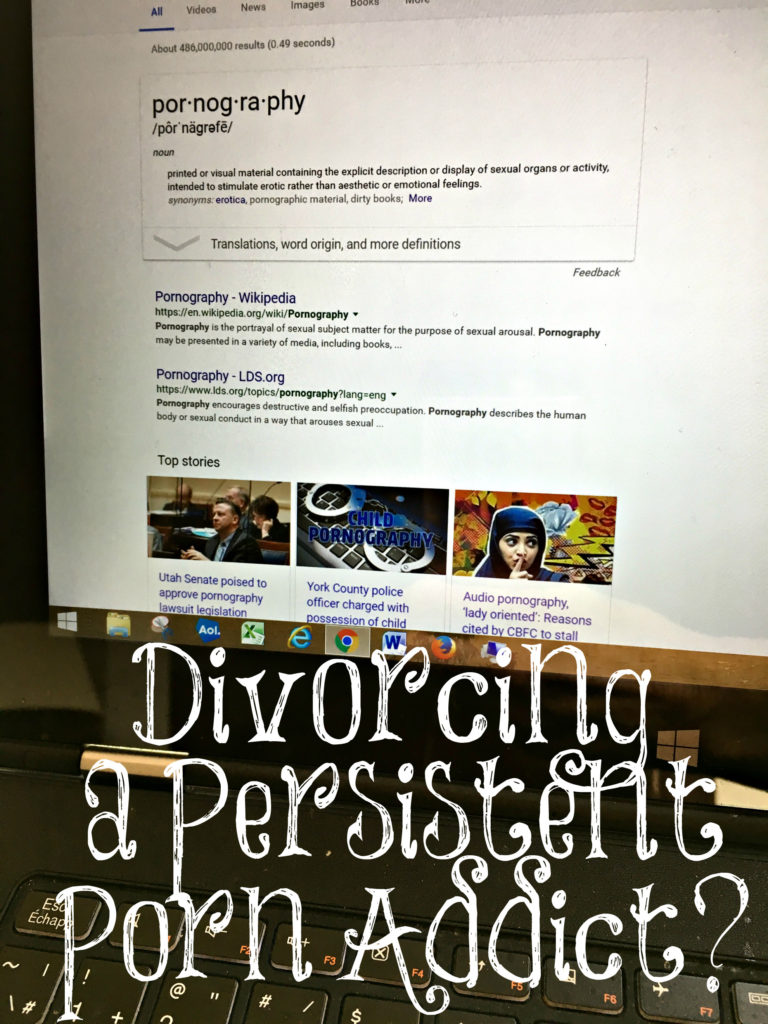 Gary Thomas wrote an article entitled Dear Church: It's Time to Stop Enabling Abusive Men. He gives a few examples where divorce is the only option.
"Her husband is a persistent porn addict watching videos. He has neglected her sexually except to fulfill his own increasingly bent desires. He keeps dangling divorce over her head, which makes her feel like a failure as a Christian. He presented her with a list of five things he wanted to do that he saw done in porn, and if she wasn't willing, he was through with the marriage. She agreed to four of them, but just couldn't do the fifth. And she feels guilty."
Then Mr. Thomas states that divorce is the right thing to do. Is it according to the Bible? No. No, she shouldn't have participated in anything that he asked if it was harmful to her, evil, or outside of the bounds of the marriage bed but divorce is not the answer. If he abandons her, she must let him go but she is not to abandon him for she sanctifies him when she is living with him (1 Corinthians 7:13, 14). As Christ suffered for her, she is willing to suffer under a disobedient husband in hopes of him repenting and believing in the Savior of his soul.
I know women who are suffering under the leadership of a disobedient husband but they are finding their strength in the Lord and being a witness to a watching world. If there is physical abuse, they call the authorities, but other than this, they find support and encouragement from other godly women.
Here's another example Mr. Thomas gave us. "A young wife, barely in her 20s, held a baby in a blanket and looked at me with tears. Her husband has a huge temper problem. He's made her get out of the car on a highway with her baby, twice. 'But both times he came back for us,' she said in his defense when I looked absolutely appalled. They were separated and she was living with her parents. She wanted to know if she should take him back because his psychiatrist supposedly said there wasn't anything really wrong with him. Her husband doesn't think he has a problem, that, in fact, the problem is with her 'lack of forgiveness.'"
Again, the author says this young wife should divorce her husband. No, she should not. She may stay separated and live with her parents while hopefully he seeks help but a believer isn't to divorce an unbeliever because of their anger. They're not. She can still be kind and loving towards him when she sees him and pray for him but she shouldn't divorce him.
The interesting thing about this article and many others like it is they leave out 1 Peter 3:1-6, the transforming power of the Lord, and the power of a transformed wife on a husband. How can a "Christian" site who proclaims to speak to Christians leave out important truths such as this when speaking about Christian's divorcing? We are called to love our enemies, which includes loving disobedient husbands, forgiving 70 X 7 times which includes forgiving disobedient husbands, and then obeying 1 Corinthians 13 which is true biblical love, namely sacrificial. Love…bears all things, believes all things, hopes all things, endures all things. Charity never fails.
If you are a women who is married to a mean man, if there is any type of physical abuse, please seek out help immediately. Read my post about abuse. Seek out help and encouragement from older and wiser women or elders in the church to confront him, if need be. Don't try to do a difficult marriage on your own. Make sure you are seeking the Lord and becoming a godly wife that the Lord requires of you but if you are feeling mental or emotional anguish over your marriage never hesitate to get help. This is what the body of Christ is for: to help those in need. But God hates divorce. Read the book of Hosea. Remind yourself that the Lord will never leave you nor forsake you and will give you strength for the battle. Your husband's eternal soul is at stake.
I love what Dr. David Jeremiah had to say about covenant love. "What kind of love endures the unfaithfulness of a covenant partner and yet remains loyal forever? It's God love, that's what it is. It's the kind of love that God extended to Israel in spite of her disloyalty." (David Jeremiah) The world will never understand this type of love because they don't love God.
And the woman which hath an husband that believeth not, and if he be pleased to dwell with her, let her not leave him. For the unbelieving husband is sanctified by the wife, and the unbelieving wife is sanctified by the husband: else were your children unclean; but now are they holy.
1 Corinthians 7:13, 14

***Further study: If you want to study what God says about suffering, read and study 1 Peter. In 1 Peter 2:18, 19 servants are told to subject themselves to difficult masters "For this is thankworthy, if a man for conscience toward God endure grief, suffering wrongfully." Then we are told to be willing to suffer for Christ. "If, when ye do well, and suffer for it, ye take it patiently, this is acceptable with God. For even hereunto were ye called: because Christ also suffered for us, leaving us an example, that ye should follow his steps" (1 Peter 2:20, 21). Then the next chapter begins with "Likewise…" As servants suffer under difficult masters and as Christ gave us an example of suffering, so wives will suffer under disobedient husband.
Then we are further encouraged in suffering for the name of Christ. "But and if ye suffer for righteousness' sake, happy are ye: and be not afraid of their terror, neither be troubled…For it is better, if the will of God be so, that ye suffer for well doing, than for evil doing." (1 Peter 3:14, 17). "Forasmuch then as Christ hath suffered for us in the flesh, arm yourselves likewise with the same mind: for he that hath suffered in the flesh hath ceased from sin" (1 Peter 4:4). As you can see from these verses, suffering isn't bad in the eyes of God.
Beloved, think it not strange concerning the fiery trial which is to try you, as though some strange thing happened unto you: But rejoice, inasmuch as ye are partakers of Christ's sufferings; that, when his glory shall be revealed, ye may be glad also with exceeding joy. If ye be reproached for the name of Christ, happy are ye; for the spirit of glory and of God resteth upon you: on their part he is evil spoken of, but on your part he is glorified. But let none of you suffer as a murderer, or as a thief, or as an evildoer, or as a busybody in other men's matters. Yet if any man suffer as a Christian, let him not be ashamed; but let him glorify God on this behalf. Wherefore let them that suffer according to the will of God commit the keeping of their souls to him in well doing, as unto a faithful Creator (1 Peter 4:12-16, 19).