Problems With Daycare For Children
Problems With Daycare For Children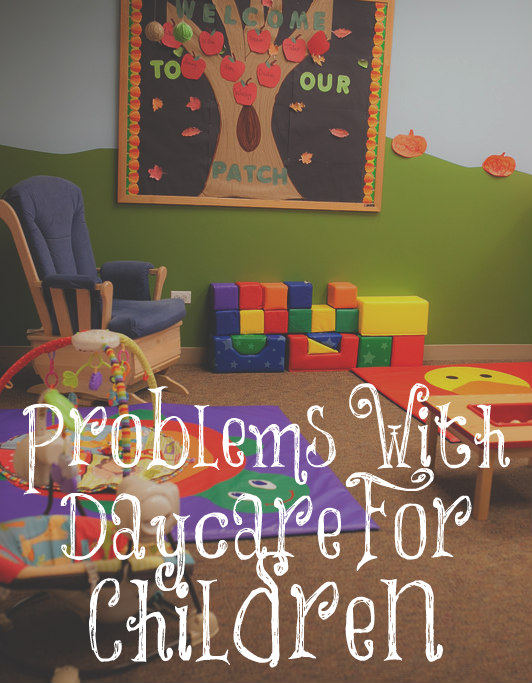 Just writing out the word "daycare" is heartbreaking to me. Aren't babies and young children supposed to be in the care of their own mothers during the day? Don't these children mourn being torn apart from their mothers every morning? Don't these mothers miss not seeing their children every day five days a week?
What are some other problems with daycare? Let's examine a few:
First, they cause a MASS spread of illnesses causing parents lost sleep, lost work, taxpayer money for the heathcare provided, and most importantly, a constantly uncomfortably sick child. From the article: "One of the things I found most challenging was that day care seemed to be like a petri dish for bacterial and viral infections. I was warned by other working moms to brace myself for the 'day care funk.'" No, thank you! I encourage mothers to not even have to think about the 'day care funk' by not putting their children into daycare in the first place. A child who is cared for at home by their mother has a much better chance of being healthy and having a healthy immune system which fights illnesses and disease. She has time to fix her child nourishing food. The mother will be able to completely control what their child eats. Babies and young children don't need sugar. They do fine without any sugar. In fact, they do better!
The children can sleep in as long as they need instead of having to wake up early in the morning. Sleep is vital to good health. The children can also take a long nap or two in the quiet of their own home. Throughout the day, the mother will be by the baby's side to make sure that what goes into their mouth doesn't have the saliva of a bunch of other children. They can play freely when they need to play and cuddle with their mama when they want to cuddle. They can go shopping with her and have their mama right by their side throughout every day.
Around six months old until about two years old, a child is extremely attached to their mama. In fact, I was just with one of my grandbabies for my mother's funeral and this eight month old granddaughter of mine who lives in another state didn't want anything to do with me. She just wanted her mama and this is completely normal and healthy. It helps grow secure children.
Secondly, you are leaving your baby with a stranger. Why would anyone willingly choose to do this? Mothers say, "Well, I can see them all day long from my phone monitor." This may be so but the baby can't see her mother all day long nor can he/she cuddle with their mama like they want to do so badly. A stranger, no matter how wonderful they are, can never take the place of a mother, no, not even a grandma.
Do mothers even consider how many children are abused in daycares? "According to the National Child Abuse and Neglect Data System, more than 3.5 million reports from CPS agencies were received in 2013 alone. These reports involved more than 6.4 million children. The majority of these reports are for neglect, followed by physical abuse, sexual abuse, emotional abuse and medical neglect trailing closely behind." This right here is enough reason to NEVER put your children into daycare! Strangers don't love and want to protect the children as much as a mother does. They won't train them in the ways of the Lord as mothers are commanded to do.
Finally, that stranger that you begin to see everyday while quickly throwing your child in her arms does not care about (love) your child nearly as much as you do. She does it for the money. Watching children is a job. A job that was intended for mothers. Milk literally flows out of every woman's breast after the delivery of her child when she puts her baby, who is hungry for milk, on her. Even if you don't let the baby latch on you, you still are producing the best possible nutrients in your breasts for your baby. Please, reconsider trying to end what God has freely given you even if nursing is for only those first few weeks before going back to work. As this article clearly states, "Although both breast-fed and formula-fed babies gain weight and seem to develop similarly, scientists have known for a long time that breast milk contains immune-protective components that make a breast-fed infant's risk lower for all kinds of illnesses."
It's a lot easier to breast feed your baby when you are home full time with them. This is God's will for mothers! For my first baby, I worked full time the first two years and had to pump by breasts during every break in the bathroom and it was so very unnatural. Mothers should not be away from their babies. Their babies need them. When a mother is home full time and has to get up during the night to breast feed her baby or be up with a sick child, it's okay if she has lost sleep since she doesn't have to worry about getting up early and going to work the next day.
Young mothers tell me about their friends who are extremely guilty and heartbroken about leaving their babies all day long in daycare and having to go back to work but they believe this is what they are supposed to do. Society tells them this is what they are supposed to do but does God? No!
This is why God commands older women to teach young women to love their children and be keepers at home. They aren't going to be hearing this from anyone else if we, older women, aren't teaching the younger women that being home with their babies and young children is EXACTLY where God wants them to be.
That they may teach the young women to be sober, to love their husbands, to love their children, To be discreet, chaste, keepers at home, good, obedient to their own husbands, that the word of God be not blasphemed.
Titus 2:4, 5