Jesus Gave Value and Dignity to Women
Jesus Gave Value and Dignity to Women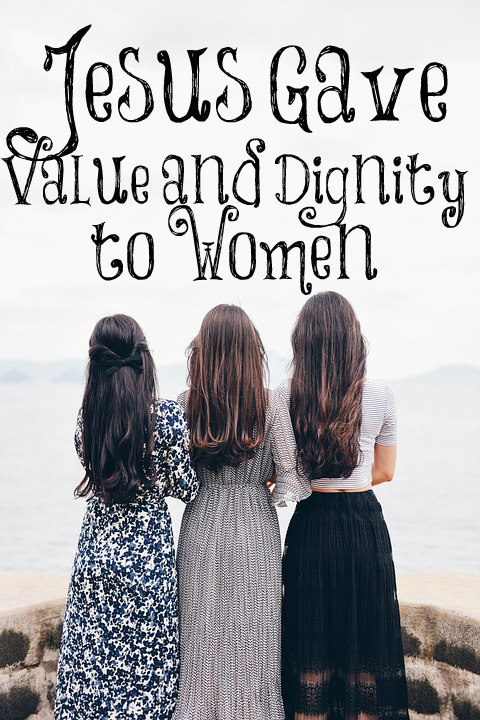 Anyone with any common sense can see that in general, women are weaker than men. We are called the "weaker vessel" by the One who created us. "Likewise, ye husbands, dwell with them according to knowledge, giving honour unto the wife, as unto the weaker vessel, and as being heirs together of the grace of life; that your prayers be not hindered" (1 Peter 3:7).
In the Bible, it was the men who went off to war. Man's consequence for the Fall was to be the provider for his family. God created men stronger than women for a good reason but bad men can turn it into evil. "The disparity of the sexes was the cause of the degradation of woman among the heathen; Christianity makes it the ground of tender consideration. Christian love should abound in knowledge (Philippians 1:9); it should throw its softening light upon all the relations of life" (Pulpit Commentary). When Jesus walked this earth, He gave value and dignity to women.
What does "weaker vessel" include when written about women? "By this it is not necessarily meant that she is of feebler capacity, or inferior mental endowments, but that she is more tender and delicate; more subject to infirmities and weaknesses; less capable of enduring fatigue and toil; less adapted to the rough and stormy scenes of life… She may have mental endowments equal to his own; she may have moral qualities in every way superior to his; but the God of nature has made her with a more delicate frame, a more fragile structure, and with a body subject to many infirmities to which the more hardy frame of man is a stranger" (Barnes Notes on the Bible).
In God's economy, men are to be the protectors over women. Husbands are to be the providers. Women are to bear and raise children while being keepers at home. He created man and woman for specific roles and they are good roles. No, they aren't the same but they are important for healthy families and healthy nations.
As believers in Jesus Christ, we understand and appreciate the beautiful differences between the sexes. We value the strength and protection good men provide. We value the ability we have to bear and raise our children to walk in truth. We love the role of keeper at home that the Lord has given to us. Since we are the weaker vessel, it suits our physical makeup rather than having to go out and fight wars, criminals, and fires, work all day long away from the home, and/or do things that men can do much more easily because of their physical strength and endurance. All of these are good things, women!
God in His perfect goodness designed us for a specific role and purpose. We don't want to be men nor do what they do. We want to be women and do what God has called us to do. Yes, we have more infirmities. We get hurt more easily. We don't have the endurance that men have but these are all fine. We can't watch the news and not allow it to affect us like most men can. God made us more emotional and sensitive in order to mother. This is good! We don't want to be like men. We want to be women. We don't mind being feminine, the softer sex, and the weaker vessel. No, we are happy and content in it because God, who created us, knows best!
And the LORD God said, It is not good that the man should be alone; I will make him an help meet for him.
Genesis 2:18